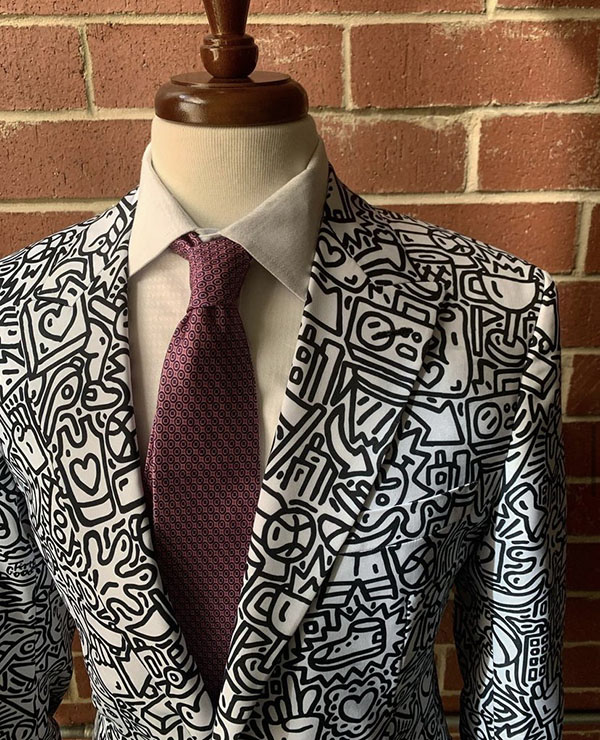 Posted Feb. 14, 2022 at 10:27 a.m.
BOONE, N.C. — Mitch Purgason's time at Appalachian State University threaded the needle for his career in clothing design. Now, the Mountaineer alumnus dresses a host of business executives and professional athletes — including NFL players Christian McCaffrey and George Kittle; NASCAR driver Bubba Wallace; and author, speaker and businessman Gary Vaynerchuk.
Purgason, who earned a Bachelor of Science in business administration in management from App State in 2015, was chosen for the 2022 class of Forbes magazine's "30 Under 30 North America", a list of some of the most notable young leaders, business people and newsmakers. In 2021, Charlotte Magazine awarded Purgason's Charlotte-based company "Best Men's Suits" as part of its annual Bob Awards.
As a custom clothing designer, Purgason works with his clients to design one-of-a-kind suits or other apparel for events, special occasions or everyday wear. "I incorporate their tastes and color profiles — which hues look best on them according to eye color, skin tone and hair color — as well as their personality traits, if they want something bold or more subtle," he said.
Some of his designs include personalized linings or other details, sometimes hidden under a collar or inside a sleeve. He might stitch a quote that is meaningful to the client, or use a custom screen print of a city skyline within the suit lining to individualize the design and add an "element of fun," Purgason said.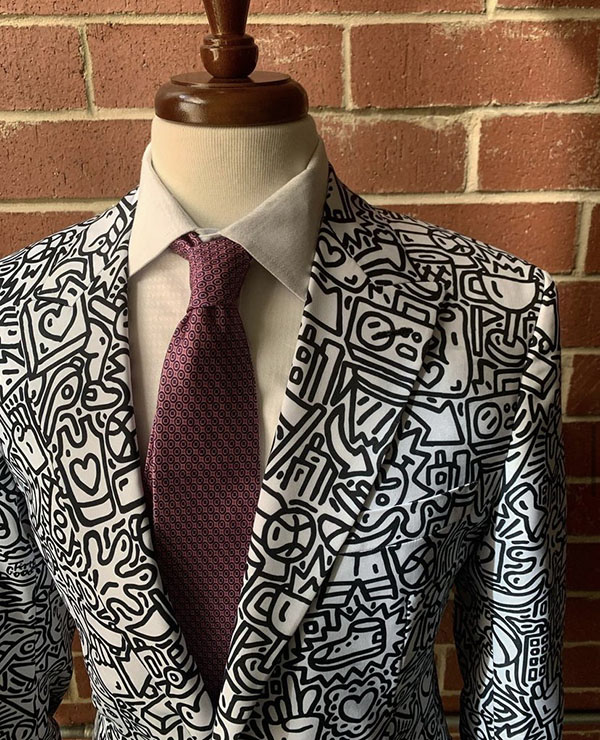 On his own clothing, Purgason said he often includes the Italian phrase "una razza diversa," which means "cut from a different cloth" — describing how he goes about his business and approaches his brand.
"I use classic elements with a little bit of chaos — so the style is timeless but stands out at the same time," he said.
From the classroom to the business world
While attending App State, Purgason started his first clothing design business with two other students — Merrick Marquie '15 and Ryan Sommerville '15 — as part of an assignment for an experiential entrepreneurship class.
"We had to start a real business for the class," Purgason said. "It wasn't just a theoretical project."
Marquie had traveled to China as a William R. Holland Fellow through the Walker College of Business (WCOB), where he learned about supply chains as well as some of the basics of custom suit design. When he partnered with Purgason and Sommerville in the entrepreneurship class, he suggested they form a business to create affordable custom suits for college students.
"Operating the business was a great teaching tool," Purgason said. "We made a lot of mistakes, but we also had some successes."
Marquie and Sommerville pursued other careers after graduation, but Purgason continued his work in clothing design.
Purgason said his "best value" from App State was his involvement with Walker College's Transportation Insight Center for Entrepreneurship (CFE).
Founded in 2006, CFE helps App State students, faculty, staff and alumni conceive, develop and launch new business ventures. The center hosts the annual Carole Moore McLeod Entrepreneur Summit, which Purgason said offers students a valuable opportunity to network, learn and showcase their business concepts.
"The center helped me develop the mindset of starting my own business," Purgason said, recalling his time "throwing ideas back and forth" with CFE Managing Director Erich Schlenker.
To broaden his education, Purgason took a few design classes in App State's Department of Applied Design in the College of Fine and Applied Arts. One class, taught by associate professor Richard Elaver, changed his perspective on the design and functionality of clothing, Purgason said, adding, "I learned to think outside the box, in terms of solving problems, and to approach business creatively."
Developing his style
Purgason attributes his eye for fashion to his mother, who is a former actress and set designer for off-Broadway shows. "She designed our house with lots of different colors and patterns, giving each room an identity of its own. I've always paid attention to design elements because of her," he said.
Purgason played basketball in high school and later played with App State's men's basketball team after his sophomore year at the university. His love of sports tuned him in to the fashion scene among athletes.
"The culture of sports is so visually driven — whether it is the game uniform, or the shoes, or what the athletes are wearing pregame and for postgame interviews," Purgason said. "Athletes have a personal brand, and they have a huge influence on the fashion scene."
Purgason said he enjoys the challenge of working with athletes and other influencers. "They love looking good and wearing clothes that are different," he said.
What do you think?
Share your feedback on this story.
About the Department of Management
The Department of Management offers undergraduate and graduate degree programs to prepare students for managerial responsibilities in today's dynamic environment. Learn more at https://management.appstate.edu.
About the Walker College of Business
The Walker College of Business at Appalachian State University delivers transformational educational experiences that prepare and inspire students to be ethical, innovative and engaged business leaders who positively impact our community, both locally and globally. The college places emphasis on international experiences, sustainable business practices, entrepreneurial programs and real-world applications with industry. Enrolling approximately 3,000 undergraduates in 10 majors and 175 graduate students in three master's programs, the Walker College is accredited by AACSB International – the premier global accrediting body for schools of business. Learn more at https://business.appstate.edu.
About Appalachian's Transportation Insight Center for Entrepreneurship
The Transportation Insight Center for Entrepreneurship at Appalachian State University was founded in 2006 and is housed within the university's Walker College of Business. The center helps Appalachian students — regardless of major — faculty, staff and alumni conceive, develop, incubate and launch new business ventures, turning their ideas into reality. In 2011, the center was rebranded to include Transportation Insight in its name to acknowledge a $1 million gift that enabled the center's renovation, as well as 10 years of funding. Transportation Insight is a nationally recognized third-party logistics (3PL) company specializing in supply chain management. Learn more at https://entrepreneurship.appstate.edu.
About Appalachian State University
As the premier public undergraduate institution in the Southeast, Appalachian State University prepares students to lead purposeful lives as global citizens who understand and engage their responsibilities in creating a sustainable future for all. The Appalachian Experience promotes a spirit of inclusion that brings people together in inspiring ways to acquire and create knowledge, to grow holistically, to act with passion and determination, and to embrace diversity and difference. Located in the Blue Ridge Mountains, Appalachian is one of 17 campuses in the University of North Carolina System. Appalachian enrolls nearly 21,000 students, has a low student-to-faculty ratio and offers more than 150 undergraduate and graduate majors.