Posted March 28, 2022 at 2:46 p.m.
BOONE, N.C. — Pamela Mars Wright, former chair and director of the board that governs the $40 billion Mars Inc., delivered the 63rd Harlan E. Boyles Distinguished Lecture to an audience of students, faculty, staff and community members on March 17 at Appalachian State University's Holmes Convocation Center.
Mars Inc. is the maker of such famous confectionery brands as Snickers, Mars Bars, Milky Way, Twix and M&M's, among others, and the organization boasts a wider portfolio that includes pet care products, Banfield Pet Hospital®, beverage vending and dinnertime brands.
"We are so fortunate to have Pam here, sharing her time and expertise with our students ... engaging in conversation and sharing her breadth of knowledge in navigating many aspects of the business world," App State Chancellor Sheri Everts said.
Mars Wright participated in a Fireside Chat with the Women of Walker, a group of female leaders in the Walker College of Business, and the day's events also included the Boyles Luncheon at the Holmes Center. There, Isabella Riley, a senior marketing major from Pinehurst, spoke about her App State Experience, the myriad opportunities available through the Walker College of Business and the dedicated faculty and staff who have gone above and beyond to help her along the way.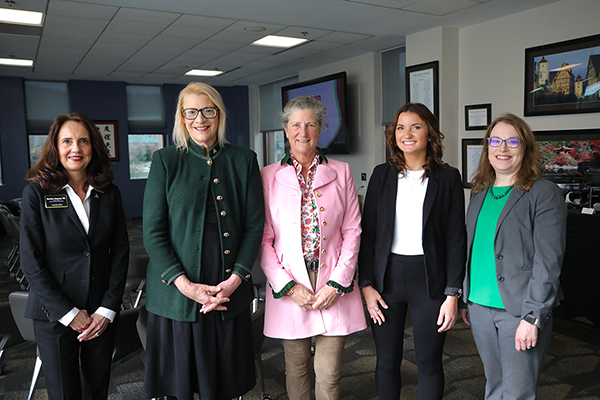 Mars Wright spent 35 years at her family's business, and her roles and focus areas blended her affinity for technical subjects, the satisfaction of making things and her caring for people. She retired from Mars Inc. in 2021 but continues to serve on the Technical Committee.
From her first company job as an operations supervisor, Mars Wright's career ultimately took her across continents and the Mars confectionery and pet care enterprises, including her post as vice president of manufacturing for Mars Petcare. In the latter part of her career, Mars Wright focused her energy as an ambassador of Mars with the associates of acquired businesses. She helped drive successful integrations and merging of cultures, in particular when the company expanded its presence in veterinary health and services.
Mars Wright was also a director on the board of Banfield — the leading provider of preventive veterinary care in the U.S. and part of the Mars Veterinary Health family of practices. Last year, Banfield made a multimillion-dollar commitment toward the development of a new four-year, online veterinary technology degree program at App State, which will begin in fall 2022.
In her Boyles Lecture address, Mars Wright shared anecdotes and lessons learned from her childhood and career:
There are lessons learned from failures and tragedies — like when Mars Wright's father moved the family to Holland to start a new chocolate factory and it burned down just before opening. Though it wasn't his fault, "it does teach you lessons, and so my father's lesson is one that then impacted the company forever," Mars Wright said, noting that thereafter, all of the company's factories were equipped with advanced fire suppression systems.
Personal and business growth comes from travel, too: When you meet people around the world, Mars Wright said, it makes you a more balanced and open person. "They really impact you," she said. "You don't just make a decision that you're going to have a factory someplace without realizing the impact you have on that community, and what a difference you can make to people's world."
Sometimes people see things in you that you don't see yourself. Mars Wright never envisioned herself in manufacturing, and said she likely would have pursued marketing were it not for the direction offered by her father. When she told him she was ready to join the family business, he sent her to Hackettstown, New Jersey, where she was greeted with a white coat, a hair net and a shift work schedule. "And I absolutely loved it," she said. "There's something to be said for making something. Whether it's pet food, or whether it's M&M's, or whether it's anything else, you can actually count it, feel it, see it — and there's something very satisfying about that."
And sometimes, if you're open to it, the people you meet will give you opportunities you didn't expect. Mars Wright's grandfather was inspired to enter the pet food business after meeting a man who traveled around England with a performance dog. The man — who couldn't risk the dog, his livelihood, getting sick — personally prepared and canned meat for the canine's meals. Years later, in the 1990s, Mars Wright's uncle met a veterinarian who believed that with regular veterinary visits, pets could live longer — and the family invested in the concept. Today, Petcare is Mars' largest division, Mars Wright said. "If we had only stuck to what we did before, we wouldn't be the company we are now."
Mars Wright also explained the five principles that are important to her family's business — quality, efficiency, mutuality, responsibility and freedom — and offered some of the same advice she gives her children:
Know what you stand for and what you don't stand for.
Be passionate about what you do.
Be kind. You might be nice to somebody who will change your life.
Learn something new every day.
You can do anything you want, but you must contribute to society. You must pay it back.
The Walker College of Business' Distinguished Lecture Series began in spring 1988. In October 1991, the series was dedicated to Harlan E. Boyles (1929–2003), in honor of his 49 years of service to the citizens of North Carolina. A native of Lincoln County, Boyles was elected to six four-year terms as state treasurer and served under nine governors.
What do you think?
Share your feedback on this story.
Dr. Virginia Corrigan appointed as director of new 4-year program
Jan. 21, 2022
First-of-its-kind program will help meet surging demand for pet care
Feb. 10, 2021
About the Walker College of Business
The Walker College of Business at Appalachian State University delivers transformational educational experiences that prepare and inspire students to be ethical, innovative and engaged business leaders who positively impact our community, both locally and globally. The college places emphasis on international experiences, sustainable business practices, entrepreneurial programs and real-world applications with industry. Enrolling approximately 3,000 undergraduates in 10 majors and more than 180 graduate students in three master's programs, Walker College has the highest enrollment of full-time undergraduate students in the University of North Carolina System. Walker College is accredited by AACSB International — the premier global accrediting body for business schools. Learn more at https://business.appstate.edu.
About Appalachian State University
As the premier public undergraduate institution in the Southeast, Appalachian State University prepares students to lead purposeful lives. App State is one of 17 campuses in the University of North Carolina System, with a national reputation for innovative teaching and opening access to a high-quality, affordable education for all. The university enrolls more than 21,000 students, has a low student-to-faculty ratio and offers more than 150 undergraduate and 80 graduate majors at its Boone and Hickory campuses and through App State Online. Learn more at https://www.appstate.edu.