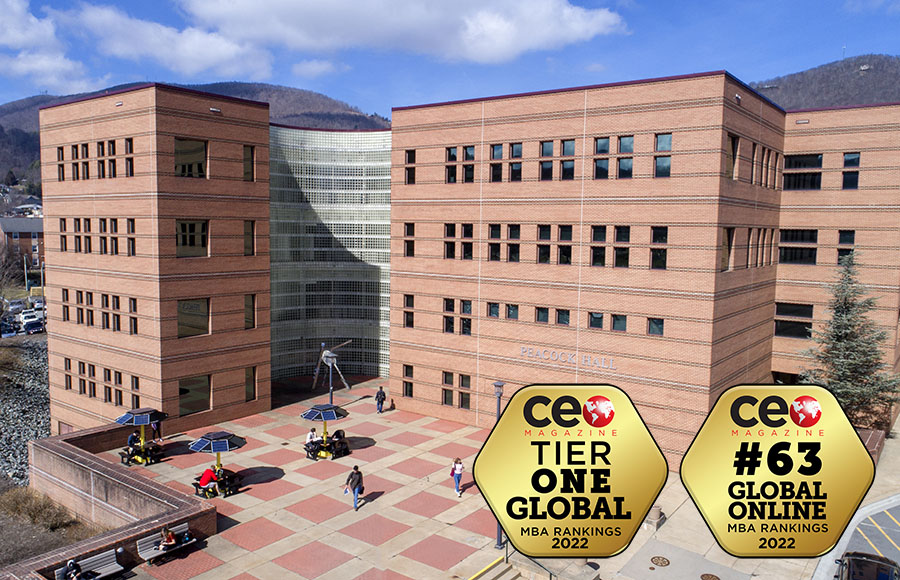 Posted March 31, 2022 at 3:53 p.m.
BOONE, N.C. — Appalachian State University's Master of Business Administration (MBA) degree ranks among the world's top tier programs, according to CEO Magazine.
The publication named App State's full-time, on-campus MBA a Tier One program as part of its "2022 Global MBA Rankings," marking the sixth consecutive year the university has earned this distinction.
CEO Magazine also recognized App State's online MBA, ranking the program No. 63 out of 98 internationally recognized programs — advancing the university seven positions above its 2021 ranking. The online MBA placed as No. 40 among North American programs named to the list.
"An MBA sets you apart, and App State alumni are known for their strong work ethic, analytical and problem-solving abilities, and leadership prowess," said Dr. Sandra Vannoy, interim dean of App State's Walker College of Business. "This latest acknowledgement verifies once again that our faculty are providing a high-quality education that develops fundamental and transferable business skills in our MBA graduates."
"Not only do our MBA students get the close faculty–student interaction App State is known for, but they also get a world-class business education that prepares them for career progression and leadership in their organizations," said Dr. Neel Das, director of App State's MBA program.
According to CEO Magazine, the benefits of earning an MBA are well documented and include career progression, networking opportunities, personal development and increased salary.
The 2022 rankings featured 347 online, executive, full-time and part-time MBA programs from 180 schools in 27 countries. Rankings were determined using a scoring system with metrics that included faculty qualifications, class size, international diversity, accreditation, faculty-to-student ratio and cost, among other factors.
Access the complete CEO Magazine "2022 Global MBA Rankings."
CEO Magazine launched its annual Global MBA Rankings in 2012, profiling MBA, executive MBA and online MBA programs.
What do you think?
Share your feedback on this story.
About the Walker College of Business
The Walker College of Business at Appalachian State University delivers transformational educational experiences that prepare and inspire students to be ethical, innovative and engaged business leaders who positively impact our community, both locally and globally. The college places emphasis on international experiences, sustainable business practices, entrepreneurial programs and real-world applications with industry. Enrolling approximately 3,000 undergraduates in 10 majors and more than 180 graduate students in three master's programs, Walker College has the highest enrollment of full-time undergraduate students in the University of North Carolina System. Walker College is accredited by AACSB International — the premier global accrediting body for business schools. Learn more at https://business.appstate.edu.
About Appalachian State University
As the premier public undergraduate institution in the Southeast, Appalachian State University prepares students to lead purposeful lives. App State is one of 17 campuses in the University of North Carolina System, with a national reputation for innovative teaching and opening access to a high-quality, affordable education for all. The university enrolls more than 21,000 students, has a low student-to-faculty ratio and offers more than 150 undergraduate and 80 graduate majors at its Boone and Hickory campuses and through App State Online. Learn more at https://www.appstate.edu.