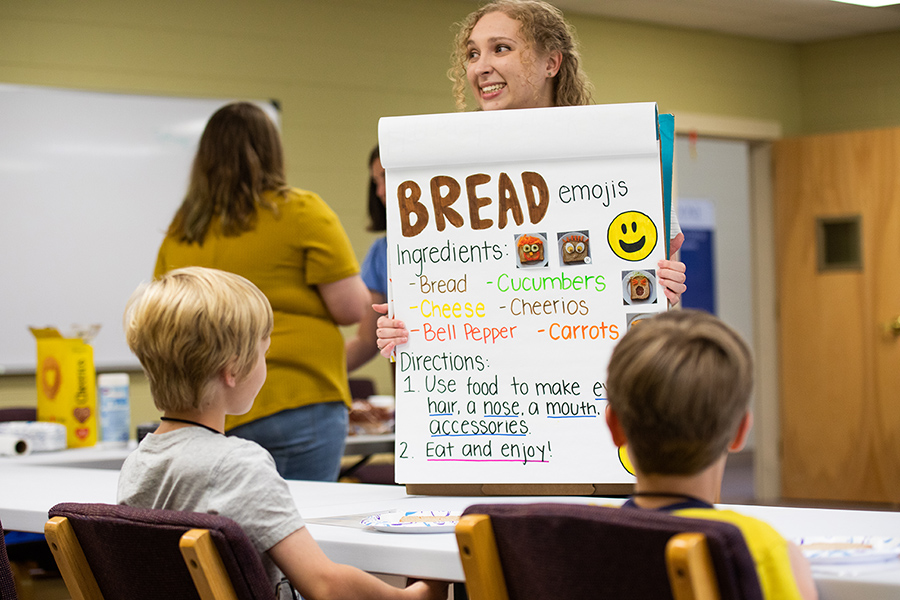 Posted Aug. 24, 2022 at 3:58 p.m.
BOONE, N.C. — "Who doesn't love snacks?" asks Karalee Cole, a speech-language pathologist and clinical educator in the Charles E. and Geneva S. Scott Scottish Rite Communication Disorders Clinic at Appalachian State University. Cole is the creator of a summer program that pairs fun, hands-on healthy snack preparation and sampling with a speech-language pathology curriculum to help children improve their language and literacy skills.
"As educators, we often see declines in speech and language skills over the summer, when programming isn't available through schools," Cole explained. "I wanted to create something fun, where students don't even realize they're working on their language and literacy skills because those lessons have been infused with snacking — which the students are always excited about."
Students in App State's speech-language pathology program teach the program sessions, while nutrition students slice, dice and prep the various snack ingredients for each session. For the nutritional portion of the program, Cole partnered with App State's Dr. Melissa Gutschall, professor in the Department of Nutrition and Health Care Management and director of the university's nutrition graduate program.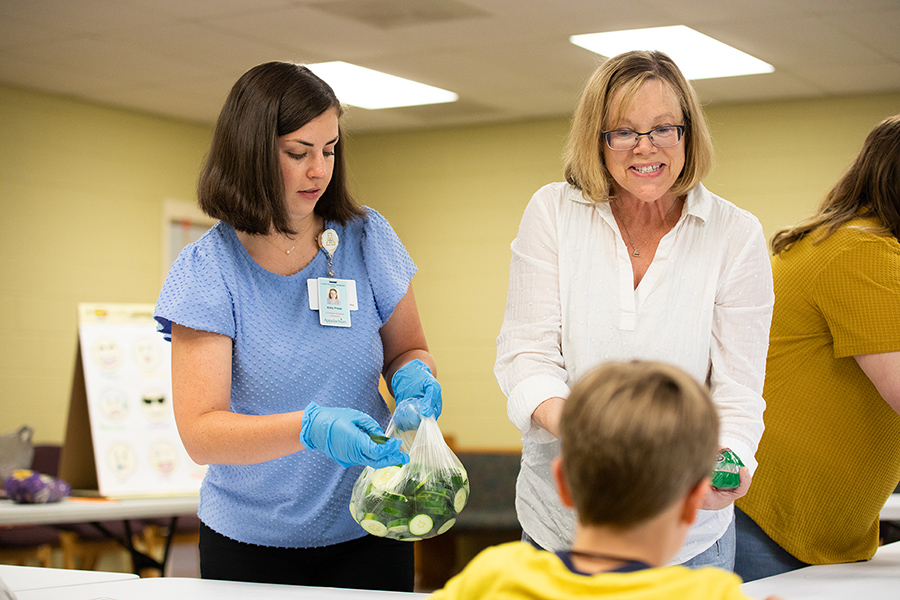 App State's Anna Joy Cantrell, a nutrition graduate student from Marietta, Georgia, has participated in the program for the past two summers. While working with the students, she noticed how they became more at ease with trying new foods because they were having fun, she said.
"I love seeing the students' sense of pride when they create a tasty and creative snack, and watching them improve their literacy skills at the same time," Cantrell shared.
Since its beginning in 2019, the six-week App State program has been incorporated into an elementary-age summer literacy program hosted by the Boone United Methodist Church, which is funded through a Duke Endowment grant aimed at boosting reading skills in rural areas. Teachers recommend students for program participation, and the number of students attending each year has continued to increase: 19 students took part in the program in 2019, with 50 students participating this summer. The App State program was canceled in 2020 due to the COVID-19 pandemic.
"This program has been a great learning experience for participating App State students," Cole said. "The graduate speech-language clinicians have provided important services and experienced authentic interprofessional practice as they've interacted with the nutrition students, and with other teachers and staff on skills to include in the lessons.
"For many of our App State students, this is their first real experience with providing services to a large group instead of providing therapy for an individual."
Creating healthy snacks can broaden young palates
During one program session, the students were asked to describe how they were feeling, write down the emotion and then create a "food face" representing their chosen emotion using whole wheat bread, red peppers, cucumbers, apples, cheese, carrots and cereal. After their food faces were complete, they sampled their creations.
Logan, a rising third grader participating in the program, said he has tried a lot of different foods, including red peppers, for the first time during the snack sessions, but he still prefers jelly sandwiches over peanut butter ones.
"With kids, it's all about exposure. Research shows that it takes about eight to 10 exposures of a new food to accept it," said Gutschall. "The first time, kids may only handle the food and feel its texture. The second time, they may lick it. It may take several times before they actually consume it."
The program's snacks were carefully chosen to enhance the language and literacy curriculum and include different fresh fruits and vegetables. Cultural dishes that may be new to students are also incorporated into the program: Imagine making a sushi roll with peanut butter, jelly and bread. Students receive a recipe book that they can take home at the end of the summer and use to prepare foods at home.
Cole's innovative curriculum is being adopted in areas beyond Boone. She's been asked to consult with the University of North Carolina at Greensboro's Department of Communication Sciences and Disorders and has presented the program at the annual Southeastern University Clinical Educator Conference — an event that brings together numerous clinical educators in speech pathology and audiology from programs across the Southeastern United States.
"I want to share this program with as many clinical educators as possible so that we can impact more children," Cole said.
What do you think?
Share your feedback on this story.
About Appalachian's Communication Disorders Clinic
The Charles E. and Geneva S. Scott Scottish Rite Communication Disorders Clinic at Appalachian State University, established in 1968, operates as a nonprofit unit housed within the Beaver College of Health Sciences' Department of Communication Sciences and Disorders. The clinic serves as a training facility for graduate students in Appalachian's speech-language pathology degree program, providing hands-on clinical learning experiences. It also offers prevention, assessment and treatment services in the areas of speech, language, swallowing and hearing disorders for children, adolescents and adults with communication disorders in the region. Learn more at https://cdclinic.appstate.edu.
About the Department of Rehabilitation Sciences
Appalachian State University's Department of Rehabilitation Sciences (RHS) — an interdisciplinary unit in the Beaver College of Health Sciences — prepares future leaders through transformative education, collaborative research and community engagement. The department, which launched July 1, 2022, houses several established programs, including an undergraduate program and a minor in communication sciences and disorders, a minor in American Sign Language and graduate programs in athletic training and speech-language pathology. Beginning in fall 2024, the RHS department will house App State's new Master of Science in occupational therapy program; applications for the program's first cohort will open in fall 2023. Learn more at https://rhs.appstate.edu.
About the Department of Nutrition and Health Care Management
The Department of Nutrition and Health Care Management in Appalachian State University's Beaver College of Health Sciences provides graduate and undergraduate programs. The undergraduate health care management program prepares students for entry-level management positions, while the online Master of Health Administration degree is designed for working professionals who desire to advance their careers. The undergraduate nutrition and foods program prepares students for careers in dietetics or food systems management in a variety of settings, including schools, hospitals, nursing homes and food banks. The highly competitive master's degree in nutrition provides a pathway for students to become registered dietitians. Learn more at https://nhm.appstate.edu.
About the Beaver College of Health Sciences
Appalachian State University's Beaver College of Health Sciences (BCHS), opened in 2010, is transforming the health and quality of life for the communities it serves through interprofessional collaboration and innovation in teaching, scholarship, service and clinical outreach. BCHS offers nine undergraduate degree programs and seven graduate degree programs, which are organized into six departments: Nursing, Nutrition and Health Care Management, Public Health and Exercise Science, Recreation Management and Physical Education, Rehabilitation Sciences, and Social Work. The college's academic programs are located in the Holmes Convocation Center on App State's main campus and the Leon Levine Hall of Health Sciences, a state-of-the-art, 203,000-square-foot facility that is the cornerstone of the Wellness District. In addition, the college supports the Blue Cross NC Institute for Health and Human Services and has collaborative partnerships with the Wake Forest School of Medicine's Physician Assistant Program, the Appalachian Regional Health System and numerous other health agencies. Learn more at https://healthsciences.appstate.edu.
About Appalachian State University
As the premier public undergraduate institution in the Southeast, Appalachian State University prepares students to lead purposeful lives. App State is one of 17 campuses in the University of North Carolina System, with a national reputation for innovative teaching and opening access to a high-quality, affordable education for all. The university enrolls more than 21,000 students, has a low student-to-faculty ratio and offers more than 150 undergraduate and 80 graduate majors at its Boone and Hickory campuses and through App State Online. Learn more at https://www.appstate.edu.