Posted Sep. 19, 2022 at 3:45 p.m.
BOONE, N.C. — It's a great day to be a Mountaineer — especially when ESPN's College GameDay comes to campus.
Coming off a monumental 17-14 win against the No. 6-ranked Texas A&M on Sept. 10, ESPN's premier college football pregame show — College GameDay Built by The Home Depot — broadcasted live from Sanford Mall on App State's campus on Sept. 17.
"This is a tremendous opportunity to showcase what we have built here at App State since joining the FBS and the Sun Belt," said App State Chancellor Sheri Everts. "The national publicity for our university earned by these student-athletes and their coaches is unparalleled in our university's history, and it brings with it prestige and recognition for the entire App State campus."
College GameDay is entering its 36th season, with the show traveling to a different college campus or game site each week. The locations are chosen by ESPN based on competitive matchups, rivalries and other factors. College GameDay's visit to Boone marked the show's 96th city visit, and the second time the show has traveled to a Sun Belt school.
"We have an historic opportunity to showcase the energy, passion and traditions that give App State one of the best atmospheres in all of college football," said Everts.
WATCH: In a special "GameDave by the Bell," Dave Blanks captures the essence of College GameDay at App State.
App State proved it was a worthy location, with a 32-28 Hail Mary win over Troy in front of a sold-out crowd at Kidd Brewer Stadium.
According to ESPN's public relations department, College GameDay at App State had an average audience of 2.2 million viewers, with 2.8 million viewers during its final hour — something App State students and fans got to experience in person, with an estimated 9,000 in attendance on Sanford Mall.
College GameDay host Rece Davis tweeted, "This is going to be an all-timer scene. Boone is electric. Actually — it's hi hi YIKAS" — a reference to App State's fight song.
Several festivities took place leading up to the show, including a College GameDay bus stop at the App State Hickory Campus on Thursday before arriving in Boone, as well as recordings and live broadcasts from ESPN on Friday Sept. 16, for SportsCenter, The Pat McAfee Show and College Football Live.
The night before the broadcast, more than 2,000 App State students spent the night on Sanford Mall for a chance to make it into the College GameDay pit — where only 500 people could get in.
ESPN sports anchor Phil Murphy tweeted, "@CollegeGameDay doesn't start for 12 hours, and there are THOUSANDS of people camping out at App State. This is going to be mayhem tomorrow."
And it was well worth the wait, with Mountaineer energy and nostalgia hitting full force.
During ESPN's Countdown to GameDay program on Saturday morning, former App State quarterback Armanti Edwards — who helped lead App State to its legendary 34-32 win over Michigan in 2007 — was interviewed by the ESPN crew.
Throughout the three-hour-long College GameDay program, ESPN showcased the App State campus, town of Boone and the High Country. App State's solar vehicle team and car, ROSE, were also highlighted in the broadcast.
The guest picker on GameDay was former App State student and country music star, Luke Combs — who, to a reception of loud cheers and singing — arrived to Sanford Mall in an App State bus and fired a musket into the air before joining the show for its last half-hour.
Combs tweeted, "Pumped to let y'all know I will be the guest picker for @espn's @CollegeGameDay THIS Saturday, Sept. 17. Tune-in around 11:30 AM ET to see me make my picks, but y'all already know I'm taking @AppState_FB!"
Combs squeezed his GameDay appearance in between two nights of concerts in Green Bay, Wisconsin.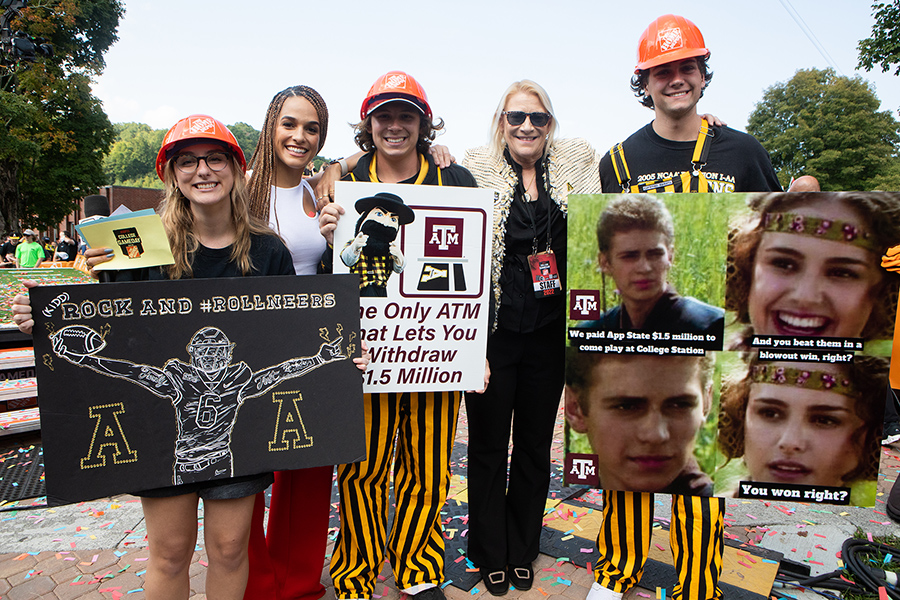 A high-stakes College GameDay poster contest
Making creative and clever handmade signs to be seen on-air are a College GameDay tradition — but App State upped the ante by offering a year of free tuition and fees to the maker of the best poster, and hundreds of fans entered the fray.
Zackary Carr, a freshman from Gastonia, North Carolina, was named the winner of the poster contest with "The Only ATM That Lets You Withdraw $1.5 Million" — a clever play on the Texas A&M logo and reference to the guarantee the Aggies paid to host App State on Sept. 10. Junior Annilyn Impara, of Suwanee, Georgia, and Ethan Cagle, a sophomore from Hendersonville, North Carolina, were the two other finalists in the contest — learning on air that, they, too had been awarded a one-year free ride in front of thousands of college football fans on Sanford Mall and millions watching on ESPN.
In addition to the three grand prizewinners, judges selected 25 additional posters as semifinalists, with 11 poster makers winning $500 Dining Dollars to be used at any App State Campus Dining location and 14 more winning $250 Dining Dollars.
"What better way to celebrate App State's incredible school spirit than by showcasing the creative, positive energy on our campus?" said Everts. "App State is regularly recognized for the value we provide our students, yet we recognize that, without assistance, a college education is out of reach for many."
App State's Foundation is funding the tuition and fees giveaways with unrestricted donated funds from The Appalachian Fund. Jeannine Underdown Collins, chair of the Foundation and contributor to three scholarships, underscored the importance of funding to support student scholarships.
"Scholarship support is critical for so many students," said Collins. "The Foundation works to ensure scholarship support is available for every student who needs assistance to attend App State. Every gift, in any amount, makes a difference."
Approximately 66% of App State students require some kind of financial assistance in order to attend the university.
The winning posters were selected by Stephanie Billings, executive director of Alumni Affairs; Dr. Shannon Campbell, dean of the College of Fine & Applied Arts; and Dustin Kerns, men's basketball head coach.
What do you think?
Share your feedback on this story.
About Appalachian State University
As the premier public undergraduate institution in the Southeast, Appalachian State University prepares students to lead purposeful lives. App State is one of 17 campuses in the University of North Carolina System, with a national reputation for innovative teaching and opening access to a high-quality, affordable education for all. The university enrolls more than 21,000 students, has a low student-to-faculty ratio and offers more than 150 undergraduate and 80 graduate majors at its Boone and Hickory campuses and through App State Online. Learn more at https://www.appstate.edu.