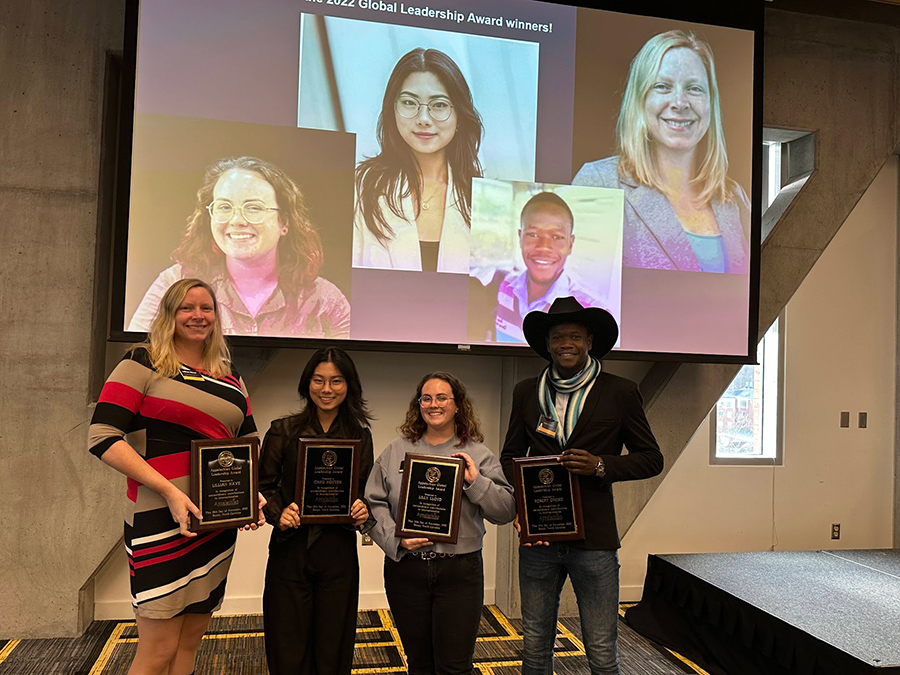 Posted Jan. 17, 2023 at 2:20 p.m.
BOONE, N.C. — Three Appalachian State University students and a faculty member received Global Leadership Awards at the university's annual Global Symposium, held Nov. 16, 2022.
The symposium is organized by App State's Office of International Education and Development (OIED) as part of International Education Week. Now in its 10th year, the symposium is an opportunity for faculty, staff and students to share their global work on a professional platform while simultaneously contributing to global learning at the university. More than 165 people attended a variety of globally oriented workshops and presentations as part of the 2022 event.
App State's Global Leadership Awards were established in 2012 to recognize the extraordinary contributions of students, faculty and staff who have initiated, developed and supported opportunities for global learning.
"These awards and the celebration of this event during International Education Week underscore the important place that global learning occupies here at App State," said OIED's Karen Marshall, assistant director of international student and scholar services and outreach.
This year, Global Leadership Awards were given to graduate student Robert Onjiko, senior Lilly Lloyd, alumna Chau Nguyen '22 and Lillian Nave, a senior lecturer in App State's First Year Seminar program and the Universal Design for Learning Coordinator in the Center for Excellence in Teaching and Learning for Student Success.
"We honor each recipient for their tireless work in leading global learning initiatives on campus and abroad," said Marshall.
About the Global Leadership Awards winners
Robert Onjiko, an international student from Kenya, has served on multiple student panels and search committees, is an active member of the international student community, is a Cultural Ambassador for OIED and is passionate about research on malaria. He is pursuing a Master of Science in biology from App State, with a concentration in cell and molecular biology.
Chau Nguyen '22 was one of the two longest serving International Appalachian (INTAPP) members, with four total years of service and two years on INTAPP's executive board. She has also served on multiple panels highlighting international student experiences. Nguyen holds a Bachelor of Science in Business Administration in marketing from App State.
Lilly Lloyd, a history major from Black Mountain, joined INTAPP in 2020 as the organization's historian and has since worked her way up to become INTAPP's president. Under her leadership, INTAPP has executed several successful events, including international orientation, multiple study abroad presentations and a traditional Thanksgiving dinner for international students. In addition, Lloyd is focusing on creating leadership and professional development opportunities for all INTAPP members.
Lillian Nave has deep roots in global education. In January 2017 and 2018 she took two groups of App State students to Germany, Belgium and the Netherlands as part of a study abroad experience for students who had taken a seminar class with her. Nave also served as a faculty learning partner on a trip with App State students to Peru, where the group served as volunteers at a shelter for abused women and children. Aside from teaching at App State, Nave is also host of the "Think UDL" (Universal Design for Learning) podcast series.
What do you think?
Share your feedback on this story.
About the Office of International Education and Development
The OIED is responsible for spearheading the internationalization efforts at Appalachian. The internationalization mission of Appalachian is to develop awareness, knowledge, appreciation and respect of cultural differences in both domestic and international contexts in its students, faculty, staff and the surrounding communities. The university is also dedicated to creating a campus environment that builds the theoretical and practical skills needed to interact effectively in a global society. Learn more at https://international.appstate.edu.
About Appalachian State University
As the premier public undergraduate institution in the Southeast, Appalachian State University prepares students to lead purposeful lives. App State is one of 17 campuses in the University of North Carolina System, with a national reputation for innovative teaching and opening access to a high-quality, affordable education for all. The university enrolls more than 21,000 students, has a low student-to-faculty ratio and offers more than 150 undergraduate and 80 graduate majors at its Boone and Hickory campuses and through App State Online. Learn more at https://www.appstate.edu.