Posted Jan. 19, 2023 at 4:33 p.m.
BOONE, N.C. — Appalachian State University junior Noah Cornelius, a Waxhaw native, dreams of working as a NASCAR broadcaster. With academic pursuits in his major — the electronic media/broadcasting program, hands-on work for student outlets AppTV and WASU-FM and multiple internships in the industry, he's racing toward that goal.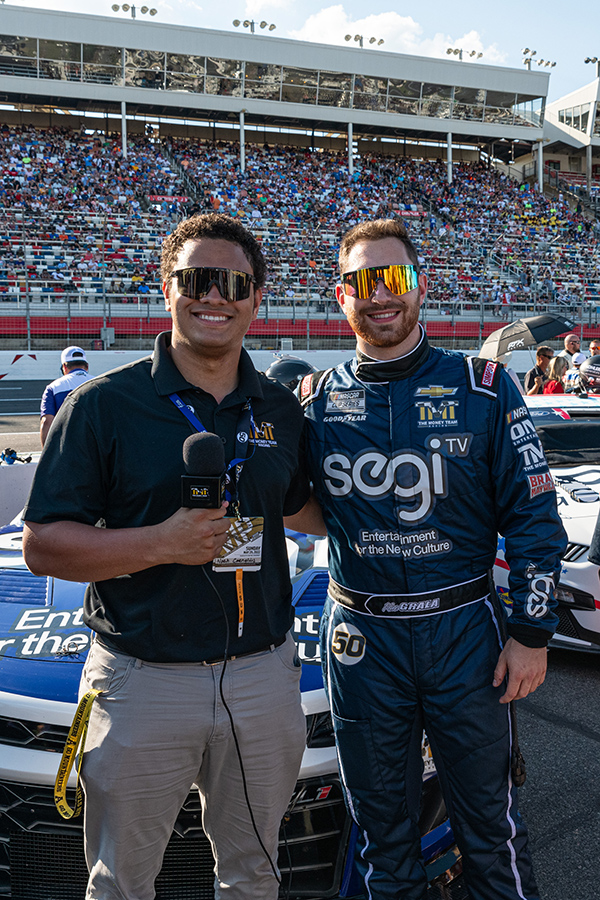 When Cornelius — a student in the College of Fine and Applied Arts' Department of Communication — is not in the classroom preparing for his life ahead, he's working on stories as a reporter, hosting the App State sports show "The A Game," doing play-by-play and color commentary for App State and Lees-McRae College athletic events or as a production technician for AppTV. In the newsroom, Cornelius soaks up the guidance and leadership provided by his mentors — AppTV general manager Kevon Wilson, lecturer Jim Newman and practitioner-in-residence Carlos Montero.
"Noah Cornelius is taking full advantage of the college experience. He has truly tapped into his passion for broadcasting and is constantly working to refine his skills through student media outlets," said Wilson. "He is unafraid to make connections, request guidance and take risks. His contagious energy and openness to continue learning will take him very far."
Newman, who teaches in the electronic media/broadcasting program, agreed with Wilson's sentiments, adding that Cornelius is "really comfortable" being on air.
"Noah is the kind of student who you know will be successful. He takes feedback really well and is always trying to get better," said Newman.
Cornelius' portfolio is evidence of these efforts, with clips demonstrating his work as a news anchor, a reporter, a sports sideline reporter and a sports personality. He wants to show everyone, including the "Big 4" networks — FOX, CBS, ABC and NBC — that he can be an asset wherever they need him, he shared.
"I have found my life's purpose in talking about the things I love. I know that I can tell stories and present NASCAR in a way that would get more people to watch," he said, but noted that he's not closing the door to any other sports or news opportunities.
"I find joy in whatever I do as long as it's in front of a camera or on a microphone," he added.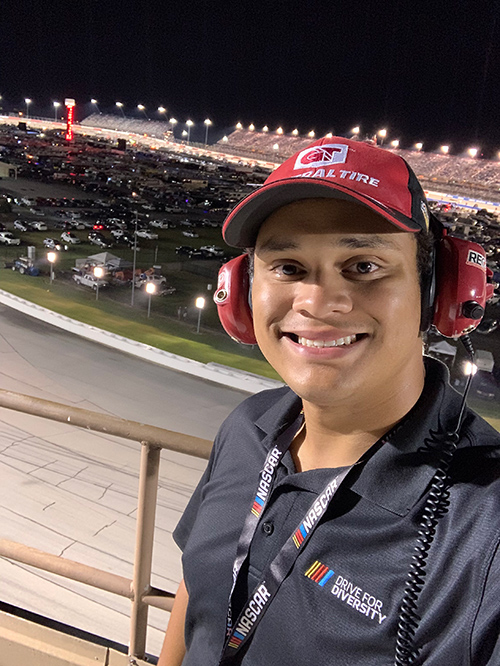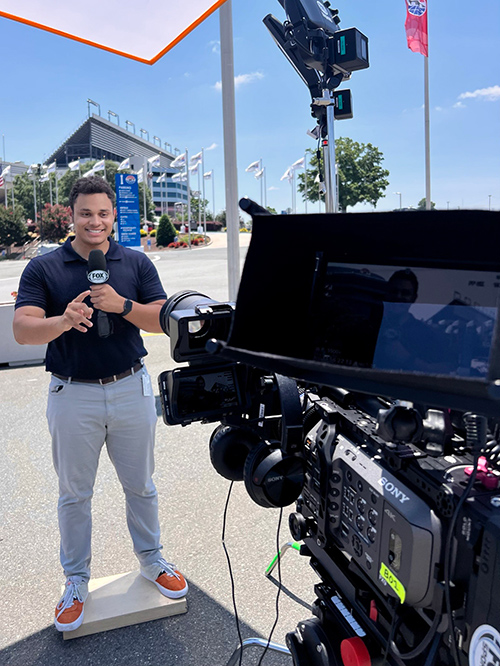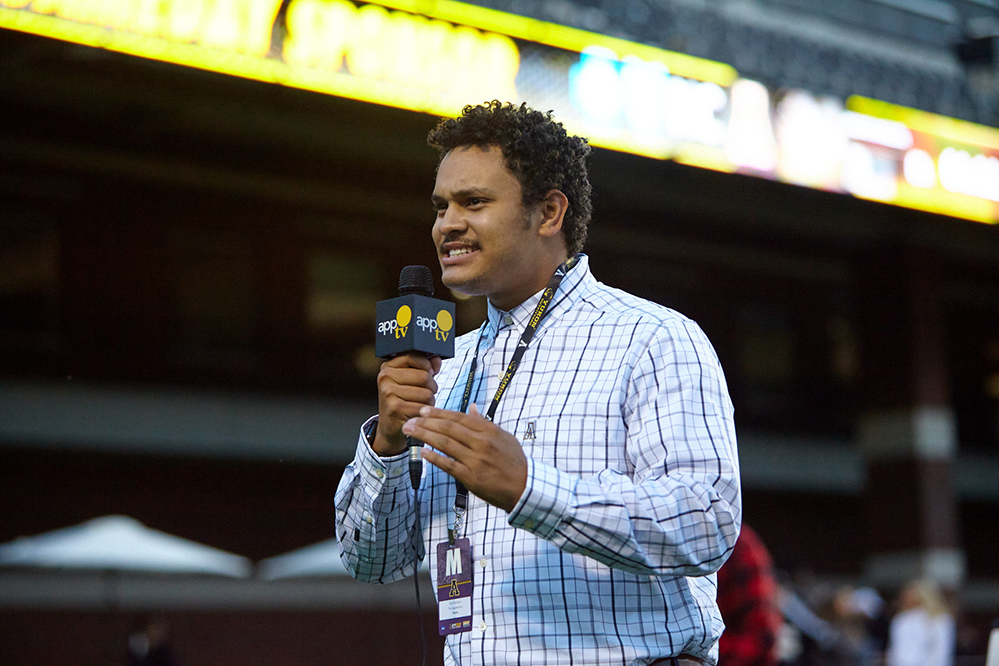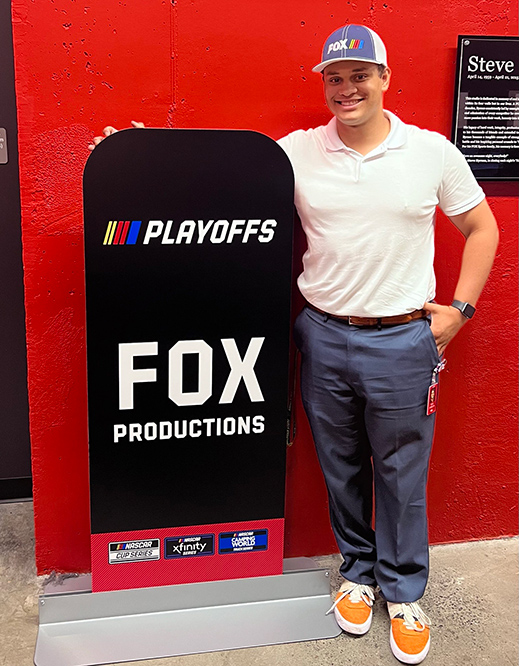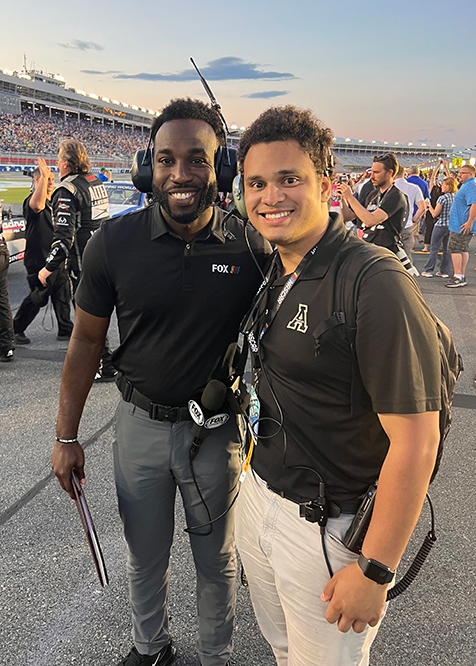 Fueling the dream
Cornelius is among nearly 1,500 transfer students at App State who began their college educations with another institution. After performing and recording music as a young singer-songwriter, Cornelius began his college career as a commercial voice/music technology student at Belmont University in Nashville, Tennessee. Then, like so many others, COVID-19 changed his plans. He came home to Waxhaw and worked at Lowe's Home Improvement, driving forklifts while taking time to regroup.
Enter NASCAR. During the pandemic, NASCAR was among the first sports to return to television, rekindling Cornelius' childhood enjoyment of the sport. Cornelius, who had also dabbled in content creation on YouTube and through podcasting, landed a summer 2021 internship with NASCAR's public relations/communications department through the NASCAR Diversity Internship Program.
Cornelius chose to return to college at App State, which he described as an affordable in-state university with multiple opportunities to learn about broadcasting and gain experience in the field.
"App State welcomed me with open arms," Cornelius said. "I have my transfer acceptance letter framed and hanging on my wall because it felt like a fresh start for me — a reminder of where I've come from and where I strive to go."
As a resident in Mountain Laurel Hall, App State's dedicated residence hall for transfer students, Cornelius developed friendships with other transfer students — relationships that he expects to last far beyond his time in Boone, he said.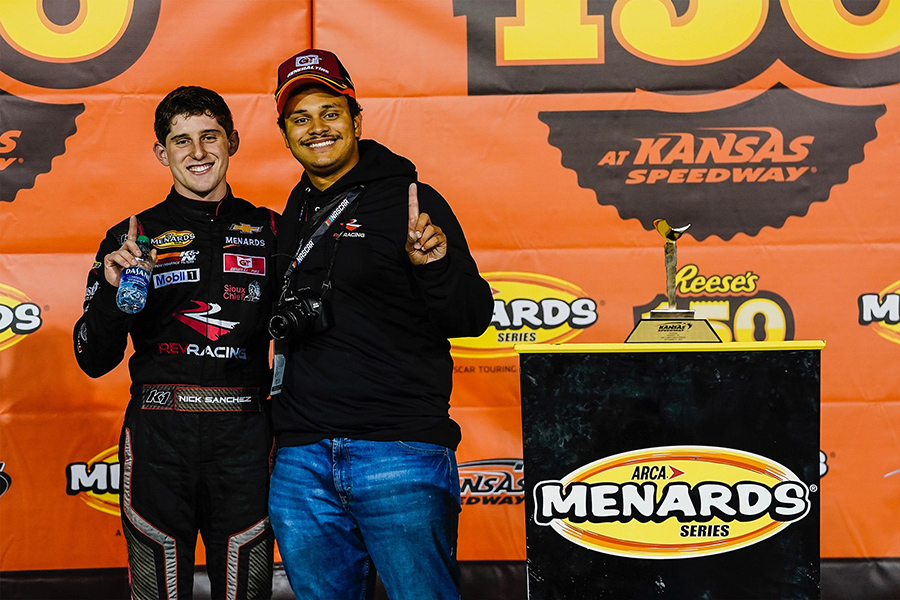 Cornelius spent the summer of 2022 interning with FOX Sports, working on broadcasts of NASCAR Race Hub, NASCAR Race Day and the NASCAR Camping World Truck Series as he covered NASCAR events from June to August.
"Noah was a pleasure to have as an intern with FOX Sports," said FOX NASCAR reporter Josh Sims. "He's a hard worker, quick learner and very passionate about the industry. Noah was quick to take initiative and took full advantage of every opportunity offered during his time with FOX."
While interning with FOX Sports, Cornelius also took on a contract role with The Money Team Racing — a NASCAR racing team owned by former boxer Floyd Mayweather — to create content covering the team's entry into the 2022 Coca-Cola 600 at Charlotte Motor Speedway over Memorial Day weekend. Cornelius interviewed team personnel, including driver Kaz Grala, and also reported updates from the pit during the race. In June 2022, Cornelius participated in the Kellar Radio Talent Institute hosted annually at App State.
Cornelius' efforts were recognized last year, when he became one of 23 recipients of a $5,000 scholarship from the Dr Pepper 23XI SPEED Institute Tuition Program. 23XI Racing (pronounced 23-eleven) was founded in 2020 as a partnership between NBA legend Michael Jordan and three-time Daytona 500 winner Denny Hamlin.
Cornelius recently featured the country music career of Kyle Petty when the former NASCAR driver performed at the Muddy Creek Cafe and Music Hall in Sparta. This brought Cornelius' two worlds together with an serendipitous twist — the former singer-songwriter striving to be a NASCAR broadcaster meets the former NASCAR driver who now performs as a singer-songwriter.
"I run with the opportunities I am given for as long as I can until my legs give out," Cornelius said. "I just focus on trying to be the best me that I can be, constantly working to be wiser and stronger than the man I was the day before."
What do you think?
Share your feedback on this story.
About the Department of Communication
One of seven departments housed in the College of Fine and Applied Arts, the Department of Communication at Appalachian State University focuses on preparing students to succeed in the varied fields within the communication industry. The department offers five majors – advertising, communication studies, electronic media/broadcasting, journalism and public relations – and a minor in communication studies. Graduates work in a wide range of positions in media, corporate, agency, government and nonprofit organizations. Learn more at https://communication.appstate.edu.
About the College of Fine and Applied Arts
Appalachian State University's College of Fine and Applied Arts is a dynamic and innovative group of seven academic departments, bringing together a variety of perspectives, experiences and real-world education to provide unique opportunities for student success. The college has more than 3,000 undergraduate and graduate majors. Its departments are Applied Design, Art, Communication, Military Science and Leadership, Sustainable Development, Sustainable Technology and the Built Environment, and Theatre and Dance. Learn more at https://faa.appstate.edu.
About Appalachian State University
As the premier public undergraduate institution in the Southeast, Appalachian State University prepares students to lead purposeful lives. App State is one of 17 campuses in the University of North Carolina System, with a national reputation for innovative teaching and opening access to a high-quality, affordable education for all. The university enrolls more than 21,000 students, has a low student-to-faculty ratio and offers more than 150 undergraduate and 80 graduate majors at its Boone and Hickory campuses and through App State Online. Learn more at https://www.appstate.edu.