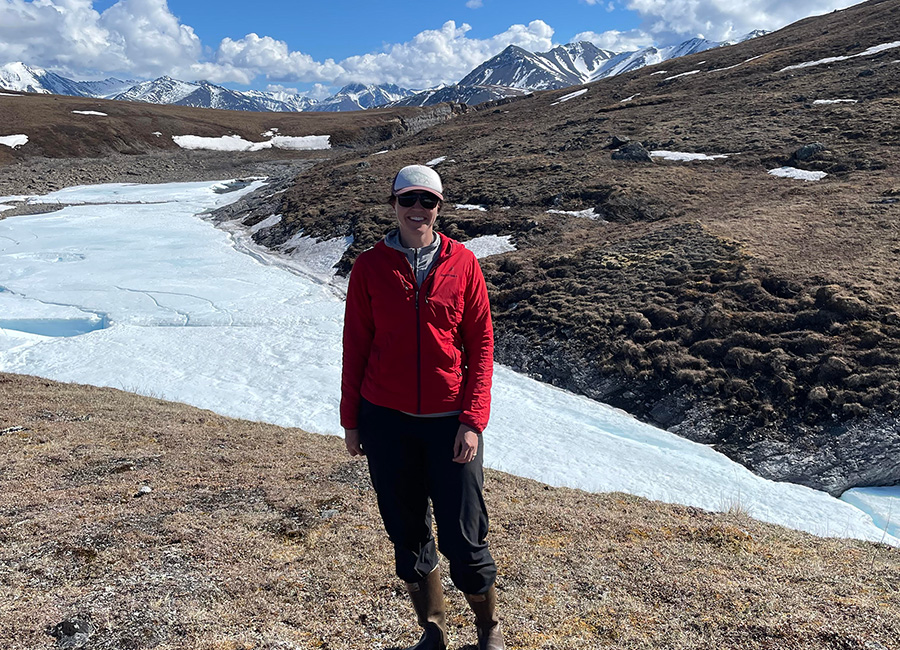 App State's Dr. Sarah Evans receives CAREER award from National Science Foundation
Funding to support ongoing permafrost research, K–12 education collaborations
Posted Jan. 31, 2023 at 2:45 p.m.
BOONE, N.C. — Dr. Sarah Evans, a quantitative hydrogeologist and an assistant professor in App State's Department of Geological and Environmental Sciences (GES), has received a Faculty Early Career Development Program (CAREER) award from the National Science Foundation (NSF).
NSF's CAREER is a foundationwide activity that offers the NSF's most prestigious awards in support of early career faculty who have the potential to serve as academic role models in research and education and to lead advances in the mission of their department or organization.
The award comes with a federal grant to support recipients' research and education activities for five consecutive years. NSF confers these awards once a year, and the review and selection process is one of the most competitive within the foundation.
Evans' grant, totaling nearly $500,000 between 2024 and 2028, supports her grant proposal, titled "Hydrogeologic Implications of Permafrost Thaw - Developing a Process-Based Understanding on Biophysical Controls and Educational Tools for Rural Communities." She is the third App State faculty member to earn the honor, joining Department of Geography and Planning faculty members Dr. Baker Perry and Dr. Maggie Sugg.
Evans' project will study groundwater flow in the Arctic, where warming four times the rate of the global average has resulted in extensive thaw of perennially frozen ground known as permafrost.
As permafrost thaws, liquid water can more easily travel below ground, increasing groundwater availability, Evans explained. For the millions of people who live above permafrost, increased groundwater availability is beneficial, as groundwater is less susceptible to contamination than surface water, she added.
"Despite this known link between permafrost thaw and groundwater flow, permafrost regions are often excluded or oversimplified in large-scale groundwater studies, creating a critical gap in our knowledge of how climate warming will impact water resources," Evans said.
This project will integrate data collected across permafrost landscapes, numerical models and statistical analyses to generate a conceptual model on how warming air temperatures in the Arctic impact groundwater availability.
Over the next five years, Evans plans to collaborate with App State undergraduate students in the GES department to complete the research portion of the project.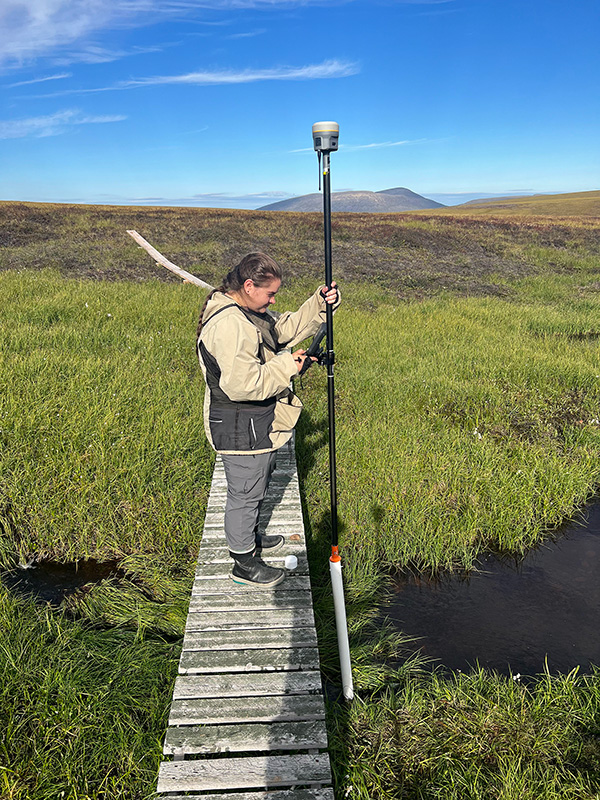 In addition to contributing to the scientific literature, the results will be used to create a permafrost hydrology educational module for rural Alaska Native middle school students as part of the University of Alaska's Alaska Native Science and Engineering Program (ANSEP).
This portion of the project will be led by Marta Toran, lecturer and K–12 outreach coordinator in the GES department, in collaboration with two local science educators — Katie Gray, an earth and environmental science teacher at Watauga High School, and Amy Peterson Atkins, an eighth grade science teacher at Hardin Park Elementary School. Both were approached to participate in the project based on their passion for elevating science education and bringing real-life science applications into their classroom.
Gray and Atkins will help develop educational activities about permafrost and climate change and will travel to Fairbanks, Alaska, with other members of the team to teach the unit at ANSEP.
Finally, the grant will also support a collaboration with Anna Buckner, assistant professor in App State's Department of Art, to produce a children's book about Earth's water cycle. Evans plans to write the content, while Buckner and undergraduate art students will create the accompanying illustrations. Evans' idea to create a children's book originated from her young daughter's love of books and curiosity about water and where it goes.
Learn more about Evans and her teaching and research.
What do you think?
Share your feedback on this story.
About the Department of Geological and Environmental Sciences
Located in Western North Carolina, Appalachian State University provides the perfect setting to study geological and environmental sciences. The Department of Geological and Environmental Sciences provides students with a solid foundation on which to prepare for graduate school or build successful careers as scientists, consultants and secondary education teachers. The department offers six degree options in geology and two degree options in environmental science. Learn more at https://earth.appstate.edu.
About the College of Arts and Sciences
The College of Arts and Sciences (CAS) at Appalachian State University is home to 17 academic departments, two centers and one residential college. These units span the humanities and the social, mathematical and natural sciences. CAS aims to develop a distinctive identity built upon our university's strengths, traditions and unique location. The college's values lie not only in service to the university and local community, but through inspiring, training, educating and sustaining the development of its students as global citizens. More than 6,400 student majors are enrolled in the college. As the college is also largely responsible for implementing App State's general education curriculum, it is heavily involved in the education of all students at the university, including those pursuing majors in other colleges. Learn more at https://cas.appstate.edu.
About the Department of Art
One of seven departments housed in the College of Fine and Applied Arts, the Department of Art at Appalachian State University prepares students to explore art, identity, expression and creative problem-solving while challenging them to go beyond their previous limits by discovering new connections to culture. The department offers degrees in art and visual culture, art education, graphic design, studio art, photography and graphic communications management, with minors in art history, studio art, photography and graphic communications management. Learn more at https://art.appstate.edu.
About the College of Fine and Applied Arts
Appalachian State University's College of Fine and Applied Arts is a dynamic and innovative group of seven academic departments, bringing together a variety of perspectives, experiences and real-world education to provide unique opportunities for student success. The college has more than 3,000 undergraduate and graduate majors. Its departments are Applied Design, Art, Communication, Military Science and Leadership, Sustainable Development, Sustainable Technology and the Built Environment, and Theatre and Dance. Learn more at https://faa.appstate.edu.
About Appalachian State University
As the premier public undergraduate institution in the Southeast, Appalachian State University prepares students to lead purposeful lives. App State is one of 17 campuses in the University of North Carolina System, with a national reputation for innovative teaching and opening access to a high-quality, affordable education for all. The university enrolls more than 21,000 students, has a low student-to-faculty ratio and offers more than 150 undergraduate and 80 graduate majors at its Boone and Hickory campuses and through App State Online. Learn more at https://www.appstate.edu.