Posted Feb. 6, 2023 at 11:51 a.m.
BOONE, N.C. — Nearly 6,000 miles from his home in Nigeria, violinist Clement Okon is pursuing his master's degree in music performance at App State and sharing his talents with students and audiences throughout the High Country.
Okon received his Bachelor of Arts in music, with a major in violin, from the University of Uyo in Nigeria, where he graduated with a first-class distinction. He played for the Hope Waddell Society of Music Orchestra in Nigeria from 2013 to 2022 and became concertmaster for the orchestra in 2015 — while simultaneously playing with several other orchestras in his home country.
He also has nearly 10 years of experience as a violin instructor and as a composer. He specializes in arranging and hybridizing African folk music for Western orchestra.
Okon shared that the most popular music in Nigeria right now is Afrobeat — a Nigerian-born music genre that blends West African beats with American jazz, soul and funk — and he fears that the regional folk music may be dying out.
"I value our cultural music and I want to try to preserve it," he said. "That is something I did in Nigeria, and when I came here, I wanted to continue that."
In his first year of study in the App State Hayes School of Music, Okon is an affiliate player for the Symphony of the Mountains in Kingsport, Tennessee, is a graduate assistant in the Appalachian Symphony Orchestra and works as a violin instructor for App State's Community Music School, a nonprofit organization that serves Boone and surrounding communities with private music lessons, classes, ensembles and events for people of all ages and backgrounds.
Outside of his studies, Okon also plays violin at Watauga Medical Center as a volunteer, providing music as a source of comfort for hospital patients.
"This is my contribution to humanity and to the good people of North Carolina — to put smiles on their faces while they recuperate," he said.
But how did Okon end up in Boone?
'App State was the best place for me'
"During my audition for App State, I met professor Nancy Bargerstock, and she ... was passionate about me achieving my goals and my dreams," he said. "I don't think other schools had the same feelings, and that's how I knew App State was the best place for me."
Dr. Nancy Bargerstock, professor of violin in the Hayes School of Music and one of the top recruiters in bringing Okon to App State, said the feeling was mutual.
"We have a philosophy in our school of music that if we accept a student, we take them at whatever level they are and give them incentives to increase their skill set," said Bargerstock. "When I first met Clement, he had a strength about him, and it was quickly apparent that he would be able to achieve a great deal and add something really valuable to our program, to our students and to App State."
Dr. Victor Mansure, professor of musicology and coordinator of music history in the Hayes School of Music, also acted as a key player in the recruitment of Okon.
"We saw that Clement was passionate about music and learning, that he was willing to work very hard and that he had a positive attitude that kept him hopeful even when difficulties arose in the recruitment process," Mansure said.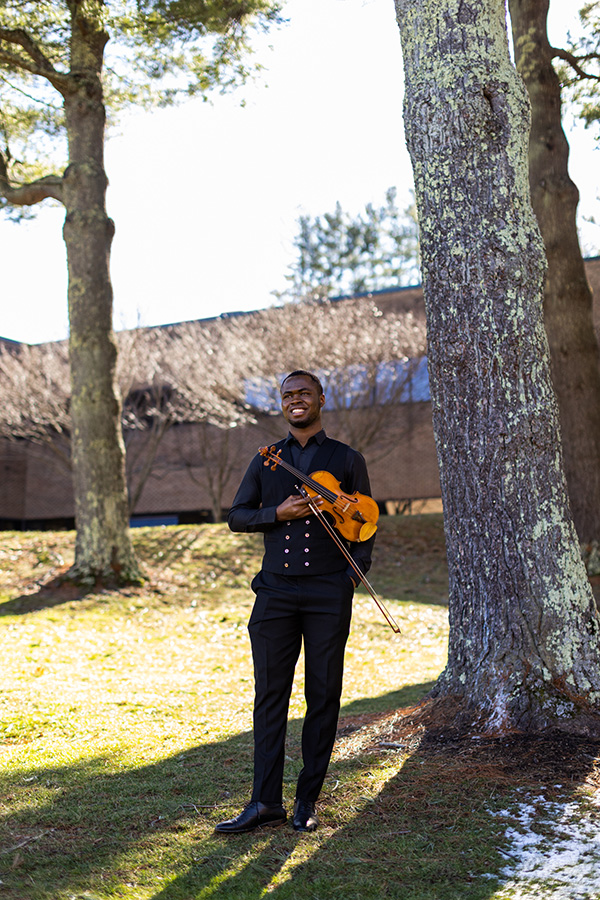 Once all of the logistics were sorted out and Okon officially decided on App State, Bargerstock said it was important for her and her colleagues to make Okon feel at home.
"The Hayes School of Music really stepped up," she said. "We had to make sure that Clement had winter gear — even housewares and furniture. Our local community members also pitched in to provide some of the things he needed."
Okon said he had to sell some personal belongings to buy airfare to the U.S., including his laptop, which held many of his compositions.
"When I got here, I had to sit down and do a lot of rearranging," he said. "It's a lot of work because the music is really complex, but the writing actually comes quite easy for me, and it's important for me to bring this music to App State."
Okon is on the Dean's Student Advisory Council, a group of leaders in the Hayes School of Music who meet with the dean once a month about important issues.
"Clement spoke up at the very first meeting, making a great impression and giving us a lot of perspective as an international student," said Hayes School of Music Dean James Douthit. "He is such a big part of our mission, because we are preparing students for music careers that have potential to take them all over the globe. Having an international student in our presence allows us to expand the footprint of what our students are able to study and the cultures they are able to consider."
Okon is the first Nigerian resident to be a student of the Hayes School of Music.
"Increasing diversity is an important goal for the university and the Hayes School of Music," said Mansure. "When all of the puzzle pieces came together to bring in Clement, we knew that we were not only assisting him but enriching the rest of our students' education. Working side by side in classes and ensembles with someone from a completely different culture and musical background will deepen not only their musical understanding but also widen their viewpoints on life."
Sharing his talent with App State — and beyond
Okon said the main reason he wanted to pursue violin in America was simply because there are more opportunities to learn and to perform here than there are in Nigeria.
"If you try to do music there, you usually have to give up and do something else," he said. "We mostly learn by video or have to travel far to a place that has something better. I wanted to leave Nigeria because I love music and I wanted to be somewhere that I would really be appreciated."
Okon's talent is already being recognized, even beyond App State, as demonstrated by his recent selection for a Red Chair sponsorship with the Symphony of the Mountains. The sponsorship is made possible by donors who help fund a musician of their choice, and that musician — in this case, Okon — is honored with a red chair and introduced at a special event during the concert season.
"It's a big honor," said Okon. "It's barely been six months since I've been here and I'm making this achievement, so I'm really excited. I've been working hard, but I didn't expect things like this to happen so soon."
Bargerstock said that for her, it wasn't as much of a surprise.
"Clement wants to practice 10 hours a day. If he sleeps, he doesn't have enough time," she said. "He has done everything that is humanly possible to absorb what I am teaching. At his exam at the end of the fall semester, my colleagues had such profound comments on his progress. He's very deserving of this recognition."
The community is invited to witness Okon's talents as a performer and arranger firsthand at his upcoming concert with the Appalachian Symphony Orchestra. The show will feature the premiere of Okon's "Nigerian Folk Song Suite." Okon's performance will take place on Sunday, Feb. 19, at 2 p.m. at the Schaefer Center for the Performing Arts and will also be available via livestream. Admission is free.
"In Nigeria, we always try to preserve our musical culture, so I selected folk songs from three different regions of Nigeria," said Okon. "I'm so excited the event is in the afternoon, at a comfortable time to watch in Nigeria, because this might be the first time our folk music is being played by a symphony outside of Nigeria."
Bargerstock said, "The concert is a real first for our program, in that we actually have a student who's presently studying, who's done the arranging and who will be sitting concertmaster of the orchestra when this music is premiered — and during Black History Month, Clement will actually be demonstrating music that influenced multiple genres of music in the Americas."
Concertgoers can park anywhere for free on App State's Boone campus the day of the show. For more information, visit https://music.appstate.edu/performances.
What do you think?
Share your feedback on this story.
About the Hayes School of Music
The Hayes School of Music prepares young musicians for professional lives as performers, composers, music educators, music therapists, conductors and music industry professionals, ensuring the next generation of musical leadership for the state, region and nation. Noted for quality instruction by national and internationally recognized faculty musicians, the school offers four undergraduate degree programs and three graduate-level programs. Learn more at https://music.appstate.edu.
About Appalachian State University
As the premier public undergraduate institution in the Southeast, Appalachian State University prepares students to lead purposeful lives. App State is one of 17 campuses in the University of North Carolina System, with a national reputation for innovative teaching and opening access to a high-quality, affordable education for all. The university enrolls more than 21,000 students, has a low student-to-faculty ratio and offers more than 150 undergraduate and 80 graduate majors at its Boone and Hickory campuses and through App State Online. Learn more at https://www.appstate.edu.