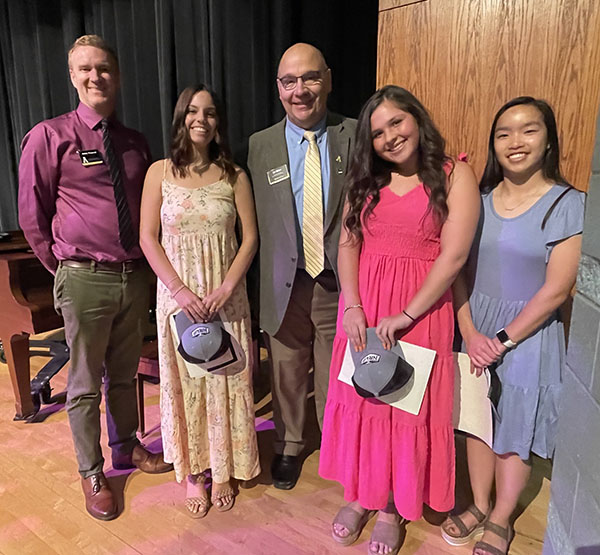 Posted June 29, 2023 at 11:04 a.m.
BOONE, N.C. — Five future Mountaineers from Watauga County have been named recipients of Appalachian State University's New River Light and Power (NRLP) Scholarship for the 2023–24 school year. Established in 1988, the scholarship provides funding to Watauga County students pursuing higher education at App State and is a key part of App State's founding mission to increase access to higher education.
The 2023–24 scholarship recipients:
Rylee Councill, a Watauga High School student.
Grace Greene, a Watauga Innovation Academy student.
Melanie Kershaw, a homeschooled student residing within Watauga County.
Joshua Moretz, a Watauga Innovation Academy student.
Gretchin Turbyfill, a Watauga High School student.
Considered one of App State's signature scholarships, the NRLP award provides students with $4,000 each year and is renewable for up to eight consecutive semesters or four years of undergraduate study, excluding Summer Sessions. All current graduating high school seniors residing in Watauga County who have been accepted to App State are eligible to apply for the NRLP Scholarship. Recipients must maintain a required 3.0 GPA at the end of each academic year in order to retain the scholarship.
"To date, New River Light and Power has awarded more than $1.7 million in scholarships to App State students from Watauga County," said NRLP General Manager Ed Miller.
In addition to offering its signature scholarship, the utility contributes approximately $650,000 each year to the App State general scholarship fund, which supports the Chancellor's Scholarship as well as other university scholarships.
To learn more about App State's scholarships, including the NRLP Scholarship Program, visit scholarships.appstate.edu.
What do you think?
Share your feedback on this story.
About Appalachian State University's New River Light and Power
For more than 100 years, Appalachian State University's New River Light and Power — a nonprofit electric utility operated by the Division of Finance and Operations — has provided power to Western North Carolina residents. Today, NRLP serves nearly 9,000 residential and commercial customers who reside in and near the town of Boone. In January 2022, the utility began purchasing its electricity from Carolina Power Partners — a partnership that opens greater renewable energy opportunities. In partnership with App State's Office of Sustainability, Facilities Operations and Renewable Energy Initiative, NRLP has assisted with various energy efficiency projects across campus, and approximately $650,000 of its budget is reserved annually for contributions to App State's general scholarship fund.
About Appalachian State University
As the premier public undergraduate institution in the Southeast, Appalachian State University prepares students to lead purposeful lives. App State is one of 17 campuses in the University of North Carolina System, with a national reputation for innovative teaching and opening access to a high-quality, affordable education for all. The university enrolls more than 21,000 students, has a low student-to-faculty ratio and offers more than 150 undergraduate and 80 graduate majors at its Boone and Hickory campuses and through App State Online. Learn more at https://www.appstate.edu.