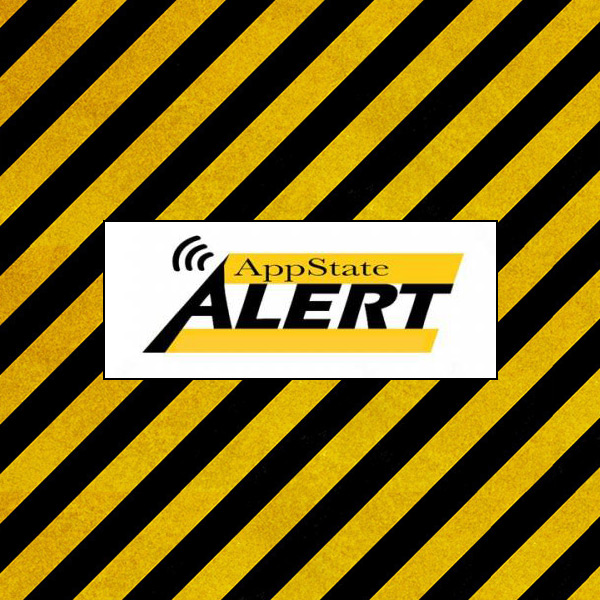 Posted Aug. 29, 2023 at 8:08 a.m.
BOONE, N.C. — Appalachian State University will conduct a full test of its emergency notification system — including, but not limited to, siren, email, voice and text messaging and the Alertus desktop notification system — at 11:55 a.m., Wednesday, Sept. 6.
The siren test will consist of a 75-second discontinuous air horn tone followed by a prerecorded voice message that says, "This is a test. This is a test of the emergency warning system. This is only a test."
The all-clear activation will consist of a 20-second alert tone followed by a prerecorded voice message. An all-clear email will also be sent to campus accounts.
App State uses multiple methods to notify and communicate emergency information to the campus community. The AppState-ALERT siren warning system is designed to provide campus students, staff, faculty and visitors with an audible notification of a significant emergency event that affects campus.
In the event of an emergency activation, individuals on campus should do the following:
Seek safe shelter immediately.
Seek more information by visiting AppState-ALERT, the university's emergency website.
Check cell phone or email for AppState-ALERT messages (if registered to receive these messages).
Monitor cell phone, email or the emergency website for updates until the "all clear" is given.
Examples of the tones that will be used in an emergency or during tests can be heard by visiting App State's Siren Warning System webpage.
The AppState-ALERT voice/text/email notification system has been updated to include alerts for the university's Hickory campus. Students and employees already registered to receive AppState-ALERTS are automatically enrolled in Hickory campus messages; they may opt out through the Self-Service section of their AppalNet account.
More information about emergency preparedness at App State, including how to register for the mobile phone and email AppState-ALERT emergency notification system, is available on App State's Emergency Preparedness website.
Siren tests are normally conducted on the first Wednesday of the month. Scheduled dates for App State's upcoming tests are Oct. 4 and Nov. 1.
What do you think?
Share your feedback on this story.
About Appalachian State University
As the premier public undergraduate institution in the Southeast, Appalachian State University prepares students to lead purposeful lives. App State is one of 17 campuses in the University of North Carolina System, with a national reputation for innovative teaching and opening access to a high-quality, affordable education for all. The university enrolls more than 21,000 students, has a low student-to-faculty ratio and offers more than 150 undergraduate and 80 graduate majors at its Boone and Hickory campuses and through App State Online. Learn more at https://www.appstate.edu.