Posted Sep. 14, 2017 at 2:13 p.m.
"A teacher who doesn't engage in research, I think, is half of a teacher. And likewise a research scholar who doesn't teach is half of a scholar." This is how Dr. Timothy J. Smith, associate professor and chair of anthropology, describes his educational approach at Appalachian State University, where he has taught since 2008.
A scholar of indigenous representation and politics in Latin America, Smith has conducted considerable research. A study abroad field school while an undergraduate anthropology student at Tulane University allowed him to begin a long-term relationship with the predominantly indigenous town of Sololá, Guatemala. He became fluent in the local language, Kaqchikel Mayan, and since then the relationship has included:
a 2001 Fulbright grant to conduct dissertation field work that studied the customs, traditions and practices of the town's indigenous government
assistance in translating 16th and 17th century documents written in Kaqchikel Mayan by the town's leaders, collectively known as The Kaqchikel Chronicles (University of Texas Press, 2006), through a research project at Tulane
a 2011 project by Appalachian to publish the first social science textbook written in Kaqchikel Mayan, which is being distributed to indigenous leaders, school officials, teachers and students in Sololá
the honor of addressing nearly 5,000 citizens attending the inauguration of Sololá's new indigenous mayor and local government representatives in 2014
He has authored numerous articles and chapters on indigenous representation and politics in Latin America. He is co-editor of "Mayas in Postwar Guatemala: Harvest of Violence Revisited," published by University of Alabama Press, and "After the Coup: An Ethnographic Reframing of Guatemala 1954," published by University of Illinois. His piece, "Confronting Violence in Postwar Guatemala," was the most downloaded article of 2010 for the Journal of Latin American and Caribbean Anthropology.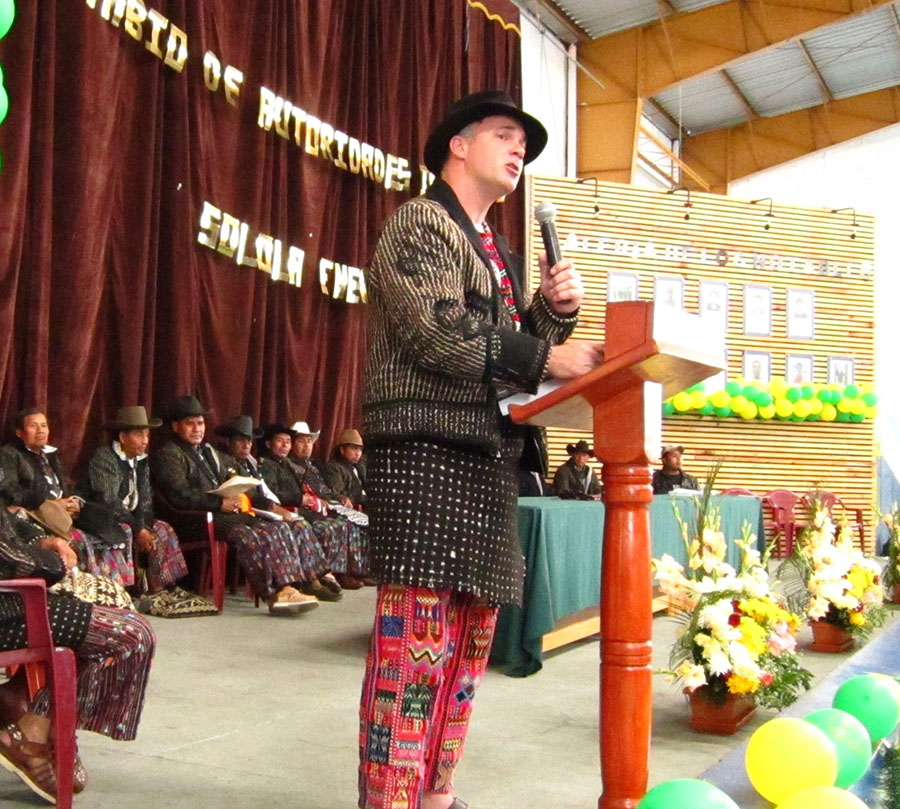 Smith has led Appalachian students in overseas ethnographic field studies in Ecuador, teaching interviewing techniques and other skills so students can construct their own research. He also taught an Introduction to Kichwa course, the Ecuadorian variant of Quechua, spoken throughout western South America. Through his study abroad programs, Appalachian students have worked with a women's cooperative promoting community tourism and studied local development models, while learning more about indigenous culture.
In fall 2012, he was selected to be a visiting research scholar in Princeton University's Program in Latin America, the first U.S. scholar to be selected at that rank in a decade. While there, he worked on a comparative ethnography on indigenous mobilization related to environmental issues in Guatemala and Ecuador. In addition to holding joint appointments in the Department of Anthropology and Office of Population Research, he taught a seminar called Politics of Ethnicity in Latin America.
"I am so grateful that Appalachian supports faculty who pursue fellowships such as this. It shows that we value not only teaching, but research as well," he said.
Prior to joining Appalachian, Smith taught at University of Illinois and University of South Florida and had visiting appointments at Harvard University and Columbia University. In 2012, he received Appalachian's William Strickland Outstanding Young Scholar Award and in 2015 he was inducted into Appalachian's College of Arts and Sciences Academy of Outstanding Teachers.
"That's one of the wonderful things about Appalachian. We have a teacher/scholar model born out of the belief that teaching is lacking if one doesn't have those research experiences."
What do you think?
Share your feedback on this story.
About the Department of Anthropology
The Department of Anthropology offers a comparative and holistic approach to the study of the human experience. The anthropological perspective provides a broad understanding of the origins as well as the meaning of physical and cultural diversity in the world — past, present and future. Learn more at https://anthro.appstate.edu.
About the College of Arts and Sciences
The College of Arts and Sciences (CAS) at Appalachian State University is home to 17 academic departments, two centers and one residential college. These units span the humanities and the social, mathematical and natural sciences. CAS aims to develop a distinctive identity built upon our university's strengths, traditions and unique location. The college's values lie not only in service to the university and local community, but through inspiring, training, educating and sustaining the development of its students as global citizens. More than 6,400 student majors are enrolled in the college. As the college is also largely responsible for implementing App State's general education curriculum, it is heavily involved in the education of all students at the university, including those pursuing majors in other colleges. Learn more at https://cas.appstate.edu.
About Appalachian State University
As the premier public undergraduate institution in the Southeast, Appalachian State University prepares students to lead purposeful lives. App State is one of 17 campuses in the University of North Carolina System, with a national reputation for innovative teaching and opening access to a high-quality, affordable education for all. The university enrolls more than 21,000 students, has a low student-to-faculty ratio and offers more than 150 undergraduate and 80 graduate majors at its Boone and Hickory campuses and through App State Online. Learn more at https://www.appstate.edu.