Posted Sep. 11, 2018 at 4:48 p.m.
BOONE, N.C. — Developing a more diverse and inclusive campus is a priority for Appalachian State University, and its most recent step toward "inclusive excellence" was a three-day residency by one of the nation's recognized experts in strategic diversity leadership and organizational change.
Dr. Damon A. Williams met with senior university leadership and a number of groups Aug. 27–29 to explore pathways to diversity, equity, inclusion and change at Appalachian.
These groups included deans, associate deans and department chairs; professional staff in divisions and units across campus; student leaders; and individuals on campus known as "diversity champions" who have been committed to improving diversity and inclusion at various levels across campus.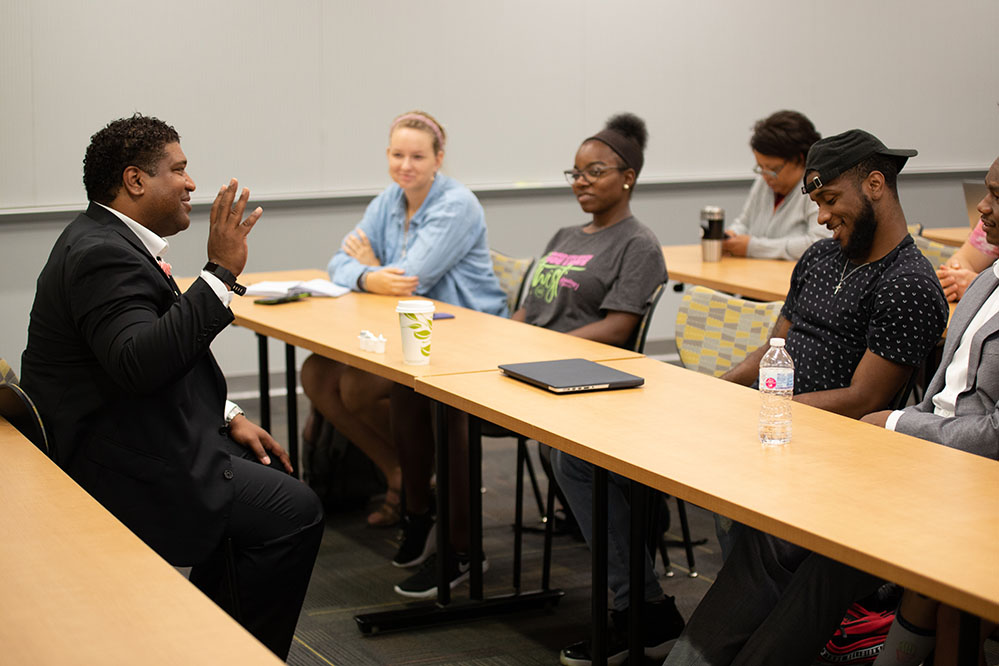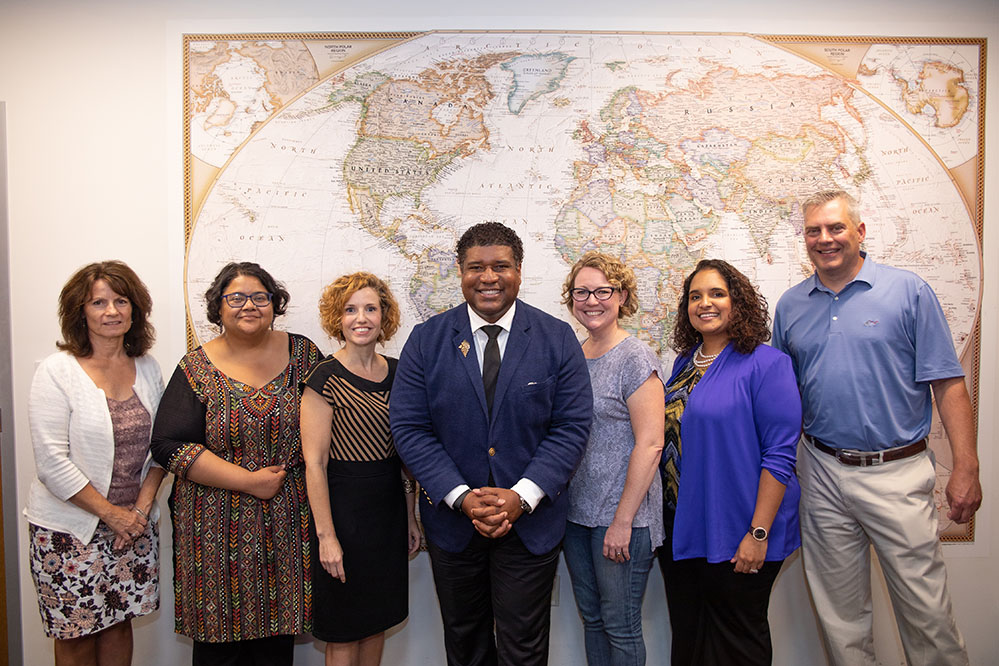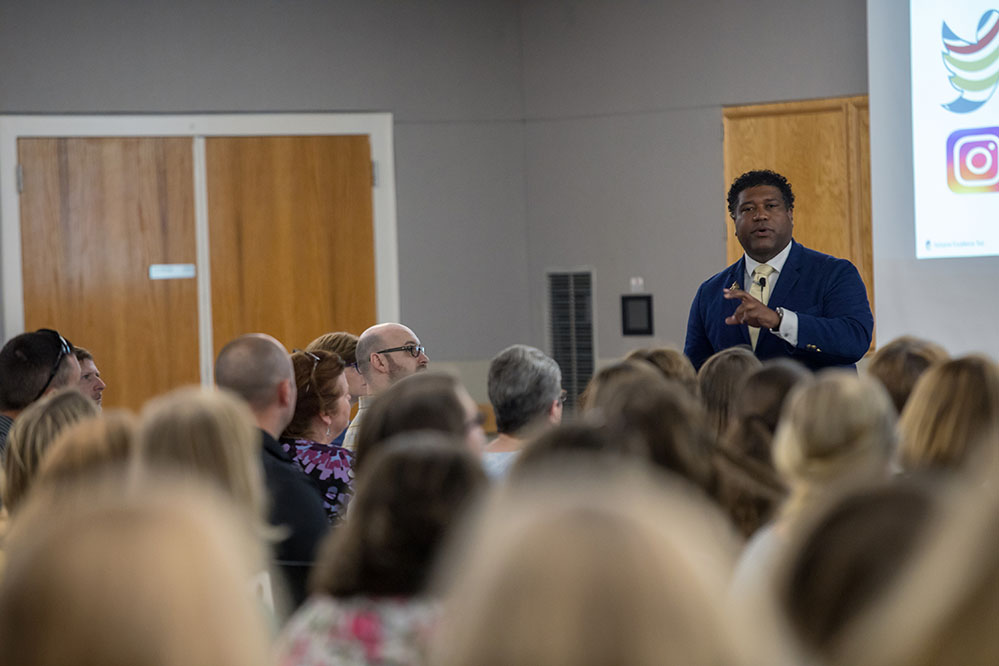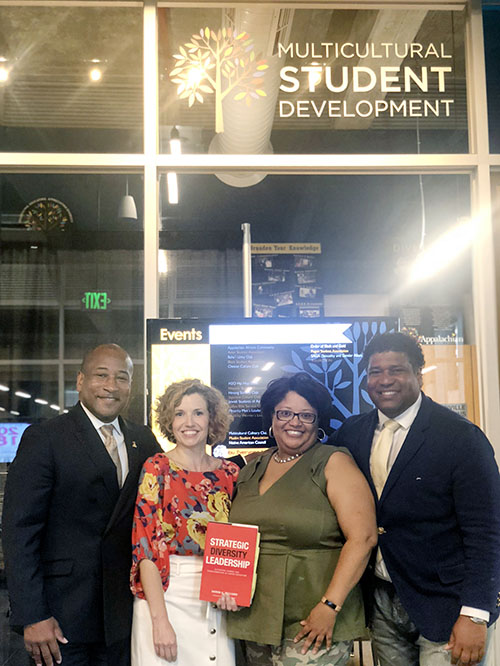 Inclusive excellence, according to Williams, is the final stage of an institution's diversity evolution in which lasting and successful strategic change is achieved. It involves a clear investment of resources and a high degree of coordination.
In advocating inclusive excellence, Chancellor Sheri Everts said, "I encourage each of us to consider how we can share in this collective responsibility. It is incumbent upon us all to find ways to make our community one that offers every member the same opportunity to thrive."
'Deliberate leadership moments'
In a public TED Talk-style presentation as part of his residency, Williams said, "There's no inclusive excellence pill. Diversity work takes time and commitment.
"While we may want aggressive change, the reality is there are powerful forces of resistance: our institutions and cultures. At the core is how we create deliberate leadership moments to get better, in terms of faculty development and helping students develop cultural understanding as they move into the workforce."
He added that for an institution to succeed in implementing its diversity plan, the university must have accountability, infrastructure, incentives and resources.
A predominantly white institution, known as a PWI, Appalachian has worked formally since the mid-1990s to bring attention and respect to previously marginalized groups and as a result, has experienced a steady increase in the diversity of its student population. Preliminary enrollment data for fall 2018 show a record 16.2 percent of the population is traditionally underrepresented. Between 2014 and 2018, Appalachian has increased its total underrepresented student population by 802 students, or 35.4 percent. Among the first-year population, that increase has been 56.2 percent.
In facilitating campus discussion, Williams' visit prompted the following advice, among others.
He encouraged staff, regardless of their individual roles on campus, to practice the "ABCs": affirm identity, build community and cultivate leaders. He also encouraged practicing greater empathy toward others.
"Each of us can show empathy. We can listen, we can connect, we can give some of our power and privilege to help others … and empower them on their journey," Williams said.
Williams encouraged administrators and faculty to become administrative-leaders and teacher-leaders — from deans and department chairs working to recruit more underrepresented faculty, including people of color, international faculty and women in STEM; to creating classroom dynamics that are more inclusive.
In improving classroom dynamics, he emphasized four dimensions for faculty to consider: self-exploration of one's own identity and potential biases and how they are unconsciously brought into the classroom; course content; pedagogy, or the methods with which they teach; and the classroom process.
Next steps in diversity and inclusion
Williams' residency, which was part of his 2018 Inclusive Excellence Tour, was organized by Chief Diversity Officer Dr. Willie Fleming, Inclusive Excellence Director Dr. Brandy Bryson in the Center for Academic Excellence, and Director of Multicultural Student Development Danielle Carter.
"My greatest impression of Damon's visit and our work as a team is that we accomplished our goal of creating an opportunity for the entire university community to hear the voice of a nationally recognized expert in the work of inclusive excellence that will inspire the community to set more effective and tangible goals concerning diversity and inclusion work," Fleming said.
Williams' research and presentations "inspired a fresh new perspective to diversity and inclusion work on our campus," Fleming added. "I look forward to continue working with senior leadership and all divisions of the university to explore and set strategic diversity leadership goals, as it relates to previous and new efforts that were influenced by Dr. Williams' work."
Carter said she found all of campus fully engaged in the sessions. "I think Dr. Williams provided us with a great deal of information that allow(s) us to create a good roadmap for the next steps," Carter said, adding the Division of Student Affairs will begin in September to develop a plan of action moving forward.
Bryson said, "A significant take-home from Dr. Williams' visit for me is the power of innovation, collaboration and leadership. I heard him tell us that each individual and each unit has the ability to be innovative in how we approach diversity, equity and inclusion efforts and if we innovate and collaborate, we continue to level up our excellence.
"A central point of innovation and transformation is leadership — how we all can contribute as student-leaders, teacher-leaders, and administrative-leaders — as long as we lead with courage, empathy and an inquiry mindset," she said.
About Diversity and Inclusion at Appalachian
Appalachian State University is committed to developing and allocating resources to the fundamental task of creating a diverse campus culture. We value diversity as the expression of human similarities and differences, as well as the importance of a living and learning environment conducive to knowledge, respect, acceptance, understanding and global awareness. Learn more at http://diversity.appstate.edu.
About Appalachian State University
As the premier public undergraduate institution in the Southeast, Appalachian State University prepares students to lead purposeful lives as global citizens who understand and engage their responsibilities in creating a sustainable future for all. The Appalachian Experience promotes a spirit of inclusion that brings people together in inspiring ways to acquire and create knowledge, to grow holistically, to act with passion and determination, and to embrace diversity and difference. Located in the Blue Ridge Mountains, Appalachian is one of 17 campuses in the University of North Carolina System. Appalachian enrolls nearly 21,000 students, has a low student-to-faculty ratio and offers more than 150 undergraduate and graduate majors.
What do you think?
Share your feedback on this story.