Posted April 26, 2019 at 3:19 p.m.
BOONE, N.C. — Thanks to an aspiring Eagle Scout, the students, faculty and staff at Appalachian State University Academy at Middle Fork have an outdoor space for gathering and newly landscaped grounds to enjoy.
Ryan Porter, a member of Boy Scout Troop 940 in Kernersville and eighth grade student at Kernersville Middle School, organized a team of volunteers from his troop to help fund, build and install eight picnic tables at the academy. The Scouts also purchased two concrete benches, cleaned up debris on the academy grounds and planted flowers and a maple tree to commemorate the school's first year in operation.
Appalachian Chancellor Sheri Everts said she admires the entrepreneurial spirit Porter displayed in raising the funds and garnering community support for the endeavor. "It is always satisfying to learn of young people who display civic-mindedness at an early age," she said.
The Academy at Middle Fork, the university's laboratory school located in Walkertown, opened in fall 2018 as a collaboration between Appalachian's Reich College of Education and Winston-Salem/Forsyth County Schools. Porter's mother, Lori Porter, is a teacher assistant at the academy.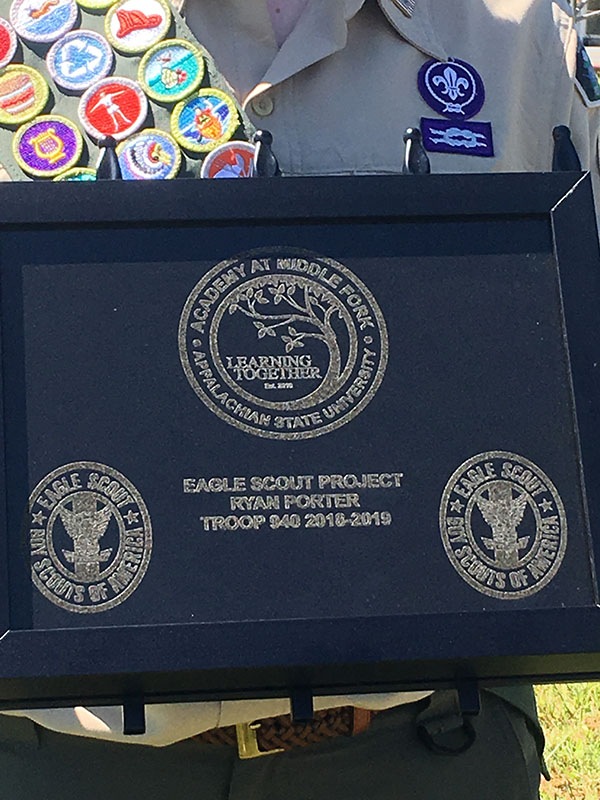 To become an Eagle Scout, Scouts must meet many requirements before the age of 18. Scouts must earn a total of 21 merit badges, serve in leadership roles and complete an Eagle Scout project, usually benefitting a church, school or the community.
"Only 3–4% of Boy Scouts achieve the rank of Eagle Scout," said John Daniel "JD" Serrin '05 '12, an Appalachian alumnus and the scoutmaster of Troop 940. "For Ryan to complete the requirements at such a young age is remarkable. He is learning how scouting contributes to both leadership skills and overall character development."
Ryan Porter, who is an avid reader, said, "I chose to do my Eagle Scout project at the academy because I believe in its emphasis on literacy and learning together. I wanted to give the students a nice, clean area to learn outdoors. Teachers are now using the picnic tables to have lessons in reading and writing.
"From this experience, I learned how to set goals and lead a group of people to accomplish those goals. I had to direct both adults and youth during my workday. I feel great about the results our crew achieved," he added.
Ryan Porter raised $1,300 in funds for the project by selling popcorn and procuring donations. Additionally, students' writings and artwork from the academy's first year of operation will be preserved in a time capsule to be purchased using the $200 surplus that remains after project expenses.
What do you think?
Share your feedback on this story.
About the Academy at Middle Fork
The Appalachian State University Academy at Middle Fork, located in Walkertown, North Carolina, serves approximately 300 K–5 students. The academy provides a balanced education through the implementation of research-based practices, state-of-the-art literacy instruction, and exemplary classroom instruction and administration. Learn more at https://middlefork.appstate.edu.
About the Reich College of Education
Appalachian State University offers one of the largest undergraduate teacher preparation programs in North Carolina, graduating about 500 teachers a year. The Reich College of Education enrolls more than 2,000 students in its bachelor's, master's, education specialist and doctoral degree programs. With so many teacher education graduates working in the state, there is at least one RCOE graduate teaching in every county in North Carolina. Learn more at https://rcoe.appstate.edu.
About Appalachian State University
As the premier public undergraduate institution in the Southeast, Appalachian State University prepares students to lead purposeful lives as global citizens who understand and engage their responsibilities in creating a sustainable future for all. The Appalachian Experience promotes a spirit of inclusion that brings people together in inspiring ways to acquire and create knowledge, to grow holistically, to act with passion and determination, and to embrace diversity and difference. Located in the Blue Ridge Mountains, Appalachian is one of 17 campuses in the University of North Carolina System. Appalachian enrolls nearly 21,000 students, has a low student-to-faculty ratio and offers more than 150 undergraduate and graduate majors.