Posted April 23, 2020 at 1:25 p.m.
BOONE, N.C. — Isaac Wood, a sophomore interior design major at Appalachian State University from Smyrna, South Carolina, has been named the first-place winner of the 2019–20 Otto Zenke Student Design Competition, open to North and South Carolina students in interior design or interior architecture programs. Wood won a $1,000 scholarship as part of the award, and Appalachian's interior design program received a matching $1,000 prize.
The design competition, organized by the Carolinas Chapter of the American Society of Interior Designers (ASID Carolinas), gives both scholars and their programs the opportunity to showcase their creativity and professionalism, and the chance to win scholarship money along with recognition throughout the Carolinas.
Wood said his juvenile diabetes diagnosis and time spent on construction sites as a child shaped his desire to create soothing and functional indoor spaces.
"I was diagnosed with juvenile diabetes at age 12 and spent lots of time at Levine Children's Hospital in Charlotte, which is an amazing space. It's bright; it's happy; it helps the children there maintain a positive spirit even though they may be in really bad physical condition," Wood said. "Every other hospital I go to fails in that aspect. Most hospitals are dark, stale and sterile, and they're a maze, hard to navigate — and I want to change that."
At age 5, Wood began visiting building sites with his dad, a licensed contractor.
"My dad would take me on the job site with him and I'd see the skeleton of houses being built. From an early age, I wanted to make them more functional and come up with ways to design the inside."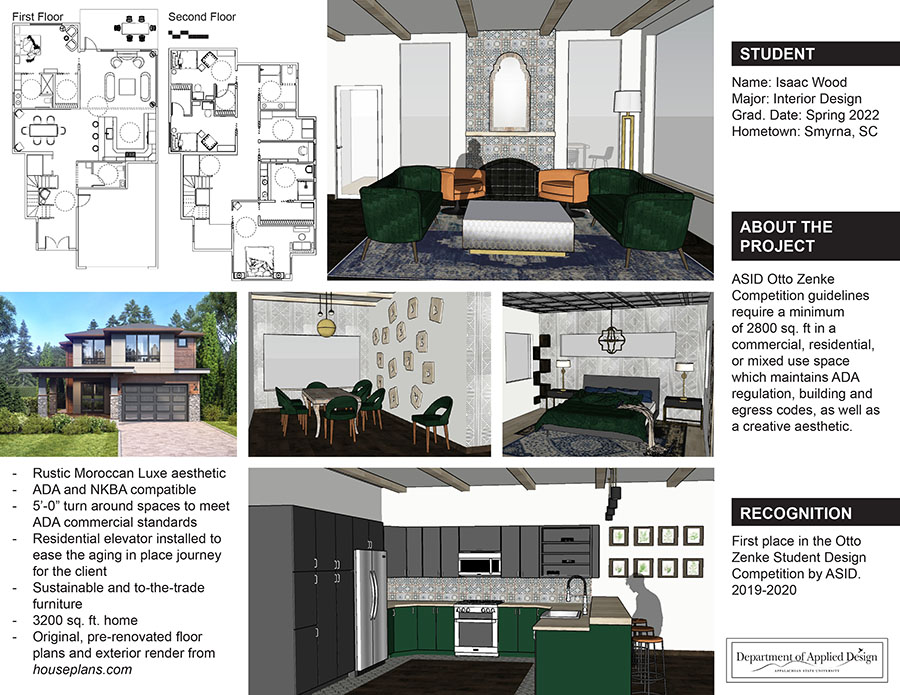 Creating award-winning designs
Wood's award-winning interior home design was part of a project he completed for his Studio 2 Interior Design class at Appalachian.
For his entry, Wood used universal, accessible design for a fictional client in Asheville who was moving an elderly parent into their home, which includes an adult couple and two children. Wood's Moorish-inspired design featured well-thought-out living space.
Wood, who reported having worked on his design over most of the fall 2019 semester and during the semester's fall and winter breaks, said, "I put a ton of work into it. I stepped outside of my comfort zone with the design, using some of what I learned about Islamic architecture in my Architecture History class. My comfort design aesthetic is more earth tones, and I'd never really experimented with patterns before."
His plan makes significant structural changes to accommodate the needs of the growing family, including installing an elevator to assist with mobility issues, enlarging the hallways for wheelchair accessibility and redesigning bedrooms, bathrooms and the kitchen for accessibility. Sustainable surfaces, appliances and furniture were utilized whenever possible and features such as anti-slip tile in the bathrooms, roll-under sinks, vanities and kitchen seating were incorporated without diminishing the aesthetic appeal of the two-story home.
About 80% of the recommended furniture for the project is to-the-trade, locally sourced furniture from companies that participate in North Carolina's High Point Furniture Market. Some rooms were also altered significantly — a larger, shared bathroom for the children was created by taking away an extra bedroom. The plan also adds a small office nook in the master suite.
Wood was recognized with the design award March 27, via a Zoom video conference. The awards presentation, originally scheduled to be held in Charlotte by ASID Carolinas, was rescheduled due to concerns related to the COVID-19 situation.
"Isaac's success is particularly significant since our Studio 2 students are in their second year of study and are competing with more advanced students in the competition," said Dr. Margot Olson, who teaches the Studio 2 class as a professor in Appalachian's Department of Applied Design.
In the second year of Appalachian students participating in the design competition, Wood is the fourth interior design student to receive an award. In the 2018–2019 competition, junior interior design majors Carly Lawing, of Mooresville, Lauren Mackenzie Halford, of Morganton, and Naomi Lytle, of Brevard, swept the competition — placing first, second and third, respectively.
Wood said he chose Appalachian's B.S. in interior design degree program after looking for an accredited, hands-on, architectural-based program. "I wanted a program where I could learn about building codes, about egress — how to actually space plan," he said.
After graduation, he plans to work for an interior designer before pursuing a master's degree in interior architecture.
What do you think?
Share your feedback on this story.
About the Department of Applied Design
One of seven departments housed in the College of Fine and Applied Arts, the Department Applied Design at Appalachian State University fosters excellence in design education, design research and professional placement. The department balances theoretical and pragmatic approaches while exploring an awareness of impact through design decisions on the global community. Faculty focus on a holistic approach to creative problem-solving by integrating sustainability and ethical responsibility in teaching and practice. The department offers bachelor's degrees in apparel design and merchandising, industrial design and interior design. Learn more at https://design.appstate.edu.
About the College of Fine and Applied Arts
Appalachian State University's College of Fine and Applied Arts is a dynamic and innovative group of seven academic departments, bringing together a variety of perspectives, experiences and real-world education to provide unique opportunities for student success. The college has more than 3,000 undergraduate and graduate majors. Its departments are Applied Design, Art, Communication, Military Science and Leadership, Sustainable Development, Sustainable Technology and the Built Environment, and Theatre and Dance. Learn more at https://faa.appstate.edu.
About Appalachian State University
As the premier public undergraduate institution in the Southeast, Appalachian State University prepares students to lead purposeful lives. App State is one of 17 campuses in the University of North Carolina System, with a national reputation for innovative teaching and opening access to a high-quality, affordable education for all. The university enrolls more than 21,000 students, has a low student-to-faculty ratio and offers more than 150 undergraduate and 80 graduate majors at its Boone and Hickory campuses and through App State Online. Learn more at https://www.appstate.edu.