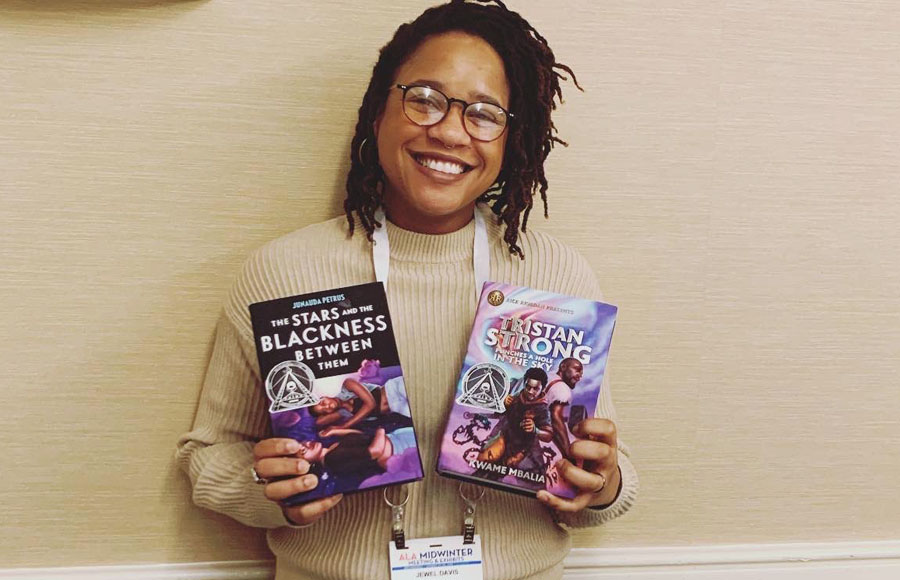 Posted April 29, 2020 at 9:16 a.m.
BOONE, N.C. — Do you know a young reader who's looking to read quality, diverse books?
Jewel Davis, an education librarian and associate professor at Appalachian State University, recommends the 10 winning titles of the 2020 Coretta Scott King (CSK) Book Awards — books for children and young adults that demonstrate an appreciation of African American culture and universal human values.
Davis, who works in the Instructional Materials Center (IMC) of Appalachian's Carol Grotnes Belk Library and Information Commons, is one of seven members chosen nationally to serve on the CSK Book Awards Jury, which selects the annual (CSK) Book Awards. Davis is serving a two-year jury term that began in February 2019 and will conclude in June 2021.
The intent of the annual CSK Book Awards, now in their 50th year, is to encourage the artistic expression of the black experience via literature and the graphic arts in biographical, social and historical treatments by African American authors and illustrators.
Sponsored by the Ethnic and Multicultural Information Exchange Round Table (EMIERT) of the American Library Association (ALA), the awards also commemorate the life and work of Dr. Martin Luther King Jr. and honor his wife, Coretta Scott King, for her efforts in promoting peace and world brotherhood.
"Teachers and librarians across the nation use these award-winning books to show students the rich culture and history of African Americans and the universal values we all share," Davis said. "Every child should be able to see their experiences and culture represented in literature and be empowered by those representations."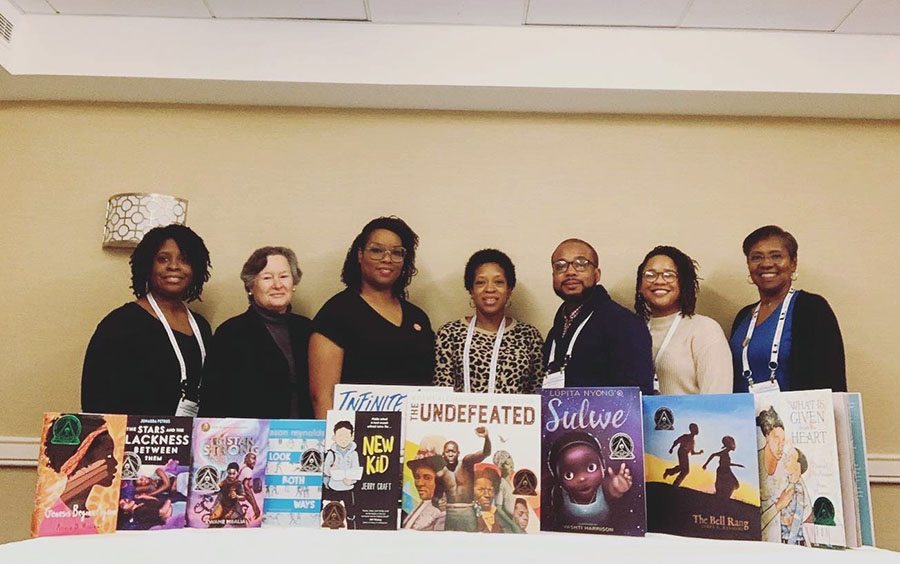 Of her CSK juror experience, Davis said, "Working alongside other youth advocates to find and celebrate authentic youth literature is an exciting and rewarding service experience. We are taking part in a long history of advocacy, and it is an honor and privilege to be able to say that our work contributed to the lasting legacy of celebrating African American youth literature."
The CSK Jury selects award winners in three categories: Coretta Scott King Author Award and Honor Books; Coretta Scott King Illustrator Award and Honor Books; and Coretta Scott King John Steptoe/New Talent Award Books.
To be considered for membership, CSK jurors must belong to ALA, EMIERT and the CSK Book Awards Committee, of which the CSK Jury is a unit. Jurors must also have proven expertise in the evaluation of children's literature as validated by experience on book selection or book award committees and/or documented work with children's literature.
Each juror is responsible for the following:
Reading all books eligible for CSK awards for the year(s) of his or her term and submitting written nominations of potential award winners to the jury chair.
Seeking out potential titles for consideration.
Reading published reviews in professional journals of various books being considered.
Assisting in the writing of the press releases for the newly chosen award books.
Assisting in the writing of book discussion guides for the newly chosen award books.
The awards winners, which are announced at the annual ALA Midwinter Conference, are usually presented to the authors and illustrators during the ALA Annual Conference and Exhibition. However, due to concerns related to the current COVID-19 situation, plans are underway to reschedule the awards ceremony, according to ALA.
About Jewel Davis
As an education librarian and University Libraries liaison to Appalachian's Reich College of Education (RCOE), Davis' responsibilities include the following:
Provide research and reference services to RCOE students and faculty.
Provide information literacy instruction for RCOE students.
Strengthen the library's relationship with the RCOE.
Participate in outreach programs to area pre-K–12 educators.
Develop, analyze and manage resources for the library's Education and Instructional Materials Center (IMC) collections.
In addition to her ALA membership, Davis is a board member of the Assembly on Literature for Adolescents (ALAN) and a member of Belk Library's Library Council. She is past chair of North Carolina Library Association's Roundtable for Ethnic and Minority Concerns.
Davis holds a Master of Library and Information Studies from the University of North Carolina at Greensboro, as well as a Master of Arts in teaching and a Bachelor of Arts in English, both from UNC-Chapel Hill. Her scholarly interests include diversity in children's and young adult literature, critical media literacy and arts-based research.
What do you think?
Share your feedback on this story.
2020 CSK Book Awards recipients
Appalachian's university libraries are vibrant, collaborative learning environments where campus community members come together to create knowledge
July 25, 2018
About University Libraries
University Libraries at Appalachian State University contributes to the campus mission of learning, teaching, advancing knowledge, engagement and effectiveness. Belk Library and Information Commons along with the Nicholas Erneston Music Library provide academic resources for all students and faculty. Within the library, students and faculty find group and quiet study spaces, the Digital Media Studio, the inspire lab, the Idea Factory, digital devices to check out, and special collections such as the W.L. Eury Appalachian Collection and Instructional Materials Center. Learn more at https://library.appstate.edu.
About Appalachian State University
As the premier public undergraduate institution in the state of North Carolina, Appalachian State University prepares students to lead purposeful lives as global citizens who understand and engage their responsibilities in creating a sustainable future for all. The Appalachian Experience promotes a spirit of inclusion that brings people together in inspiring ways to acquire and create knowledge, to grow holistically, to act with passion and determination, and to embrace diversity and difference. Located in the Blue Ridge Mountains, Appalachian is one of 17 campuses in the University of North Carolina System. Appalachian enrolls more than 20,000 students, has a low student-to-faculty ratio and offers more than 150 undergraduate and graduate majors.