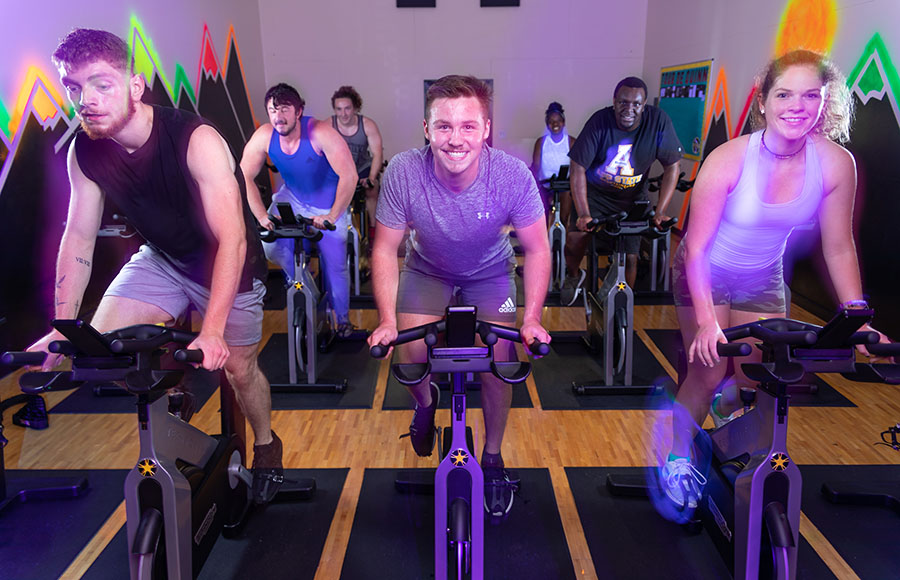 Posted May 11, 2020 at 5:02 p.m.
BOONE, N.C. — Appalachian State University is one of 166 universities and colleges around the world recently honored by the American College of Sports Medicine (ACSM) Exercise is Medicine® initiative for its efforts to create a culture of wellness on campus.
Appalachian earned gold-level designation from the Exercise is Medicine® On Campus (EIM-OC) program, one of only 77 institutions receiving this top distinction. Among the other schools honored, 62 received silver and 27 bronze.
EIM-OC calls upon universities and colleges to promote physical activity as a vital sign of health and encourages faculty, staff and students to work together to improve the health and well-being of the campus community.
Most notably, Appalachian's collaborative projects to create a culture of wellness included the following series of activities in October 2019:
Implementing physical activity as a checked vital sign for all students at M.S. Student Health Service.
Writing exercise prescriptions for some students and referring them to a credentialed fitness professional housed within University Recreation to develop an exercise plan specific to their health needs.
Highlighting weekly programs for various campus communities that included faculty, staff and students.
Sharing of stories on University Recreation's fitness Instagram account of how and why faculty, staff and students from across campus use exercise as a form of medicine.
All gold, silver and bronze universities and colleges will be officially recognized May 27 as part of the 11th World Congress on Exercise is Medicine, held in conjunction with ACSM's 67th Annual Meeting.
"We are thrilled to recognize these campuses' commitment to make movement a part of daily campus culture and give students the tools to cultivate physical activity habits that will benefit them throughout their lives," said Robyn Stuhr, vice president of Exercise is Medicine. "These campus programs are nurturing future leaders who will advance a key tenet of Exercise is Medicine: making physical activity assessment and promotion a standard in health care."
Dr. E. Torre Hinnant, staff physician at M.S. Shook Student Health Service, said, "We at Appalachian State University are honored to receive the gold-level designation by the American College of Sports Medicine Exercise is Medicine initiative."
Hinnant continued, "Students, clinicians, staff and faculty have benefited greatly from the Exercise is Medicine events and projects on our campus and in the community. The exercise prescription and referral process was so successful last year that we are planning on expanding the program and including it with every Student Health Service visit in fall semester 2020. The Exercise is Medicine On Campus initiative has helped us to find innovative, new ways to care for our students' well-being, to get them more engaged in their health and to transform their understanding of the health benefits of exercise."
Appalachian's Exercise is Medicine campuswide initiative grew out of a Student Well-being Improvement Team (SWIT team) housed in the Department of Wellness and Prevention Services in the Division of Student Affairs. This team of faculty, staff and students was brought together to advance education and outreach focused on physical activity and nutrition. The team formally began planning Exercise is Medicine projects in January 2018.
The following Appalachian faculty and staff worked on the campaign:
EIM-OC launched its recognition program in 2014 to honor campuses for their efforts to create a culture of wellness. Schools earn gold, silver or bronze status based on their activities. Gold-level campuses have created a referral system where campus health care providers assess student physical activity and refer students as necessary to a certified fitness professional as part of medical treatment. Silver campuses engage students, faculty and staff in education initiatives and make movement part of the daily campus culture while bronze-level campuses promote and generate awareness of the health benefits of physical activity.
View a complete list of recognized schools and learn more about the EIM-OC program.
To stay apprised of Appalachian's future Exercise is Medicine opportunities or if you wish to collaborate, visit https://fitness.appstate.edu/eimappstate.
What do you think?
Share your feedback on this story.
About the Division of Student Affairs
The Division of Student Affairs at Appalachian State University is committed to the development of lifelong learners and leaders by engaging and challenging students within a culture of care and inclusion. The division consists of 16 units that offer activities and services to help students develop more fully by becoming global learners, fostering healthy relationships, appreciating diversity and different perspectives, understanding community responsibility, enhancing self-awareness, developing autonomy and living ethically. These units include the Career Development Center, Campus Activities, Office of Community-Engaged Leadership, Wellness and Prevention Services, Counseling and Psychological Services, Student Health Service, Parent and Family Services, University Housing, Student Conduct, University Recreation, Intercultural Student Affairs, Student Legal Clinic and Off-Campus Student Services, Electronic Student Services, Child Development Center, and Staff Development and Strategic Initiatives. Learn more at https://studentaffairs.appstate.edu.
About Appalachian State University
As the premier public undergraduate institution in the Southeast, Appalachian State University prepares students to lead purposeful lives as global citizens who understand and engage their responsibilities in creating a sustainable future for all. The Appalachian Experience promotes a spirit of inclusion that brings people together in inspiring ways to acquire and create knowledge, to grow holistically, to act with passion and determination, and to embrace diversity and difference. Located in the Blue Ridge Mountains, Appalachian is one of 17 campuses in the University of North Carolina System. Appalachian enrolls nearly 21,000 students, has a low student-to-faculty ratio and offers more than 150 undergraduate and graduate majors.