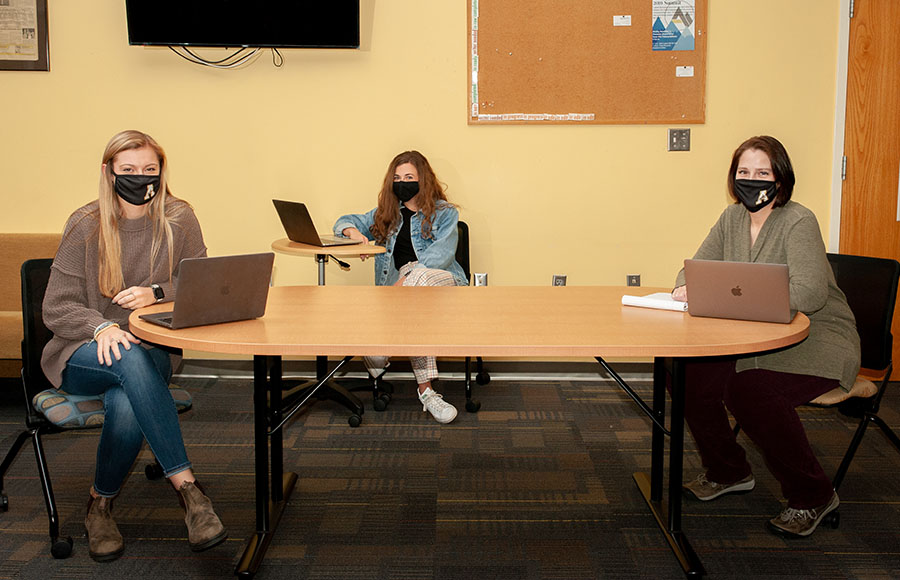 The Appalachian earns national recognition
Posted Jan. 11, 2021 at 3:22 p.m.
BOONE, N.C. — Allison Bennett Dyche, former assistant director for student media at Appalachian State University, has returned to App State. She now serves as news adviser for The Appalachian — the university's student newspaper housed in the Department of Communication.
"Allison brings a high degree of professionalism to the role of adviser," said Dr. Scott Welsh, associate professor in and chair of the Department of Communication. "We can also count on her to advise The Appalachian with an eye toward serving the university and the broader community."
Senior Jackie Park, The Appalachian's editor-in-chief, said Dyche brings a blend of expertise and enthusiasm to the newspaper's staff, which consists of about 60 students working in news, editorial, sports, features, photography, layout, advertising and analytics. The paper's website receives 80,000 monthly views.
Over the past four years, Dyche served as director of student media at Virginia Commonwealth University (VCU) and has advised student media organizations at VCU, the Savannah College of Art and Design (SCAD) and App State. As an undergraduate, she worked as an editor and reporter at Georgia Southern University. In addition to her collegiate career, Dyche was a journalist at the Savannah Morning News.
Dyche said she arrived at App State a month prior to Election Day 2020.
"As I was returning, our student editorial staff already had a plan of how they wanted to cover the local, state and national elections, beginning at 6:30 a.m. and continuing after the polls closed in California," Dyche said. "They were pumped up and excited about it, and while the coverage was intense, it was also a lot of fun."
According to Welsh, Dyche is especially interested in building on efforts to foster collaboration between The Appalachian and App State's two other student media outlets — 90.5 WASU-FM and AppTV — as demonstrated by the organizations' efforts to provide joint election coverage.
The elections are one example of how student media outlets are offering their communities access to news and information, Dyche said.
"Our students are producing work that transcends the boundaries of the university and offers relevance to everyone," she said. "For example, former Editor-in-Chief and Political Editor Moss Brennan has created a COVID-19 tracker not just for the students, faculty and staff at App State — it's for the whole community. For him to be able to do that while he's still a student is just phenomenal."
A warm welcome home
"When I came back to App State and I would see someone I knew from working here before, the person would say, 'welcome home,'" Dyche said. "I've worked at three different universities and App State is the one that most feels like home."
When Dyche first worked at App State, The Appalachian was part of the Center for Student Involvement and Leadership, which during her tenure was re-named the Department of Student Engagement and Leadership. In 2018, The Appalachian officially became part of the university's Department of Communication, joining AppTV and WASU.
"Working within an academic department was one of the things that drew me back to Appalachian, and I'm very excited to work with faculty who understand journalism," said Dyche, who is performing research in audiovisual storytelling/podcasting while finishing her Ph.D. in media, art and text.
"It's clear the future of journalism is creating a variety of content for different platforms," Dyche said. "Students are experimenting with social media platforms, creating new ways to deliver information and working with video and audio. It's great to see them take the theories and skills they've learned in the classroom and put them into action."
Dr. Greg Perrault, assistant professor of multimedia journalism in the Department of Communication, served as The Appalachian's interim adviser for several months before Dyche's arrival. The news adviser role was held from August 2018–July 2020 by Ira David Levy, who now serves as director of Kansas State University's Collegian Media Group.
Recognizing the impact of working in collegiate student media
From a series of interviews she conducted with students involved in collegiate media, Dyche observed, "Despite the career they chose, the experience of being part of a student media organization was powerful for them." In every case, she said interviewees recommended students become active in a college media organization.
Dyche said she hopes to build on App State's already strong student media foundation and offer more students the opportunity to be part of the university's student media outlets.
She holds a Bachelor of Science in journalism from Georgia Southern University and a Master of Arts in documentary photography from SCAD.
What do you think?
Share your feedback on this story.
The Appalachian earns national recognition
About the Department of Communication
One of seven departments housed in the College of Fine and Applied Arts, the Department of Communication at Appalachian State University focuses on preparing students to succeed in the varied fields within the communication industry. The department offers five majors – advertising, communication studies, electronic media/broadcasting, journalism and public relations – and a minor in communication studies. Graduates work in a wide range of positions in media, corporate, agency, government and nonprofit organizations. Learn more at https://communication.appstate.edu.
About the College of Fine and Applied Arts
Appalachian State University's College of Fine and Applied Arts is a dynamic and innovative group of seven academic departments, bringing together a variety of perspectives, experiences and real-world education to provide unique opportunities for student success. The college has more than 3,000 undergraduate and graduate majors. Its departments are Applied Design, Art, Communication, Military Science and Leadership, Sustainable Development, Sustainable Technology and the Built Environment, and Theatre and Dance. Learn more at https://faa.appstate.edu.
About Appalachian State University
As the premier public undergraduate institution in the Southeast, Appalachian State University prepares students to lead purposeful lives as global citizens who understand and engage their responsibilities in creating a sustainable future for all. The Appalachian Experience promotes a spirit of inclusion that brings people together in inspiring ways to acquire and create knowledge, to grow holistically, to act with passion and determination, and to embrace diversity and difference. Located in the Blue Ridge Mountains, Appalachian is one of 17 campuses in the University of North Carolina System. Appalachian enrolls nearly 21,000 students, has a low student-to-faculty ratio and offers more than 150 undergraduate and graduate majors.