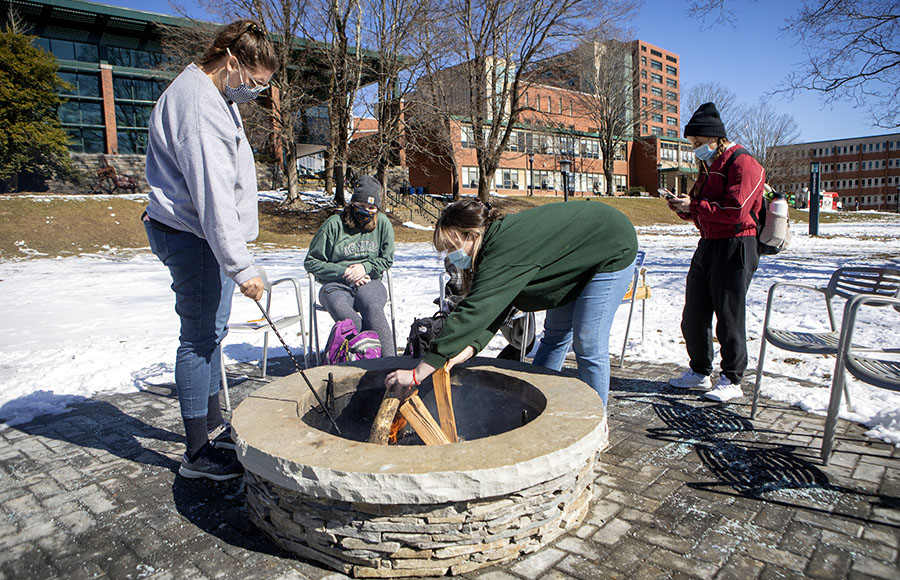 Posted March 25, 2021 at 9:07 a.m.
BOONE, N.C. — Appalachian State University students have been enjoying increased opportunities to gather warmly for outdoor, distanced socializing.
The university constructed a wood-burning campfire site on Sanford Mall this winter and added propane fire tables to Plemmons Student Union's Howard's Knob Patio.
In addition, Campus Dining offers "fireside fare" packages for sale at the University Bookstore market that feature marshmallows, s'mores items, hot dogs, and hot dog buns and condiments.
"We recognize that feelings of isolation, loneliness and anxiety can become heightened in the colder and darker months, and we are working on ways to facilitate the community connections our students need, while also following safety guidelines," Chancellor Sheri Everts said.
The campfire site and fire tables "will allow students to gather … and enjoy the outdoors, while staying physically distanced, but socially connected," she added.
The campfire is lit as weather permits, generally between 11 a.m. and 4 p.m., said Jeff Cathey, director of the Department of Student Engagement and Leadership and interim assistant vice chancellor for student affairs. Student employees of Plemmons Student Union (PSU) have been trained to set up and light the campfire. The site can accommodate 10 chairs, which are supplied by PSU.
The Howard's Knob Patio fire tables, which operate between 11 a.m. and 8 p.m. as weather permits, are also tended by PSU student employees.
University units involved in building the Sanford Mall campfire site were Facilities Operations' masonry shop, mechanical shop and landscaping crew.
What do you think?
Share your feedback on this story.
About the Division of Student Affairs
The Division of Student Affairs at Appalachian State University is committed to the development of lifelong learners and leaders by engaging and challenging students within a culture of care and inclusion. The division consists of 16 units that offer activities and services to help students develop more fully by becoming global learners, fostering healthy relationships, appreciating diversity and different perspectives, understanding community responsibility, enhancing self-awareness, developing autonomy and living ethically. These units include the Career Development Center, Campus Activities, Office of Community-Engaged Leadership, Wellness and Prevention Services, Counseling and Psychological Services, Student Health Service, Parent and Family Services, University Housing, Student Conduct, University Recreation, Intercultural Student Affairs, Student Legal Clinic and Off-Campus Student Services, Electronic Student Services, Child Development Center, and Staff Development and Strategic Initiatives. Learn more at https://studentaffairs.appstate.edu.
About Appalachian State University
As the premier public undergraduate institution in the state of North Carolina, Appalachian State University prepares students to lead purposeful lives as global citizens who understand and engage their responsibilities in creating a sustainable future for all. The Appalachian Experience promotes a spirit of inclusion that brings people together in inspiring ways to acquire and create knowledge, to grow holistically, to act with passion and determination, and to embrace diversity and difference. Located in the Blue Ridge Mountains, Appalachian is one of 17 campuses in the University of North Carolina System. Appalachian enrolls more than 20,000 students, has a low student-to-faculty ratio and offers more than 150 undergraduate and graduate majors.