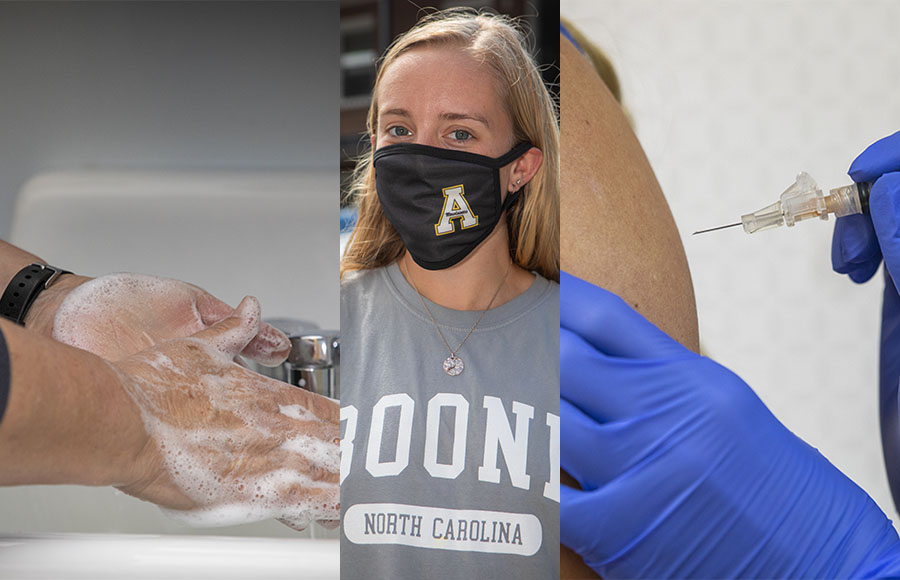 Where to get a COVID-19 test
Posted Dec. 21, 2020 at 10:44 a.m.
BOONE, N.C. — Want to stay healthy this winter? Appalachian State University's Taylor Rushing, M.D., medical director of the M.S. Shook Student Health Service on campus, offers these recommendations for keeping your physical and mental health in check:
Physical health

Wash your hands frequently. "We all know this helps," Rushing said. "The use of soap and hot water can't be stressed enough."

Continue to wear a face covering when around other people. This is recommended by the Centers for Disease Control and Prevention (CDC) to lessen the spread of COVID-19. "An added perk as we go into flu season is that it should also help lessen the spread of influenza," Rushing said.

Get a flu shot. While face coverings will hopefully help decrease flu transmission, viruses that cause the flu remain an annual threat. "The flu shot lessens the likelihood of catching the flu greatly. For those who still catch flu despite being immunized, having had the vaccine will typically decrease severity of symptoms," Rushing said.

Stay home if you are not feeling well. This will help prevent transmission of flu, COVID-19 and other infections to other people. It can be hard to stay home and rest, said Rushing, "but we all need to stay home if we're feeling ill." An added benefit to doing so: "Rest will also help you recover more quickly," he said.

Sleep. A third of U.S. adults report they usually get less than the recommended amount of sleep (seven or more hours per night for adults over 18), which is needed for good health, according to the CDC. "Adequate hibernation isn't just for bears. Maximizing sleep helps your body and your mind," Rushing said. Read the CDC's tips for better sleep.

Exercise at least three to five days a week. Numerous research studies have shown being physically active has positive impacts on both your body and your brain. "Work up a sweat — you'll feel better with an endorphin rush," Rushing said. App State students can use University Recreation's facilities and programming, which include a number of exercise videos. See outdoor options below.

Go outside. Less sunlight exposure has been linked to depressive symptoms, so going for a brisk walk can help satisfy exercise goals and increase exposure to the sun. Outdoor activities with others are likely safer than indoor gatherings in terms of preventing the spread of illness, Rushing said. Some options include parks and trails found locally on the Park Rx America website or along the Blue Ridge Parkway, as well as area ski slopes and skating rinks. Just be sure to dress in layers and protect your head, ears, hands and feet.

Mental health

Give yourself grace and space. "Nothing is quite right since the pandemic began, so give yourself grace and space. It's OK to not feel OK. It's also OK to lower your expectations of yourself and others. Do your best and that is enough," Rushing said. For those experiencing severe symptoms of sadness or anxiousness, App State's Counseling and Psychological Services Center provides telecounseling services and group meetings.

Plan things to look forward to. Gathering with a few friends may give a mental boost, but do so safely — preferably outdoors where risk of transmission is lowered. Electric blankets can be helpful for sitting outside more comfortably with friends, Rushing said. "If you feel you can't gather with others because of high-risk health issues, then plan things for yourself — takeout from a favorite restaurant, a Zoom gathering with friends or a movie night alone," he added.

Stay connected with family and friends. If you have people who are good emotional support for you, Rushing recommends staying in close contact with them — and preferably electronically or by other safe measures. "Reach out to family and friends often. Check on your family and friends, too. We all need as much help as we can get right now," Rushing said.
In addition, staying on top of your academic responsibilities can go a long way in supporting your overall health and well-being, Rushing said. He advises those who are feeling challenged to reach out to professors, advisers or the Office of the Dean of Students. "You have options," he said.
What do you think?
Share your feedback on this story.
About Appalachian's M.S. Shook Health Service
Appalachian State University's Mary S. Shook Student Health Service is a primary care ambulatory campus health clinic helping meet the needs of Appalachian students. Centrally located on campus, it is fully accredited by the Accreditation Association for Ambulatory Health Care. The health clinic's dedicated and experienced staff physicians, physician assistants, nurse practitioners, and nursing and support staff provide high-quality health care at low cost. Learn more at https://healthservices.appstate.edu.
About the Division of Student Affairs
The Division of Student Affairs at Appalachian State University is committed to the development of lifelong learners and leaders by engaging and challenging students within a culture of care and inclusion. The division consists of 16 units that offer activities and services to help students develop more fully by becoming global learners, fostering healthy relationships, appreciating diversity and different perspectives, understanding community responsibility, enhancing self-awareness, developing autonomy and living ethically. These units include the Career Development Center, Campus Activities, Office of Community-Engaged Leadership, Wellness and Prevention Services, Counseling and Psychological Services, Student Health Service, Parent and Family Services, University Housing, Student Conduct, University Recreation, Intercultural Student Affairs, Student Legal Clinic and Off-Campus Student Services, Electronic Student Services, Child Development Center, and Staff Development and Strategic Initiatives. Learn more at https://studentaffairs.appstate.edu.
About Appalachian State University
As the premier public undergraduate institution in the Southeast, Appalachian State University prepares students to lead purposeful lives as global citizens who understand and engage their responsibilities in creating a sustainable future for all. The Appalachian Experience promotes a spirit of inclusion that brings people together in inspiring ways to acquire and create knowledge, to grow holistically, to act with passion and determination, and to embrace diversity and difference. Located in the Blue Ridge Mountains, Appalachian is one of 17 campuses in the University of North Carolina System. Appalachian enrolls nearly 21,000 students, has a low student-to-faculty ratio and offers more than 150 undergraduate and graduate majors.