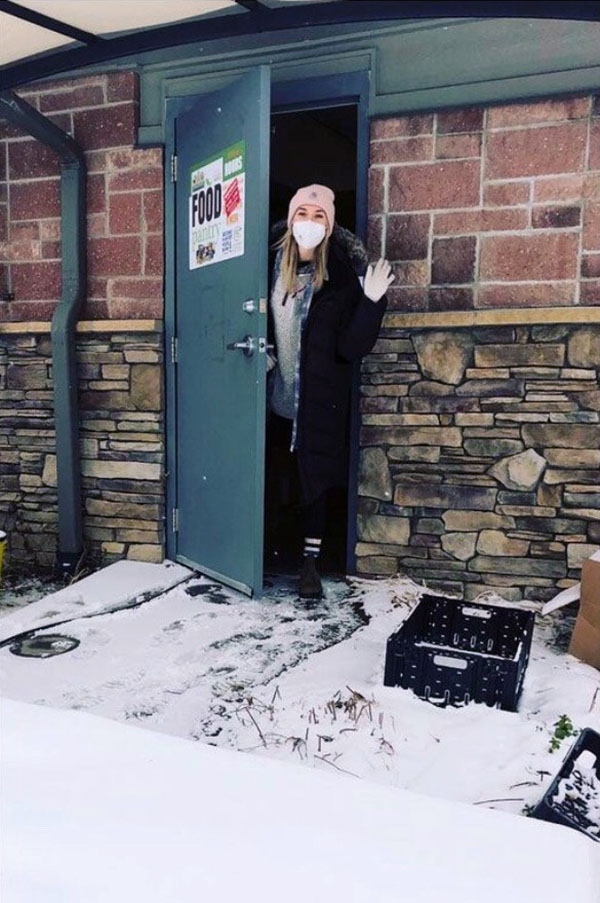 Posted July 2, 2021 at 4:40 p.m.
BOONE, N.C. — Julianna Roupas '21 wrote her own ticket for her journey to medical school with a self-designed major at Appalachian State University. Roupas graduated summa cum laude in May, earning a Bachelor of Arts in interdisciplinary studies with a focus in studies of integrative health sciences, along with a minor in Spanish. She will attend Brody School of Medicine at East Carolina University this fall.
Roupas was a sophomore in high school when she committed to play softball as a Mountaineer. After playing for one year, she was sidelined by an injury, and it was during this time she decided to focus more on activities related to her goal to become a doctor.
Her competitive nature, leadership skills as a pitcher and ability to work as a member of a team continued to drive her interests and decision-making, she said.
With her mother working as a school nurse and her father as a dentist, Roupas said she was always drawn to a medical career.
"Our family discussions often included stories of my parents' interpersonal interactions in their work, which appealed to me," she shared. "Also, as an athlete I like the idea of teamwork, everyone working together in a fast-paced setting. Medicine is a profession where I can use my knowledge, plus interact with people every day."
After her first year at App State, Roupas changed her major a couple of times as she refined her interests and goals. Beginning in her sophomore year, she also spent three semesters in App State's Honors College — where she said her desire for a medical career was solidified in a seminar taught by Dr. Chris Osmond, associate professor in the Department of Leadership and Educational Studies.
"Dr. Osmond's course about caring professions helped me realize why I was drawn to medicine and how forming connections with patients improves the quality of care," said Roupas, who added she incorporated what she learned through the course into her application essays for medical school.
Piecing together a custom major
Roupas tried out a few different paths and areas of study at App State before designing her customized major, which she said was like piecing together a complex puzzle — comprised mainly of chemistry, biology and exercise science courses. She was able to incorporate courses she had already taken under different majors in pursuit of her interdisciplinary studies degree.
Roupas supplemented her studies with practical experience as a volunteer for the Community Care Clinic and as an intern at Hospitality House of Northwest North Carolina, both in Boone. On her own, she became certified as an emergency medical technician and put those skills to use at the clinic.
Through her interdisciplinary studies, Roupas chose to pursue a study on health disparities in rural Appalachia as her personal project.
"This topic came to life for me at the Community Care Clinic and at Hospitality House," she shared. "I learned so much about my clients and created relationships based on trust and understanding. I began to understand the interconnectivity between homelessness and access to affordable health care — including mental health care — and came to understand how I can better serve these populations as a doctor in the future."
What do you think?
Share your feedback on this story.
About the Department of Interdisciplinary Studies
The Department of Interdisciplinary Studies offers graduate and undergraduate degrees in four program areas: Appalachian studies; gender, women's and sexuality studies; global studies; and interdisciplinary studies. The department is also home to Watauga Residential College, an interdisciplinary, alternative general education program. The department promotes creative and imaginative engagement through a cross-disciplinary investigation of complex systems and problems. Learn more at https://interdisciplinary.appstate.edu.
About the College of Arts and Sciences
The College of Arts and Sciences (CAS) at Appalachian State University is home to 17 academic departments, two centers and one residential college. These units span the humanities and the social, mathematical and natural sciences. CAS aims to develop a distinctive identity built upon our university's strengths, traditions and unique location. The college's values lie not only in service to the university and local community, but through inspiring, training, educating and sustaining the development of its students as global citizens. More than 6,400 student majors are enrolled in the college. As the college is also largely responsible for implementing App State's general education curriculum, it is heavily involved in the education of all students at the university, including those pursuing majors in other colleges. Learn more at https://cas.appstate.edu.
About Appalachian State University
As the premier public undergraduate institution in the Southeast, Appalachian State University prepares students to lead purposeful lives as global citizens who understand and engage their responsibilities in creating a sustainable future for all. The Appalachian Experience promotes a spirit of inclusion that brings people together in inspiring ways to acquire and create knowledge, to grow holistically, to act with passion and determination, and to embrace diversity and difference. Located in the Blue Ridge Mountains, Appalachian is one of 17 campuses in the University of North Carolina System. Appalachian enrolls nearly 21,000 students, has a low student-to-faculty ratio and offers more than 150 undergraduate and graduate majors.