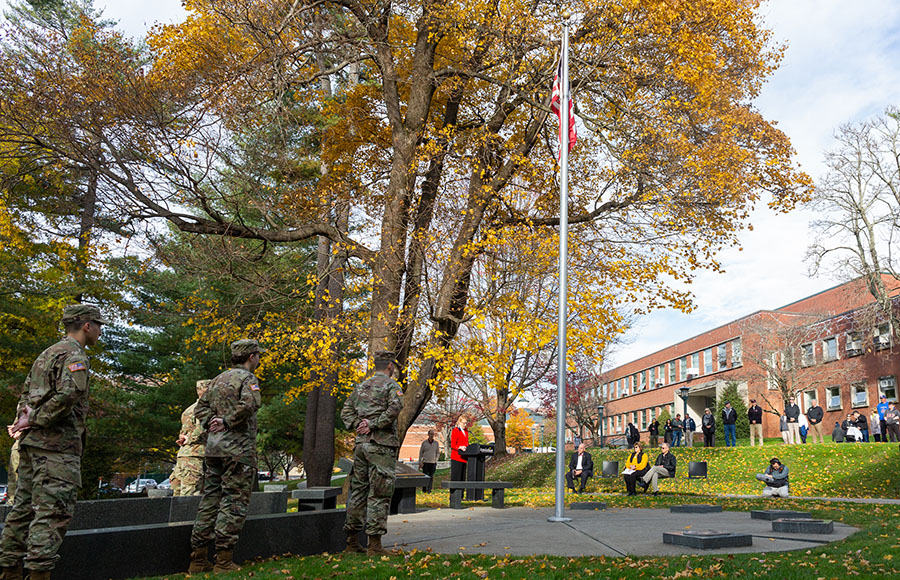 Posted Nov. 17, 2021 at 10:55 a.m.
BOONE, N.C. — Standing beside the Veterans Memorial on Appalachian State University's campus, former student Barbara Ashley recounted one of her earliest memories — standing in her front yard at Fort Bragg as she watched soldiers, including her father, jump out of airplanes.
Barbara shared her recollections and insights about the experiences of military spouses and families at the university's 2021 Veterans Day Ceremony, where more than 100 people gathered to honor and commend those who have served in the armed forces.
The ceremony included remarks from Chancellor Sheri Everts and Vice Chancellor of Student Affairs J.J. Brown.
"By recognizing this important occasion, we are expressing gratitude to all veterans, and especially to our campus heroes," Everts said, noting that App State employs 76 staff and faculty veterans and enrolls 384 student veterans and nearly 750 military spouses and dependents.
Veterans Day Ceremony 2021
App State observed Veterans Day 2021 with remarks by Chancellor Sheri Everts, Vice Chancellor of Student Affairs J.J. Brown and special guest Barbara Ashley, an entrepreneur and military spouse who is married to App State alumnus Lt. Gen. (Ret.) Robert "Bob" Ashley '84.
Transcript
["The Star-Spangled Banner" plays throughout video]
App State Chancellor Sheri Everts: For more than 100 years, this day has been set aside to honor and commend those who have served our country in the armed services.
SE: Today, we have the privilege of hearing about the experiences of military families from Barbara Ashley, an entrepreneur and 35-year active-duty military spouse.
Barbara Ashley: I stand before you today as a daughter, a wife, a niece, a cousin, a daughter-in-law and sister-in-law of veterans.
BA: I was an active-duty spouse for 35 years. In that time, I learned a lot about our veterans.
BA: We have military members stationed on every continent, sailing on every ocean and working 24 hours a day to make us proud.
BA: When you do this, you miss out on the fun stuff. You miss birthdays, anniversaries, births of children, family trips, soccer, baseball games with your kids ... this is what our veterans do.
BA: This is why we celebrate veterans: to recognize and say "thank you" for the sacrifices they are willing to make.
BA: I think being a military family member ... it's important to support your soldier no matter, you know, the difficult circumstances you're in. And I always tried with our children ... because they serve and they're not asked to serve; it just happens. I always tried to stay positive, because I knew in my heart if I stay positive, the kids stay positive.
Robert Ashley: Having the support of your family is everything, and you ask them to give so much. And I often get asked the question, you know, because my boys now are 32 and 33, "Did your kids serve?" and I go, "Yeah, they did serve."
RA: They didn't raise their hand, they didn't necessarily put the uniform on, but with all the moves, all the stress, all the deployments ... and the same thing for Barbara. I mean, they don't raise their hand. The don't take an oath, but in a way they have done that. And they served the nation just as much as a service member.
Barbara, an entrepreneur, spent 35 years as an active-duty military wife to Lt. Gen. (Ret.) Robert "Bob" Ashley — recipient of App State's Distinguished Alumni Award and former director of the U.S. Defense Intelligence Agency.
During the ceremony, cadets in App State's Army ROTC presented the colors, and Brent Bingham, arts production specialist and lecturer in App State's Hayes School of Music, performed the national anthem.
Tradition of military support
Brown said the university has been nationally recognized for its work to support veterans.
On Veterans Day in 2016, the university opened the Major General Edward M. Reeder Jr. Student Veteran Resource Center. This center gives military students access to mentoring, tutoring and support designed for their distinct needs, according to Brown.
App State has been designated a Military Friendly® School since 2010, he added, and this year, U.S. News & World Report ranked App State second for Southern universities in the Best Colleges for Veterans category.
Perspectives from a military spouse
Barbara thanked the audience for taking time to "pause and remember the significance of this day" and offered insights into her life as a daughter, wife, niece, cousin, daughter-in-law and sister-in-law of veterans.
"My first hero, like many girls, was my dad," she said, explaining that her father was a paratrooper in the 82nd Airborne Division at North Carolina's Fort Bragg.
She said her second hero is her husband, who, like many service members, spent his military career working "16-hour days, seven days a week, and sometimes longer." Due to these extended hours, Barbara said veterans "often miss things that many of us take for granted" such as "birthdays, anniversaries, births of children ... and App State football."
"Our veterans are a representation of all the goodness in this country," Barbara said. "They are selfless heroes who put the needs of our nation before themselves and their families."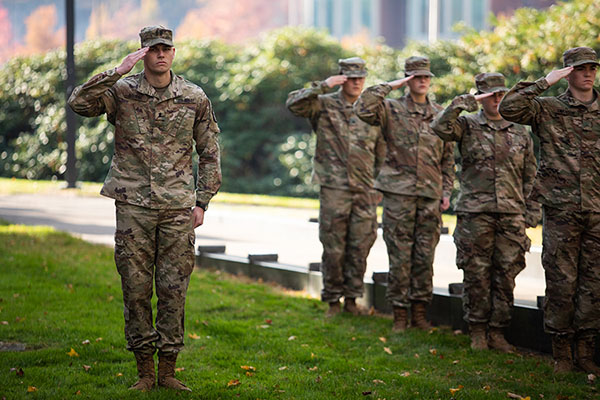 She shared stories of military families she has met over the last three decades, including "dual military" families, in which both partners are actively serving. At the end of one of Bob's deployments, she witnessed one of her most prominent reminders that veterans and their families serve together: Barbara went to welcome home the soldiers and saw a banner at headquarters that read, "Welcome home, mommy and daddy! Love, Julianna."
She challenged each person in attendance to consider the sacrifices of veterans and to find ways to show appreciation for their service.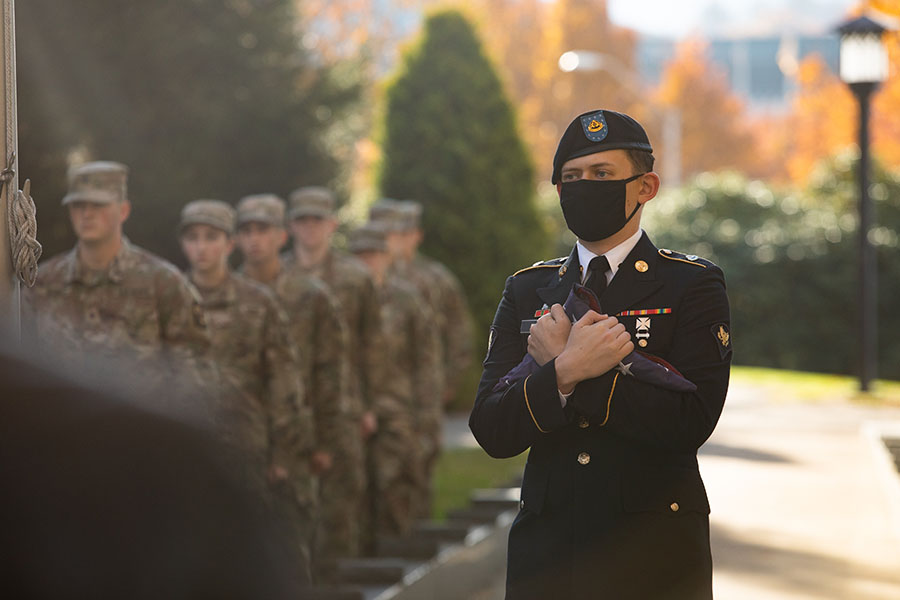 About Barbara Ashley
Barbara, a native of Raleigh, attended App State from 1979–82. There, she met Bob, whom she married in 1985. She spent the next three decades as an active-duty military spouse, completing more than 17 relocations throughout Bob's military career.
She graduated from the ATI Career Training Center in 1990 with an associate degree for travel agents. Since 2011, she has owned Where in the World Vacations, a home-based travel agency. Barbara and Bob have two children, Sean and Justin, and two grandchildren, Arthur and Keaton.
What do you think?
Share your feedback on this story.
A Military Friendly® School since 2010
Since 2010, VIQTORY (formerly known as Victory Media), the premier media entity for military personnel transitioning into civilian life, has awarded Appalachian the designation of Military Friendly® School. The designation places Appalachian in the top 15 percent of colleges, universities and trade schools in the country that are doing the most to embrace military students, and to dedicate resources to ensure their success in the classroom and after graduation. In addition to a number of existing services, the university opened the Major General Edward M. Reeder Jr. Student Veteran Resource Center in November 2016.
About the Department of Military Science and Leadership
One of seven departments housed in the College of Fine and Applied Arts, Appalachian's Department of Military Science and Leadership is home to the Mountaineer Battalion. Established in 1969, the program provides students with training to develop self-discipline, physical stamina and poise, as well as the organizational and motivational skills that contribute to success in any career. Students who complete the ROTC program earn credits for a minor in military science and leadership and are commissioned as second lieutenants in the U.S. Army, Army Reserves or Army National Guard upon graduation. Learn more at https://rotc.appstate.edu.
About Appalachian State University
As the premier public undergraduate institution in the Southeast, Appalachian State University prepares students to lead purposeful lives. App State is one of 17 campuses in the University of North Carolina System, with a national reputation for innovative teaching and opening access to a high-quality, affordable education for all. The university enrolls more than 21,000 students, has a low student-to-faculty ratio and offers more than 150 undergraduate and 80 graduate majors at its Boone and Hickory campuses and through App State Online. Learn more at https://www.appstate.edu.