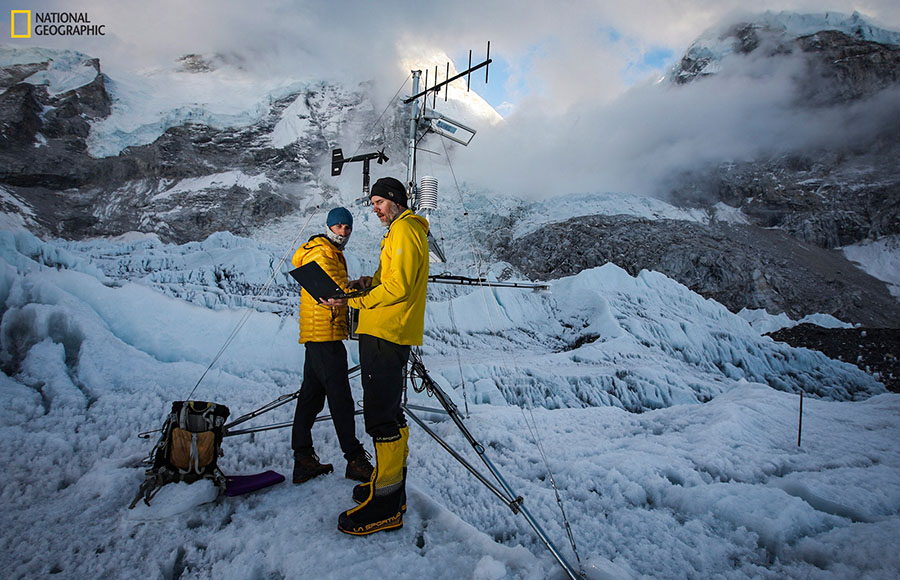 Posted Dec. 15, 2021 at 10:01 a.m.
BOONE, N.C. — Appalachian State University has stepped onto the world stage as the lead institution to coordinate the operation and maintenance of weather stations at the highest elevation on the planet — Mount Everest. Managing the stations and the data transmitted — funded by the National Geographic Society (NGS) — is creating new opportunities on App State's campus and impacting climate research worldwide.
Dr. Baker Perry, professor in App State's Department of Geography and Planning, was part of the 2019 National Geographic and Rolex Perpetual Planet Everest Expedition team that installed the network of meteorological stations on Mount Everest. This installation was recently recognized in the Guinness World Records book as the highest altitude weather station on land.
Now Perry, who is recognized as one of the world's top experts in high altitude precipitation and climate change, continues the research in collaboration with partners from the installation expedition.
Weather data from the stations — including real-time wind, temperature and precipitation measures — are improving climber safety on the main Mount Everest climbing routes. Longer term, the data are enabling scientists to learn more about climate at high altitudes — which affects everything from glacier health, to water supply, to agricultural growing seasons, Perry said.
Another benefit of the Mount Everest work occurs in the classroom. Perry said, "I incorporate our findings and experiences in my teaching, and the students at App State connect what we're doing on Mount Everest to what they're learning about climate change and climate science."
Perry said the ability to work with climate data is in high demand in the workplace. "Students with direct experience analyzing this type of data are positioned for careers with governmental agencies and private sector companies who need to understand and project the future of climate change," he said.
The project has raised the visibility of App State within the climate science field worldwide, Perry added. "There is something about Mount Everest. As the highest place in the world, it captivates people's attention," he said.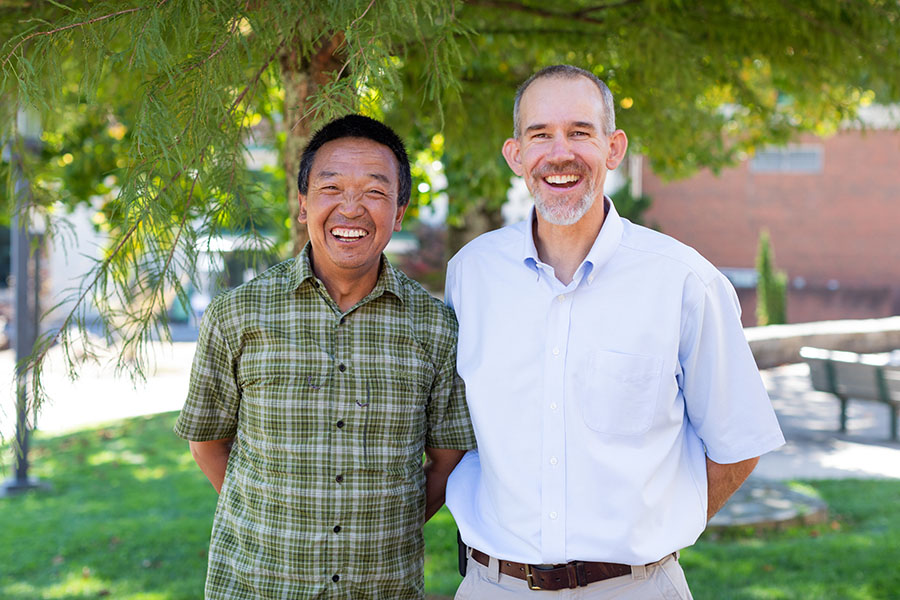 Sunshine, cyclones and ice melt
Since the meteorological stations were installed in 2019, Perry and a team of students have been crunching data transmitted by satellite from the stations on Mount Everest to computer servers on App State's campus.
Perry, his students and collaborating partners have published several papers with new discoveries from the data.
"Mount Everest may be one of the sunniest places in the world," Perry said, citing one example of their findings.
At such high elevation, there is much less scattering of the sunlight, Perry explained. "Understanding the implications of such intense sunlight, including the melt that occurs, is helping to improve models used to project future glacier extents and water availability across the region," he said.
Mountain glacier systems are decreasing in volume worldwide, yet relatively little is known about the extent of this melt in elevations above 16,000 feet, Perry said. Findings from the highest weather stations indicate rapidly emerging impacts from the mass loss of Mount Everest's highest glacier, he said.
Alex O'Neil '18 '21, an adjunct instructor in the Department of Geography and Planning, worked with Perry as a graduate student. He built visualizations for the weather data and forecast models — resulting in improved weather forecasts for climbers. He also studied storms and glacier lake outburst floods in the Everest region.
Ray Thompson '21, a computer science graduate student from Jacksonville, is working with Perry through App State's Graduate Research Assistant Mentoring Program. Thompson is building a web application to enable scientists to access and more easily study the Mount Everest meteorological data and is also modeling backward air trajectories to analyze sources of the moisture that falls as snow on the mountain.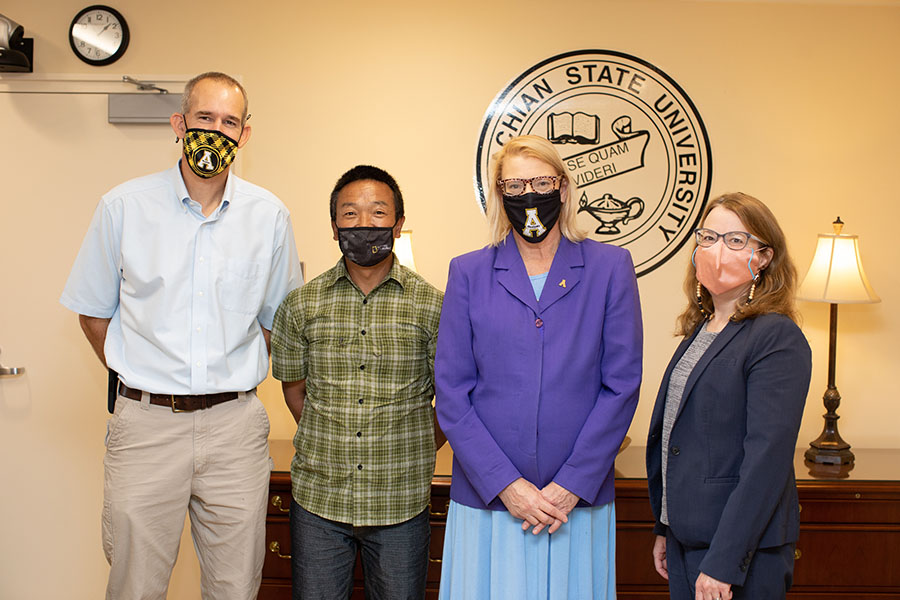 Continuing work on-site
Perry and his team work closely with Sherpa climbers — skilled mountaineers who live in the Himalayas — to maintain the meteorological stations on Mount Everest. Prior to the installation expedition in 2019, the team spent a month training the Sherpas on the weather stations.
Tenzing Gyalzen Sherpa, who works as an electrician in his community, serves as the "de facto technical leader" of the Sherpa team, Perry said, adding, "He is a real whiz with technology and understands the electrical engineering part of the equipment."
Another key member of the team, Panuru Sherpa — who served as the lead climbing guide for Perry's team on the 2019 expedition — visited with Perry on App State's campus in mid-October.
In the future, Perry and his team are planning to conduct more training with the Sherpa team and scientists in Nepal, sharing and analyzing data and teaching more Sherpas how to operate and maintain the weather stations.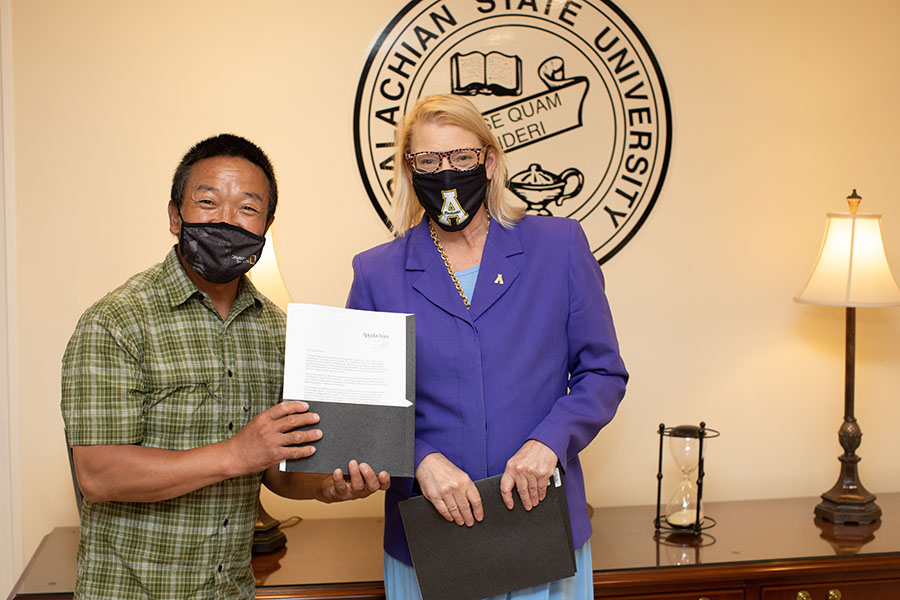 Opening doors behind the scenes
App State's Research Institute for Environment, Energy, and Economics (RIEEE) has played an important role behind the scenes in administering the grant from NGS.
As a "long-term international expedition," this NGS project presented challenges such as how to legally hire and compensate the team of Sherpas on an ongoing basis, how to order and ship supplies and equipment to remote locations and how to execute formal agreements with international governmental institutions, said Dr. Christine Hendren, director of RIEEE.
Perry said the successful administrative work of RIEEE on previous grants from the National Science Foundation and another NGS project — the 2021 National Geographic and Rolex Tupungato Volcano Expedition — were considerations in the NGS decision to partner with App State for ongoing weather station maintenance on Mount Everest.
"Through this work with NGS, we've established a model for other international expeditions, working with long-term research collaborations with nonacademic partners," Hendren said. "This will expand our capacity to support other research opportunities at App State."
What do you think?
Share your feedback on this story.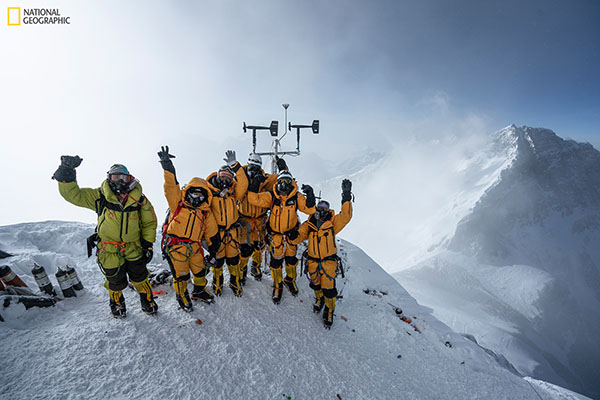 Setting world records on Mount Everest
About the Department of Geography and Planning
The Department of Geography and Planning promotes the understanding of the spatial dimensions of human behavior within the physical and cultural systems of the earth, and the role of planning in achieving improvement in those systems. The department offers degrees in geography and in community and regional planning. Learn more at https://geo.appstate.edu.
About the College of Arts and Sciences
The College of Arts and Sciences (CAS) at Appalachian State University is home to 17 academic departments, two centers and one residential college. These units span the humanities and the social, mathematical and natural sciences. CAS aims to develop a distinctive identity built upon our university's strengths, traditions and unique location. The college's values lie not only in service to the university and local community, but through inspiring, training, educating and sustaining the development of its students as global citizens. More than 6,400 student majors are enrolled in the college. As the college is also largely responsible for implementing App State's general education curriculum, it is heavily involved in the education of all students at the university, including those pursuing majors in other colleges. Learn more at https://cas.appstate.edu.
About the Research Institute for Environment, Energy, and Economics
Since 2008, Appalachian State University's Research Institute for Environment, Energy, and Economics (RIEEE) has fostered interdisciplinary research on the environment, energy and economics, especially the areas in which these subjects intersect. The institute serves as an umbrella organization for three centers: the Appalachian Energy Center, Center for Economic Research and Policy Analysis (CERPA) and the Southern Appalachian Environmental Research and Education Center (SAEREC). The work supported by RIEEE is integrated into Appalachian's academic programs, used to facilitate discovery among K-12 student students and teachers, and employed in the region's economic development. Learn more at https://rieee.appstate.edu.
About Perpetual Planet Expeditions
The National Geographic and Rolex partnership supports expeditions such as the Perpetual Planet Everest and Tupungato Volcano expeditions, to explore the planet's most critical environments. By harnessing world-renowned scientific expertise and cutting-edge technology that reveal new insights about the systems that are vital to life on Earth, these expeditions fill knowledge gaps thereby helping scientists, decision-makers and local communities plan for and find solutions to the impacts of climate and environmental change.
Learn more about the 2019 National Geographic and Rolex Perpetual Planet Everest expedition.
About Appalachian State University
As the premier public undergraduate institution in the Southeast, Appalachian State University prepares students to lead purposeful lives. App State is one of 17 campuses in the University of North Carolina System, with a national reputation for innovative teaching and opening access to a high-quality, affordable education for all. The university enrolls more than 21,000 students, has a low student-to-faculty ratio and offers more than 150 undergraduate and 80 graduate majors at its Boone and Hickory campuses and through App State Online. Learn more at https://www.appstate.edu.