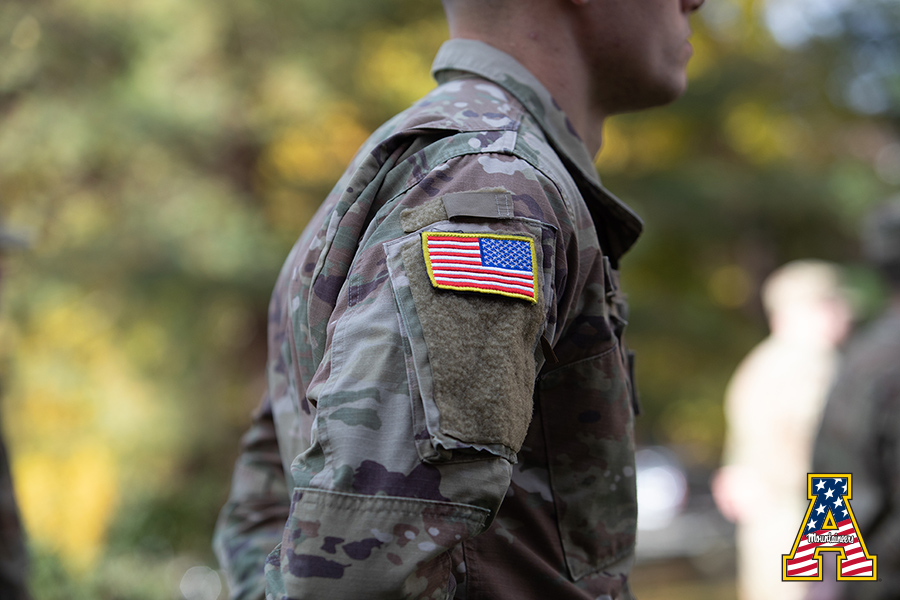 Posted April 7, 2022 at 9:34 a.m.
BOONE, N.C. — For the 13th consecutive year, Appalachian State University has received the Military Friendly® School designation from VIQTORY, recognizing its efforts to help military-affiliated students thrive on campus and in the surrounding community. App State was one of 29 U.S. schools in the large public schools category to earn the designation with Gold distinction for 2022–23.
Schools awarded Gold were recognized for their leading practices, outcomes and effective programs for military-affiliated students. The 2022–23 Military Friendly Schools list will be published in the May issue of G.I. Jobs magazine and can be found at www.militaryfriendly.com.
"App State's continued recognition as a Military Friendly School is a significant point of pride for our university — one that affirms our commitment to ensuring App State military-affiliated students are positioned for success, during their educational journeys and beyond," App State Chancellor Sheri Everts said. "We are honored to serve our campus community of active-duty service members and their families, as well as student, faculty and staff veterans."
For this academic year, 384 military-affiliated students, including 289 student veterans and 95 active-duty military members, are enrolled at App State.
Schools earning the Military Friendly School designation for 2022–23 were assessed based on the following six categories:
Student retention.
Graduation rates.
Job placement.
Loan repayment.
Persistence rates (degree advancement).
Loan default rates.
"In Student Veteran Services, we strive to ensure that all of our military-affiliated students have the support and resources they need for a successful and enjoyable experience at App State," said Jennifer Coffey '04 '16 '21, App State's program director of student veteran services. "We are always looking for new opportunities to engage with our students and to provide them with programming that enhances their App State educations."
To further its support of this student population, App State has created a new scholarship opportunity for student veterans — the GY6 Emergency Scholarship, Coffey shared.
This scholarship, made possible by the generosity of Student Veteran Services' supporters, provides aid to student veterans experiencing financial hardship or emergencies. Student veterans who are experiencing hardship may apply for GY6 Emergency Scholarship funds through App State's Office of Case Management.
According to Coffey, GY6 stands for "Got Your Six" — a military phrase meaning "I have your back."
"The scholarship name is designed to provide a sense of comfort for those App State student veterans who may need it, and to be a point of pride for those who may want to support the fund," Coffey explained.
Institutions earning the Military Friendly School designation were evaluated using both public data sources and responses from a proprietary survey. More than 1,800 schools participated in the 2022–23 survey.
The Military Friendly Schools list is aimed at service members and their families, helping them select the best college, university or trade school to receive the education and training needed to pursue a civilian career.
Learn more about student veteran services at App State.
What do you think?
Share your feedback on this story.
About VIQTORY
Founded in 2001, VIQTORY (formerly known as Victory Media) is a service-disabled, veteran-owned small business that connects the military community to civilian employment, educational and entrepreneurial opportunities through its G.I. Jobs® and Military Friendly® brands. Learn more at https://www.viqtory.com.
A Military Friendly® School since 2010
Since 2010, VIQTORY (formerly known as Victory Media), the premier media entity for military personnel transitioning into civilian life, has awarded Appalachian State University the designation of Military Friendly® School. The designation places App State in the top 15% of colleges, universities and trade schools in the country that are doing the most to embrace military students, and to dedicate resources to ensure their success in the classroom and after graduation. In addition to a number of existing services, the university opened the Major General Edward M. Reeder Jr. Student Veteran Resource Center in November 2016.
Services and resources that support App State's military-affiliated students
About Appalachian State University
As the premier public undergraduate institution in the Southeast, Appalachian State University prepares students to lead purposeful lives. App State is one of 17 campuses in the University of North Carolina System, with a national reputation for innovative teaching and opening access to a high-quality, affordable education for all. The university enrolls more than 21,000 students, has a low student-to-faculty ratio and offers more than 150 undergraduate and 80 graduate majors at its Boone and Hickory campuses and through App State Online. Learn more at https://www.appstate.edu.