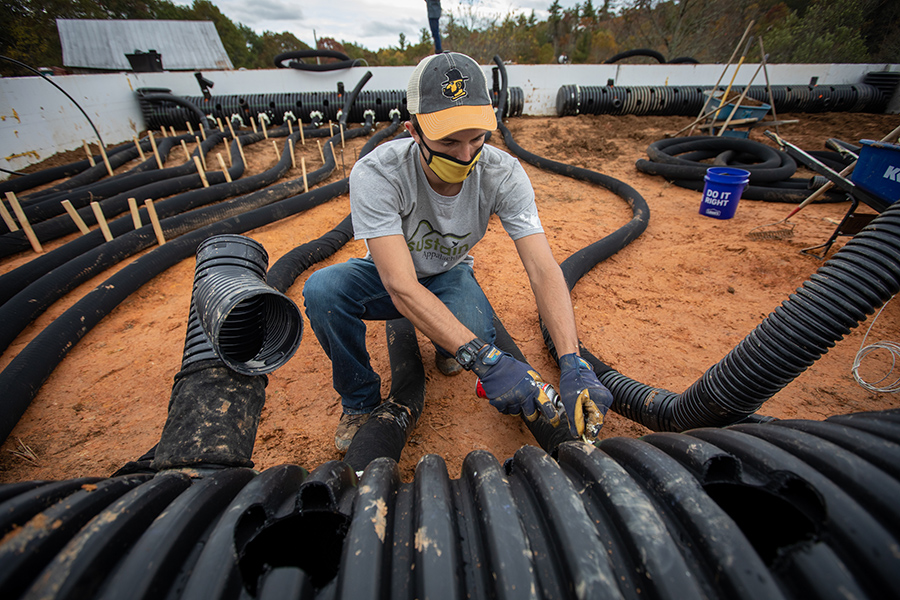 Posted Nov. 22, 2022 at 10:26 a.m.
BOONE, N.C. — Two App State degree programs in the Department of Sustainable Technology and the Built Environment have earned the new Zero Energy Design Designation (ZEDD) from the U.S. Department of Energy (DOE).
Collegiate programs earn the ZEDD seal of recognition by teaching best practices of zero energy design and requiring students to apply those concepts in zero energy design projects — demonstrating that they are preparing tomorrow's architectural and engineering leaders to design and build the most sustainable buildings possible.
Seventeen programs at 12 institutions received the designation, including these App State programs:
"We are all humbled by this honor but not surprised. These programs represent stellar examples of the relevant, future-facing, experiential learning that the Department of Sustainable Technology and the Built Environment is known for," said Dr. Shannon Campbell, dean of App State's College of Fine and Applied Arts, which houses the programs.
She continued, "The faculty are distinguished in thought and practiced leaders; the staff are unilaterally committed to student success; and the students are curious, dedicated and hard working. The department's long-standing commitment to sustainable practices, excellence and innovation is worthy of national recognition."
According to the DOE, the ZEDD program supports the Biden–Harris Administration's goal of a net-zero emissions economy by 2050 by training building professionals to design and construct high-efficiency, low-carbon buildings powered by renewable energy technologies.
"Our fight against climate change runs straight through our nation's buildings, and the forward-looking college and university programs we honored today are paving the way for students to lead our net-zero greenhouse gas emissions future," said Carolyn Snyder, DOE deputy assistant secretary for energy efficiency. "Graduates of these programs will join the front lines of our fight against the climate crisis by designing sustainable buildings that bring the benefits of our clean energy future to all."
Schools interested in being recognized by DOE demonstrate a commitment to preparing students for a zero carbon future by offering a building science education curriculum within their programs of study that showcases best practices in zero energy design and by requiring a zero energy design practicum.
DOE's ZEDD designation, offered to qualifying programs of study for three years, requires graduating students to:
Complete a building science education curriculum that uses DOE's Solar Decathlon Building Science Education learning modules or otherwise meets ZEDD's learning objectives.
Participate in a zero energy design practicum, either by completing the U.S. Department of Energy Solar Decathlon Design and/or Build Challenge or by engaging in a real-world zero energy design project that would earn the DOE Zero Energy Ready Home certification or a more stringent energy and environmental performance standard.
"Our educational programs have long been rooted in sustainable practices that provide students with broad, project-based experiences that enable them to lead in the arena of high-performing, zero energy buildings," said Dr. Andrew Windham, assistant department chair of and assistant professor in the Department of Sustainable Technology and the Built Environment. "Now, DOE's Zero Energy Design Designation makes that clear to our prospective students, potential partners and practitioners in the wider buildings industry. It proclaims our commitment to advancing built environments that support sustainable futures."
What do you think?
Share your feedback on this story.
The student team was recognized for its solar power system, designed to meet the renewable energy needs of a campus community
June 29, 2022
About the Department of Sustainable Technology and the Built Environment
One of seven departments housed in the College of Fine and Applied Arts, the Department of Sustainable Technology and the Built Environment at Appalachian State University features an integrated array of programs spanning the fields of sustainable design and technology. Its mission is to foster a strong and vibrant culture of inquiry, discovery and innovation that integrates theory with application, problem seeking with problem-solving, local issues with global perspectives and technological progress with environmental stewardship. It offers bachelor's degrees in sustainable technology and building science, and a master's degree in technology. Learn more at https://stbe.appstate.edu.
About the College of Fine and Applied Arts
Appalachian State University's College of Fine and Applied Arts is a dynamic and innovative group of seven academic departments, bringing together a variety of perspectives, experiences and real-world education to provide unique opportunities for student success. The college has more than 3,000 undergraduate and graduate majors. Its departments are Applied Design, Art, Communication, Military Science and Leadership, Sustainable Development, Sustainable Technology and the Built Environment, and Theatre and Dance. Learn more at https://faa.appstate.edu.
About Sustainability at Appalachian
Appalachian State University's leadership in sustainability is known nationally. The university's holistic, three-branched approach considers sustainability economically, environmentally and equitably in relationship to the planet's co-inhabitants. The university is an active steward of the state's interconnected financial, cultural and natural resources and challenges students and others think critically and creatively about sustainability and what it means from the smallest individual action to the most broad-based applications. The university offers both undergraduate and graduate academic degree programs that focus on sustainability. In addition, 100 percent of Appalachian's academic departments offer at least one sustainability course or course that includes sustainability, and all students graduate from programs that have adopted at least one sustainability learning outcome. Learn more at https://appstate.edu/sustainability.
About Appalachian State University
As the premier public undergraduate institution in the Southeast, Appalachian State University prepares students to lead purposeful lives. App State is one of 17 campuses in the University of North Carolina System, with a national reputation for innovative teaching and opening access to a high-quality, affordable education for all. The university enrolls more than 21,000 students, has a low student-to-faculty ratio and offers more than 150 undergraduate and 80 graduate majors at its Boone and Hickory campuses and through App State Online. Learn more at https://www.appstate.edu.