Posted Dec. 13, 2022 at 12:10 p.m.
BOONE, N.C. — App State faculty and students and the broader community have joined forces to work on the Junaluska Community Archaeology Project, helping document and preserve the material heritage of Junaluska — one of the oldest African American communities in Western North Carolina.
The project was launched in spring 2021 as a three-credit archaeological field school for students, under the leadership of Dr. Alice Wright and Dr. Cameron Gokee — associate and assistant professors, respectively, in App State's Department of Anthropology.
Wright said field experience is a chance for undergraduate students to be real archaeologists and get involved with real research projects, while learning the basic techniques to document sites through excavation, mapping, record keeping, artifact analysis and more.
"There is a huge demand for archaeologists right now, and this gives students the training they need to hit the ground running as soon as they graduate," said Wright. "Our students have had an incredible amount of success with that."
The project is a collaboration with the Junaluska Heritage Association (JHA) — a community-based organization that works to document the cultural history of Junaluska while promoting community growth.
"The Junaluska community is a vital part of the town of Boone, and our community contribution has been a part of the growth of what Boone is today," said Roberta Jackson '91, a founding member of JHA and the organization's lead facilitator. "With Dr. Wright's expertise and dedication to this project, and our volunteers who helped get this work complete, it has been very successful."
The initial idea for the project was inspired by Wright's colleague, Dr. Susan Keefe, professor emerita of anthropology at App State, who edited the 2020 book "Junaluska: Oral Histories of a Black Appalachian Community," which App State selected for its 2022–23 Common Reading Program. Wright said the book provides rich detail of the last 150 or so years of the Junaluska community, with a lot of insight coming from JHA members.
"The project came from the interest in learning about things that didn't make it into the book, or parts of history that might even predate information in the book," said Wright. "We can get at that with archaeology."
For Wright, the project hits close to home, quite literally, because she lives near Junaluska Park, which she described as being located in the "heart of the Junaluska community."
"This struck me as a chance to get to know my neighbors, learn a little bit more about the town I am now a part of and that I'm raising my children in, and help further build that community," she said.
And a lot has been discovered about the community so far.
In 2021, the project uncovered what is likely the remains of Troy Councill's homestead — one of the founders of the Junaluska community in the 19th century. Artifacts found included coal, bottle and window glass, whiteware potsherds and iron nails, consistent from the years 1870 to 1930.
"We're pretty confident based on the artifacts we found and the analysis of the topography that we've now located where Councill's home was," said Wright.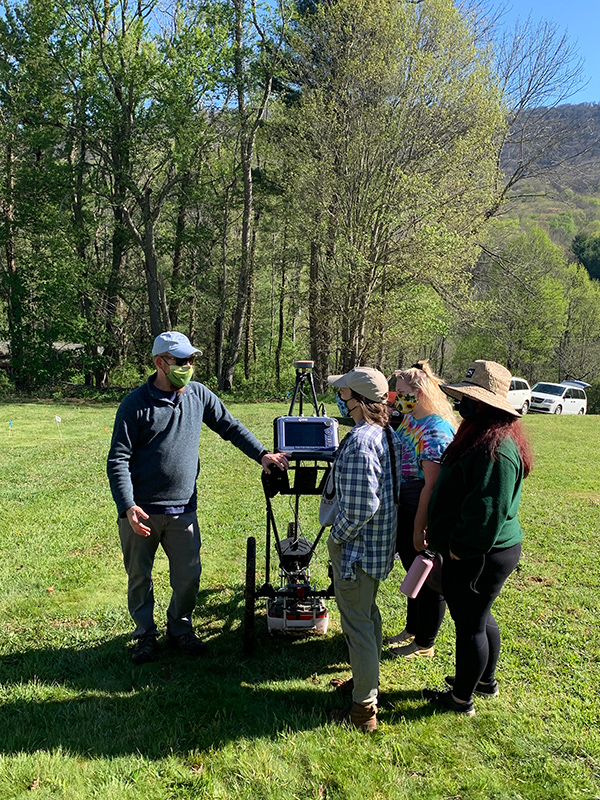 This past summer, excavations were done at the historic Chocolate Bar site on Depot Street, which was a social club of the Junaluska community in the 1940s and 1950s. Artifacts found included a 1940s nail polish bottle and a mini Irresistible perfume bottle from the 1930s. Wright said an analysis of all the artifacts found at that site is underway.
The project has also been able to contribute to the preservation of Junaluska's cemeteries through a partnership with the North Carolina Office of State Archaeology, which employs several App State alumni, according to Wright.
In 2021, work included noninvasive surveying of the Clarissa Hill Cemetery, which the Junaluska community has been using since the 1950s. Wright and her students helped to identify graves that did not have permanent tombstones, so that plans can be made to put permanent markers on them if the community chooses to do so.
Most recently, the project contributed to the continuing work at the Boone Cemetery to help identify the graves of African American people who are buried there. Wright said a collective grave marker was installed several years ago for Black community members, but in October, the project was able to place individual field stone markers over previously unmarked graves.
"There are so many people who we know, and who we don't know, buried in these cemeteries," said Jackson. "They needed to be recognized for their contributions to the town and the Black community, and we think this has been accomplished."
Wright said that while the cemetery work is not necessarily what people think of in terms of archaeology, it has had a significant impact beyond educational value.
"It's a really important part of our work in being able to share Junaluska's story with the public," she said. "Frankly, I think this has been the most important part of the project to date."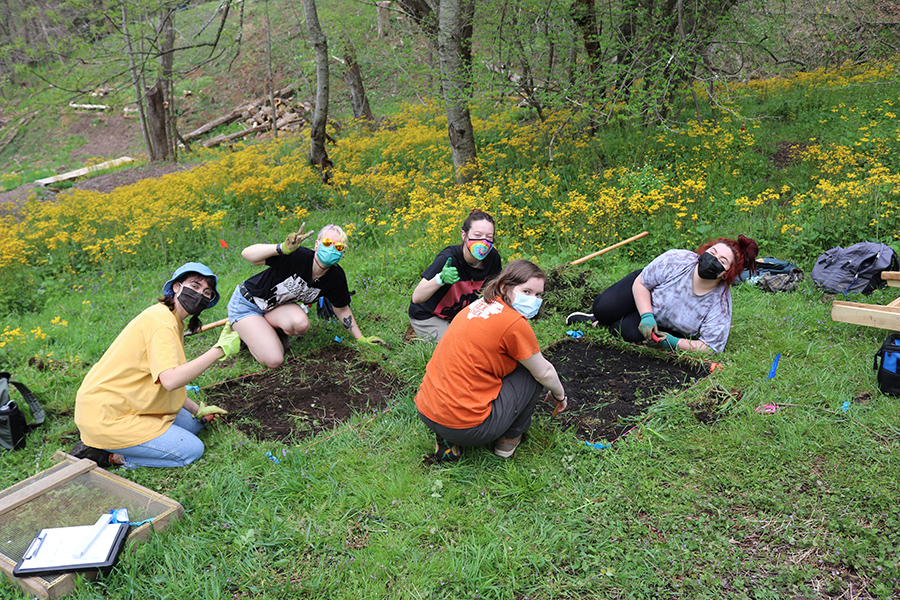 Wright said one of the other highlights for her over the past couple of years has been sharing this experience with her students. App State graduate student Nick Hoffman '20 — a public history major from Hickory — was Wright's research and teaching assistant on the project last summer. Although he's not pursuing archaeology as a career path, he said the experience was invaluable.
"I've always been interested in African American history," said Hoffman. "I grew up interested in people and how they behave and how certain events shape them. Just knowing about history and being able to share it with others is so special."
Hoffman said the highlight of the project for him so far has been spreading awareness about the Junaluska community, which he demonstrated firsthand at the App State Founders Day poster exhibition on Sept. 6.
"That was awesome because we made a poster for the event and I got to use my skills as a public historian," he said. "I got to talk with so many people who had no clue that the Junaluska community had been here. It was so refreshing to see the spark in people's eyes when I told them about it and when they wanted to hear more."
Another student, Lily Schroeder — a junior anthropology major from Taylors, South Carolina, in the Honors College at App State — said the project has been "life-changing."
"This whole project has allowed me to engage with the community in a way I never could have imagined, and it has been so fulfilling," she said.
Last summer, Schroeder was a part of Wright's field school, and this fall she helped organize students to install the headstones for the unmarked graves in the Boone Cemetery. She took the initiative to bring in more recruits by making a proposal to the App State Anthropology Club, and then acted as one of the crew chiefs for the project, helping to direct and instruct her student peers.
"By allowing those buried in the Boone Cemetery to rest peacefully, we were able to give the ancestors of our fellow community members the recognition and respect they so very much deserve," she said.
As for the future of the project, no plans are officially in place, but there is plenty of brainstorming in the works.
"It really depends on what the Junaluska community is interested in," said Wright. "I've got some ideas knocking around in my head, and one area that I think would be really exciting to investigate is the old school in Junaluska."
Wright said it has been her "greatest joy" to work with JHA, and she can't wait to see what comes next.
"The enthusiasm of the JHA is truly infectious and really inspiring," she said. "I think my students have felt that as well. It's really pushed us to want to do more."
What do you think?
Share your feedback on this story.
Statue of D.D. Dougherty dedicated at Founders Plaza
Sep. 30, 2022
All incoming App State first-year and transfer students will receive a copy during orientation.
March 23, 2022
Appalachian research, community support culminate in marker at African-American cemetery
Oct. 4, 2017
About the Department of Anthropology
The Department of Anthropology offers a comparative and holistic approach to the study of the human experience. The anthropological perspective provides a broad understanding of the origins as well as the meaning of physical and cultural diversity in the world — past, present and future. Learn more at https://anthro.appstate.edu.
About the College of Arts and Sciences
The College of Arts and Sciences (CAS) at Appalachian State University is home to 17 academic departments, two centers and one residential college. These units span the humanities and the social, mathematical and natural sciences. CAS aims to develop a distinctive identity built upon our university's strengths, traditions and unique location. The college's values lie not only in service to the university and local community, but through inspiring, training, educating and sustaining the development of its students as global citizens. More than 6,400 student majors are enrolled in the college. As the college is also largely responsible for implementing App State's general education curriculum, it is heavily involved in the education of all students at the university, including those pursuing majors in other colleges. Learn more at https://cas.appstate.edu.
About Appalachian State University
As the premier public undergraduate institution in the Southeast, Appalachian State University prepares students to lead purposeful lives. App State is one of 17 campuses in the University of North Carolina System, with a national reputation for innovative teaching and opening access to a high-quality, affordable education for all. The university enrolls more than 21,000 students, has a low student-to-faculty ratio and offers more than 150 undergraduate and 80 graduate majors at its Boone and Hickory campuses and through App State Online. Learn more at https://www.appstate.edu.