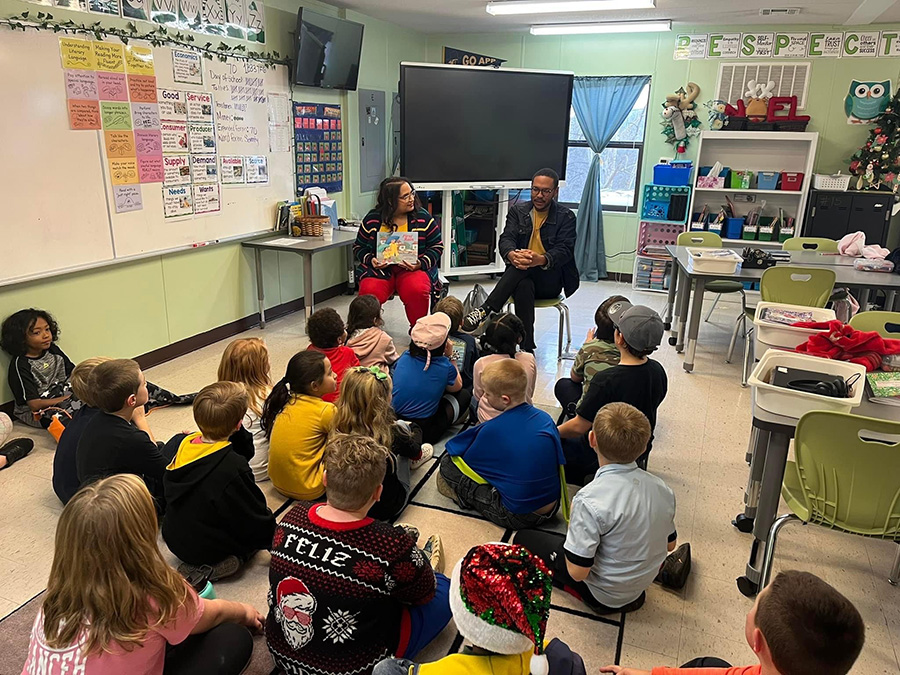 Posted Feb. 21, 2023 at 5 p.m.
BOONE, N.C. — This academic year, App State's Office of Diversity has begun monthly read-alouds with mini-Mountaineers at the university's two lab schools in Walkertown and Elkin, with selected readings that highlight Black history, disabilities awareness, military appreciation and more.
The program features a different book each month — each with a unique and timely theme to promote diversity in learning to more than 350 students at the Academy at Middle Fork and the Academy at Elkin.
"Reading these amazing books helps get students excited about different experiences and different cultures," said Jamie Parson, App State's chief diversity officer.
Parson said a typical day starts at Middle Fork and ends at Elkin, with students coming in groups based on their grade. A guest reader participates in the read-aloud each month, including students and App State leaders.
"I start off by introducing myself and whoever is with me, then I explain why we're reading the book," said Parson. "We always look at the cover of the book and go through the pictures while we read. They are a chatty bunch and love to engage, so we like to stop and get them involved as much as we can. At the end of the book we do a Q&A and that's when they really go at it."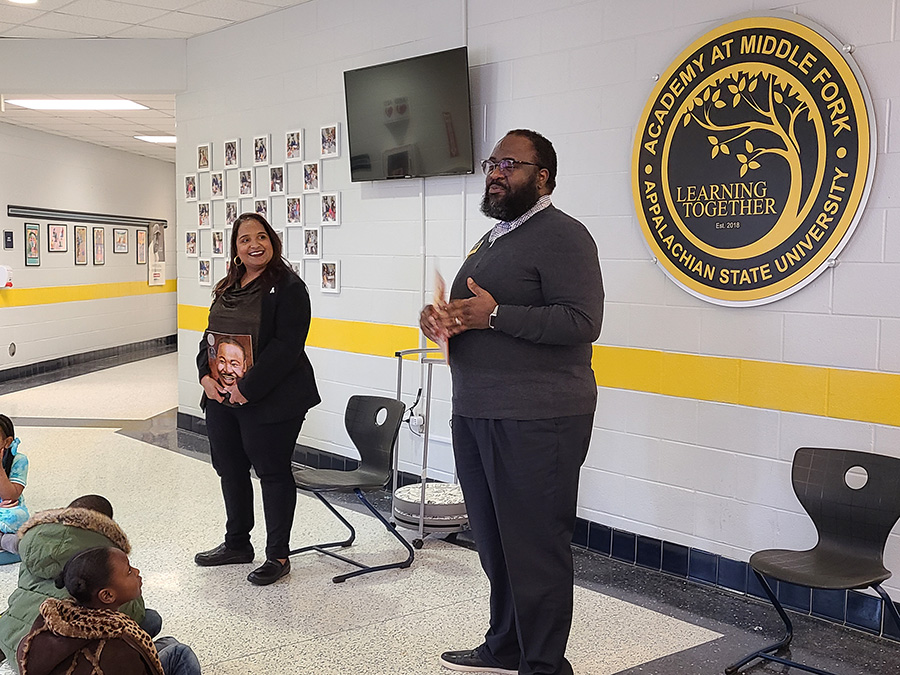 To kick off this semester, App State's Lamont Sellers, director of intercultural student affairs, took part in the Martin Luther King Jr. Day reading on Jan. 17.
"It's a fun atmosphere," said Sellers. "The kids' filters haven't developed yet, so what you get is raw and real. It's great to see how their minds work."
The selected book for the event, "Martin's Big Words," written by Doreen Rappaport and illustrated by Bryan Collier, uses quotes from some of King's most beloved speeches to tell the story of his life and his work.
"It was a way for the kids to learn about the legacy and the life of Dr. King, but even outside of that, it gave them an understanding of how they themselves can be change agents throughout their lives," said Sellers.
Parson said the read-alouds also provide a valuable opportunity for elementary school students to see people of color — such as herself and Sellers — in leadership roles in higher education.
App State senior and Stokesdale native Brandon Heras — the guest reader for Hispanic and Latino Heritage Month last September — said connecting with the students was his favorite part of the program.
"It's a very cheerful and positive vibe," said Heras, a psychology major. "It's amazing that something as simple as reading a book can give you such a strong connection."
Heras said he believes the read-alouds could have a lasting impact beyond the students' elementary school years.
"It's little opportunities like this that can help shape someone's future," he said. "These students are going to be great leaders someday, and it's important to support them however we can."
For this month's read-aloud, on Feb. 21, the theme was Black History Month and the featured book was "Crown: An Ode to the Fresh Cut," written by Derrick Barnes and illustrated by Gordon C. James. The book, according to the publisher's description, is "a high-spirited, engaging salute to the beautiful, raw, assured humanity of Black boys and how they see themselves when they approve of their reflections in the mirror."
Other read-aloud events this academic year included a reading of "The Poppy Lady" with App State's Bethany Gonzalez, interim program director of student veteran services, and Caitlin Langley, an assistant in the Office of Student Veteran Services and a junior sustainable development major from Prospect Hill. Additional read-aloud themes planned this semester include Women's History Month in March, Developmental Disabilities Awareness and National Deaf History Month in April and Asian Pacific Islander Month in May.
What do you think?
Share your feedback on this story.
University announces new emergency scholarship for student veterans
April 7, 2022
About Diversity and Inclusion at Appalachian
Appalachian State University is committed to developing and allocating resources to the fundamental task of creating a diverse campus culture. We value diversity as the expression of human similarities and differences, as well as the importance of a living and learning environment conducive to knowledge, respect, acceptance, understanding and global awareness. Learn more at http://diversity.appstate.edu.
About the Academy at Middle Fork
The Appalachian State University Academy at Middle Fork, located in Walkertown, North Carolina, serves approximately 300 K–5 students. The academy provides a balanced education through the implementation of research-based practices, state-of-the-art literacy instruction, and exemplary classroom instruction and administration. Learn more at https://middlefork.appstate.edu.
About the Academy at Elkin
A partnership between Appalachian State University and Elkin City Schools, App State's Academy at Elkin is a free, public lab school located on the campus of Elkin Elementary School. The academy, which opened in August 2022, serves students in second through fourth grades. It is a learner-centered community that promotes exploration-based learning, with an emphasis on improving and enriching students' literacy as a primary focus. Learn more at https://elkin.appstate.edu.
About Appalachian's Student Veteran Services
Student Veteran Services at Appalachian State University is dedicated to helping the university's military-affiliated students thrive on campus and in the Boone community. The unit does so by connecting student veterans and military-affiliated students with services and resources that are commensurate with their needs, capabilities and contributions. These resources and services include the Major General Edward M. Reeder Jr. Student Veteran Resource Center, priority registration, scholarship opportunities, a Student Veteran Association and others. Learn more at https://militarystudents.appstate.edu.
About Appalachian State University
As the premier public undergraduate institution in the Southeast, Appalachian State University prepares students to lead purposeful lives. App State is one of 17 campuses in the University of North Carolina System, with a national reputation for innovative teaching and opening access to a high-quality, affordable education for all. The university enrolls more than 21,000 students, has a low student-to-faculty ratio and offers more than 150 undergraduate and 80 graduate majors at its Boone and Hickory campuses and through App State Online. Learn more at https://www.appstate.edu.