Posted May 1, 2023 at 11:33 a.m.
BOONE, N.C. — Appalachian State University Trustee and alumnus Jamie Harris '84, chief financial officer of RXO, delivered the 64th Harlan E. Boyles Distinguished Lecture to an audience of students, faculty, staff and community members on April 20 at App State's Schaefer Center for the Performing Arts.
A Charlotte-based company, RXO is a leading provider of asset-light transportation solutions, giving shippers access to trucks and drivers on demand. RXO is the fourth largest full truckload broker in the U.S. with more than 8,500 employees.
As CFO, Harris provides strategic financial counsel and direction for the company, which connects businesses — including many Fortune 100 and 500 businesses — with more than 100,000 independent carriers giving access to more than 1.5 million trucks to solve complex supply chain issues across North America. RXO currently serves more than 10,000 customers using cutting-edge proprietary technology, which incorporates machine learning and excellent customer service to source the right truck for each load.
Harris has served in a variety of other leadership roles throughout his career, including as CFO and treasurer for SPX Technologies, CFO and executive vice president for business transformation and business services at Coca-Cola Consolidated, and CFO and chief executive officer at Elevate Textiles.
Since 2021, he has been a member of App State's Board of Trustees.
"We appreciate Trustee Harris for sharing his valuable insights and experiences and demonstrating ways for our students to innovate solutions in an increasingly sophisticated business environment," said App State Chancellor Sheri Everts.
Before his lecture, Harris visited Peacock Hall — home of the Walker College of Business, where he spoke to student leaders of App State business clubs and organizations. The day's events also included the Boyles Luncheon, held in the Grandview Ballroom of Kidd Brewer Stadium's north end zone facility.
Harris served for many years on Walker College's Business Advisory Council — including as chair and vice chair — and he is now an emeritus member of the council.
"Even as Jamie has made his mark in the business world leading companies, he has remained engaged in the life of App State and is deeply committed to supporting our educational mission," said App State Provost and Executive Vice Chancellor Heather Hulburt Norris.
From baseball to business
Harris was a star college baseball player and a member of the App State 1984 Southern Conference Championship team. He was also named to the All-Southern Conference and NCAA Academic All-America teams.
During his lecture, titled "Lessons in Leadership: Baseball to Business," Harris shared how the sport helped to shape his business philosophies, using baseball analogies to help paint the picture of what it takes to be a successful leader.
"The cardinal rule in baseball is that the baseball always finds the one who's not ready on the field. It's the same in business," said Harris.
Harris hit on a number of points throughout his lecture, including the importance of practice, how to deal with "bad hops" or "curveballs," to always be ready "when your number is called," to excel at the little things and to be a team player to build a winning culture.
"Students, you are the next generation of leaders. You are the world's future," said Harris. "Please use your talents to become a leader in whatever field you choose."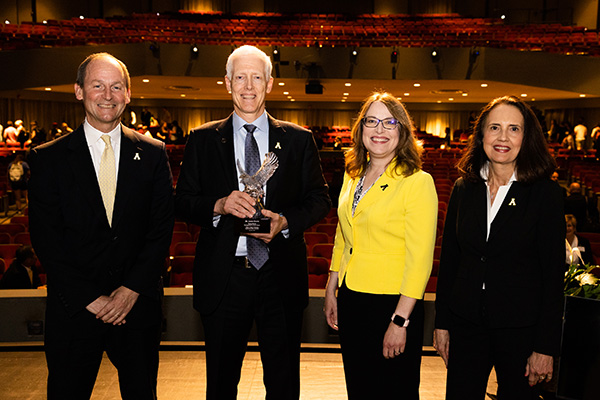 Presentation of the eagle
Edward Boyles, managing director of Wells Fargo Securities and son of the series' eponym — the late Treasurer Harlan E. Boyles, concluded the event by presenting Harris with a crystal American eagle, the symbol of the Boyles Distinguished Lecture Series.
"The eagle symbolizes strength, gracefulness, keenness of vision and power of flight. Mr. Harris, you possess these characteristics, which have served you well throughout your career," said Boyles. "It has been a pleasure to have you share your insights and expertise with our campus and community today, and we cannot thank you enough."
Harris graduated from App State in 1984 with a bachelor's degree in accounting, before obtaining his Master of Business Administration from Wake Forest University.
What do you think?
Share your feedback on this story.
About the Walker College of Business
The Walker College of Business at Appalachian State University delivers transformational educational experiences that prepare and inspire students to be ethical, innovative and engaged business leaders who positively impact our community, both locally and globally. The college places emphasis on international experiences, sustainable business practices, entrepreneurial programs and real-world applications with industry. Enrolling approximately 3,000 undergraduates in 10 majors and more than 180 graduate students in three master's programs, Walker College has the highest enrollment of full-time undergraduate students in the University of North Carolina System. Walker College is accredited by AACSB International — the premier global accrediting body for business schools. Learn more at https://business.appstate.edu.
About Appalachian State University
As the premier public undergraduate institution in the Southeast, Appalachian State University prepares students to lead purposeful lives. App State is one of 17 campuses in the University of North Carolina System, with a national reputation for innovative teaching and opening access to a high-quality, affordable education for all. The university enrolls more than 21,000 students, has a low student-to-faculty ratio and offers more than 150 undergraduate and 80 graduate majors at its Boone and Hickory campuses and through App State Online. Learn more at https://www.appstate.edu.