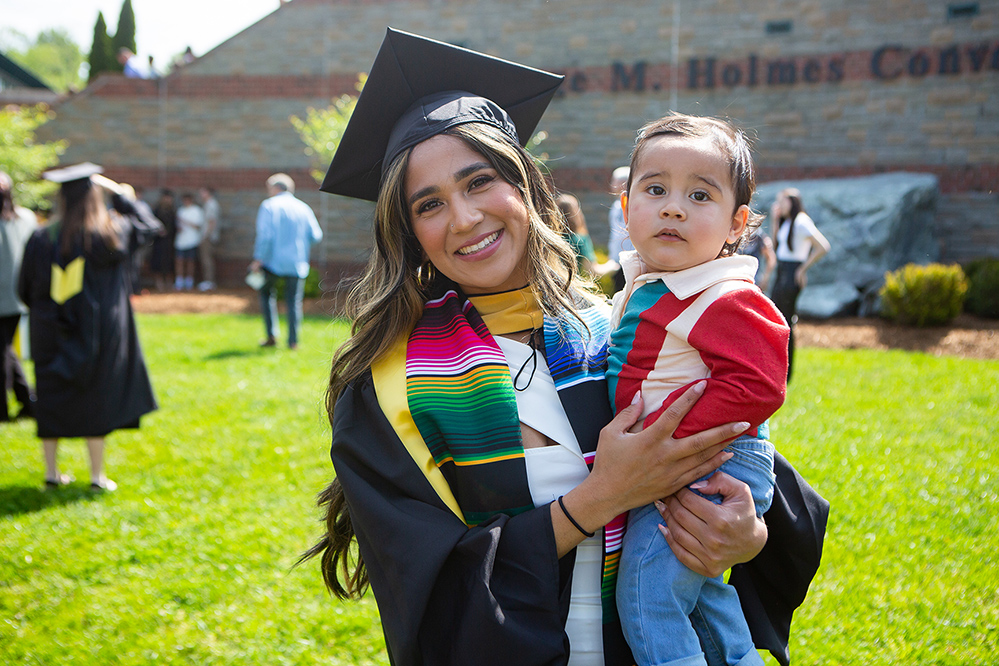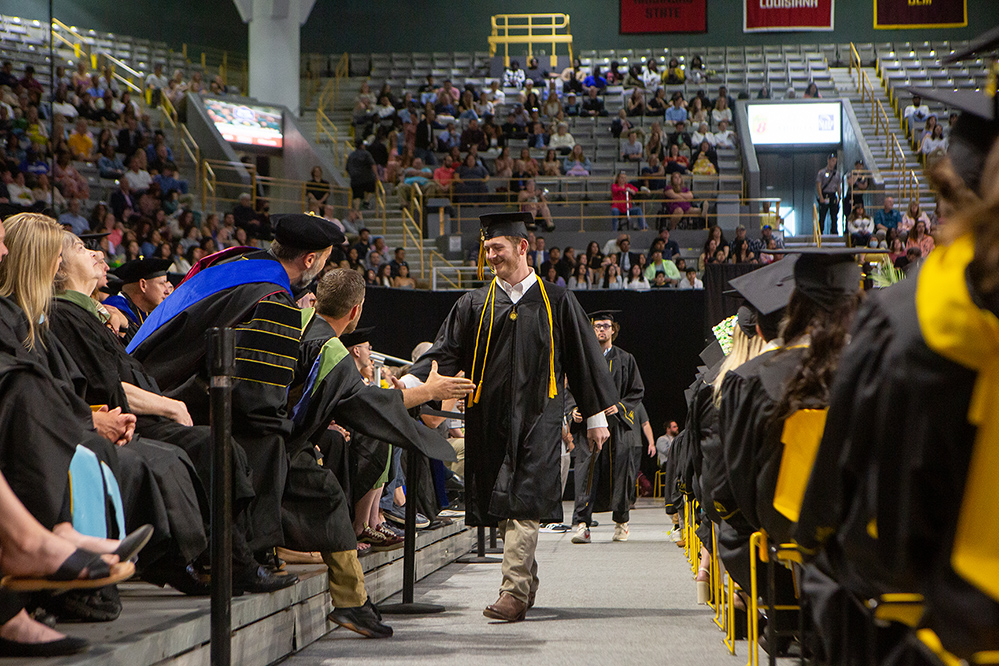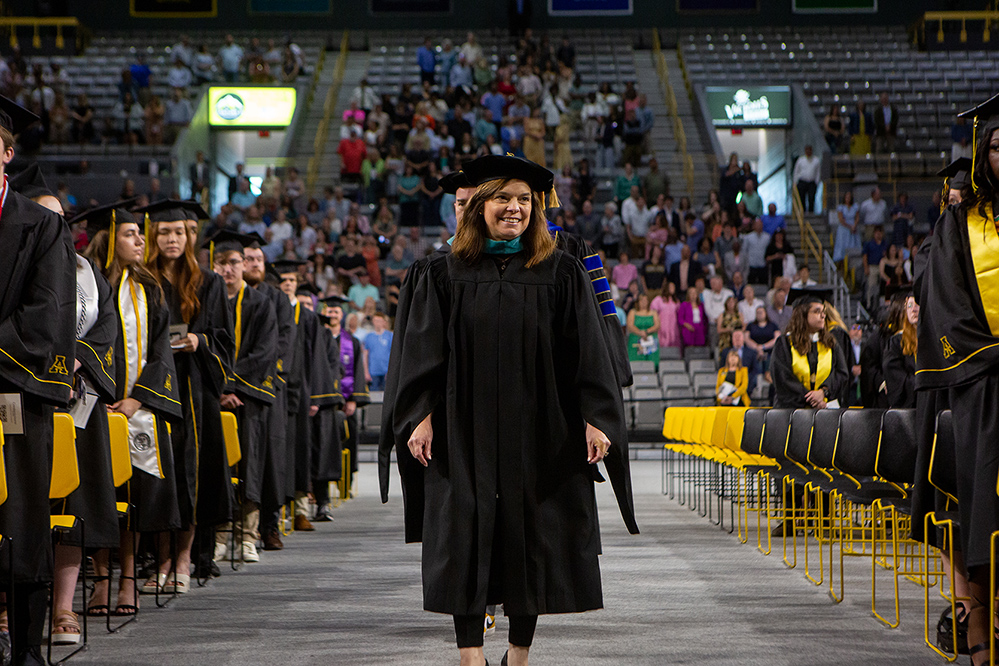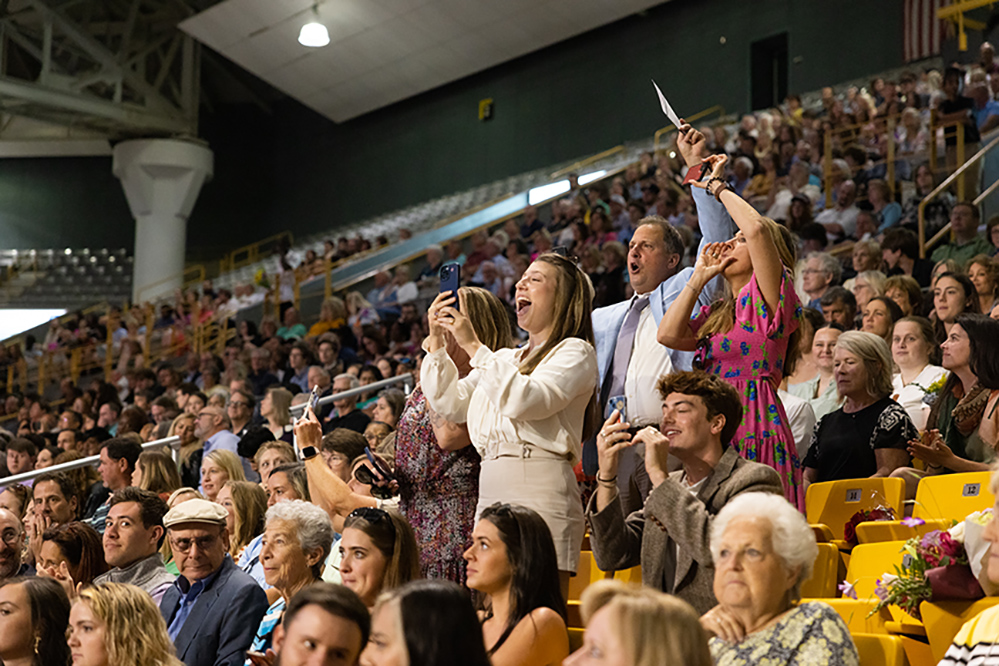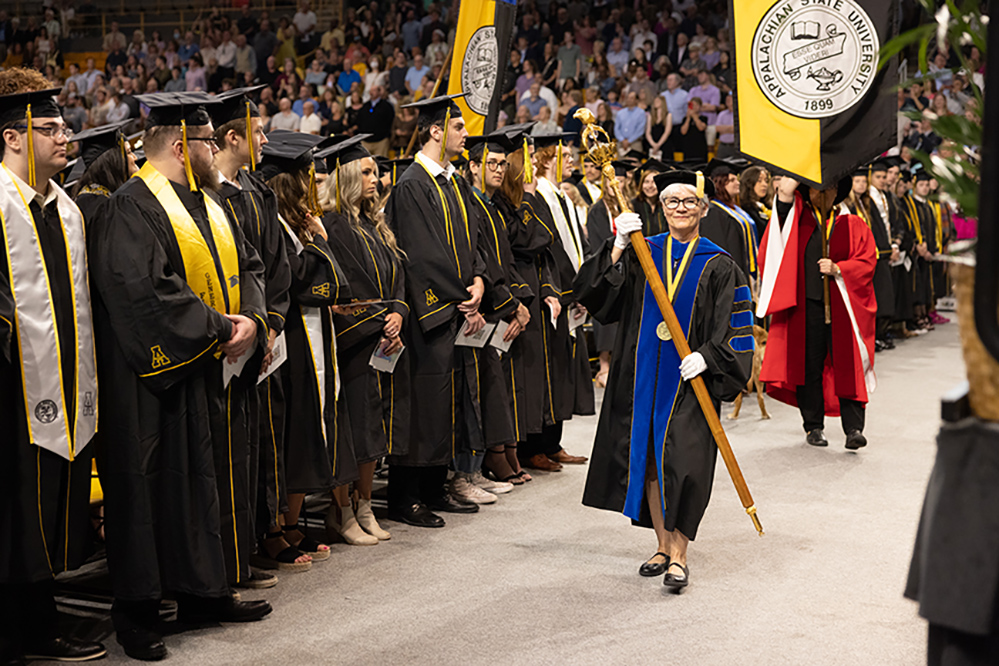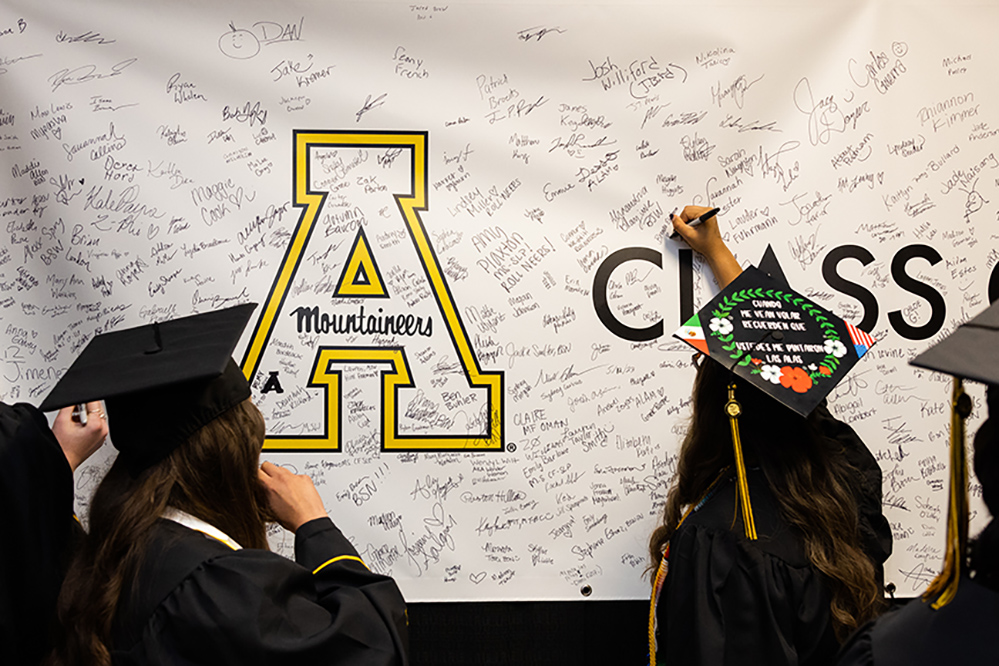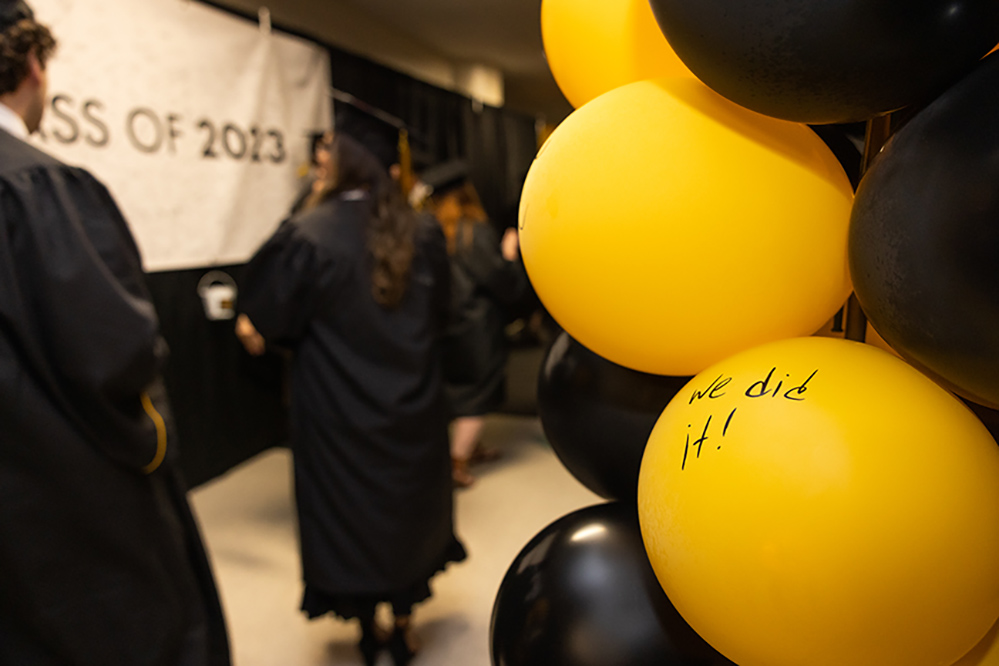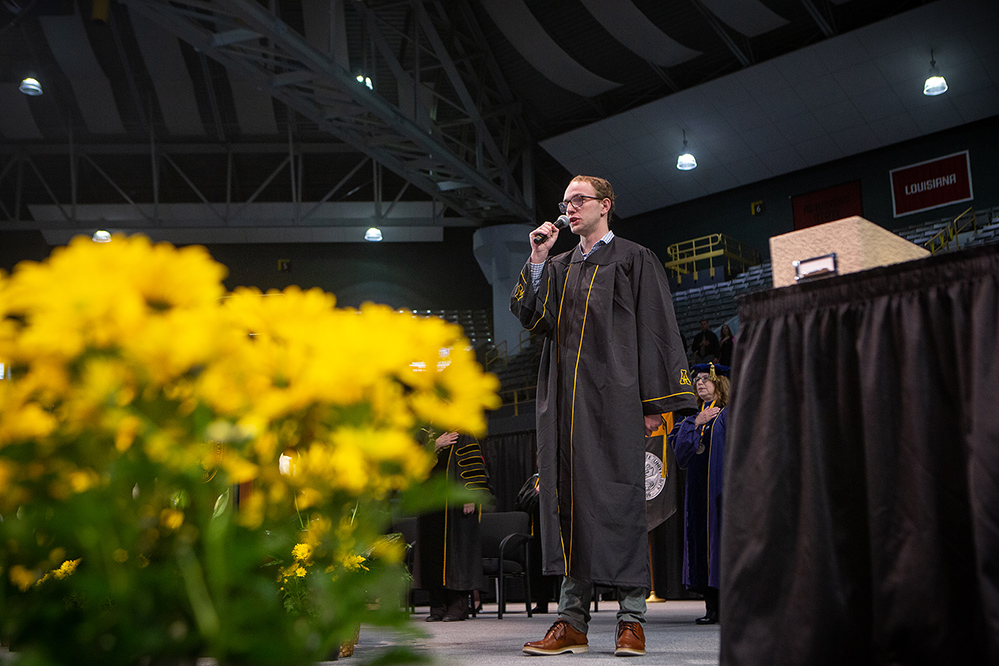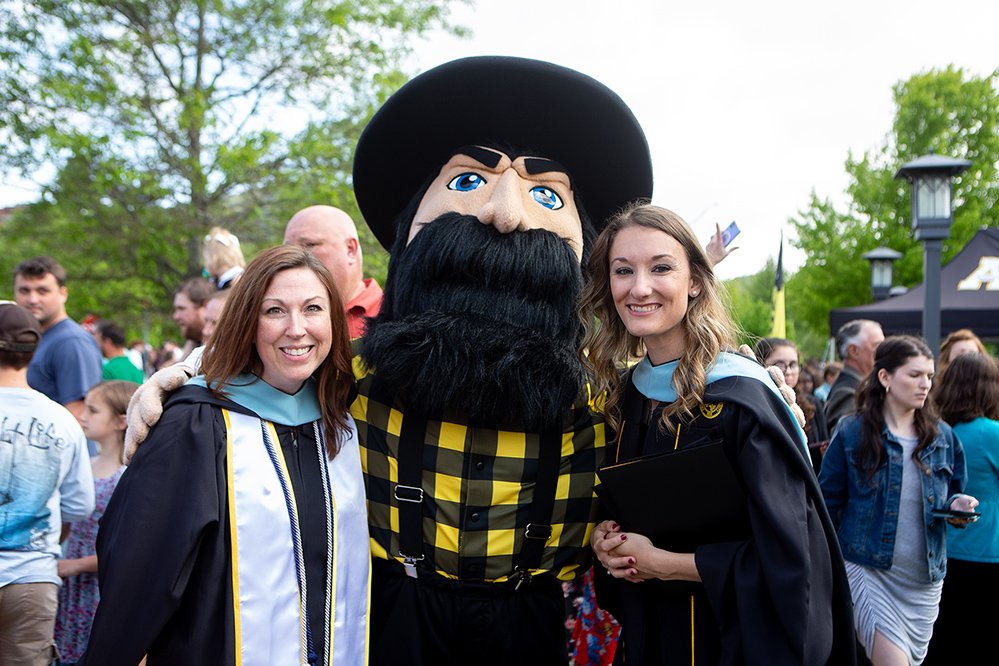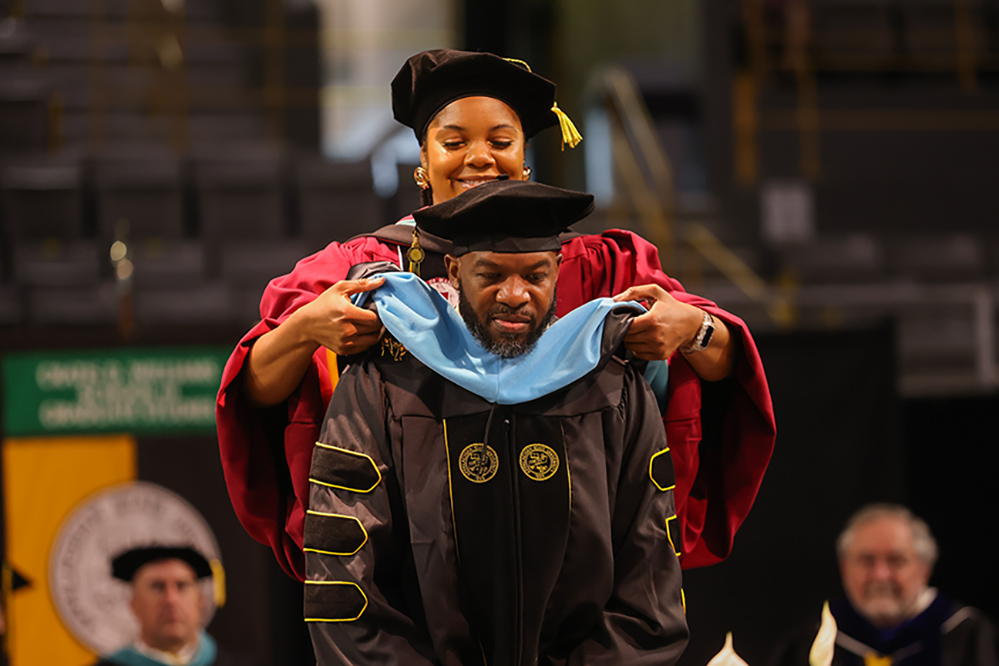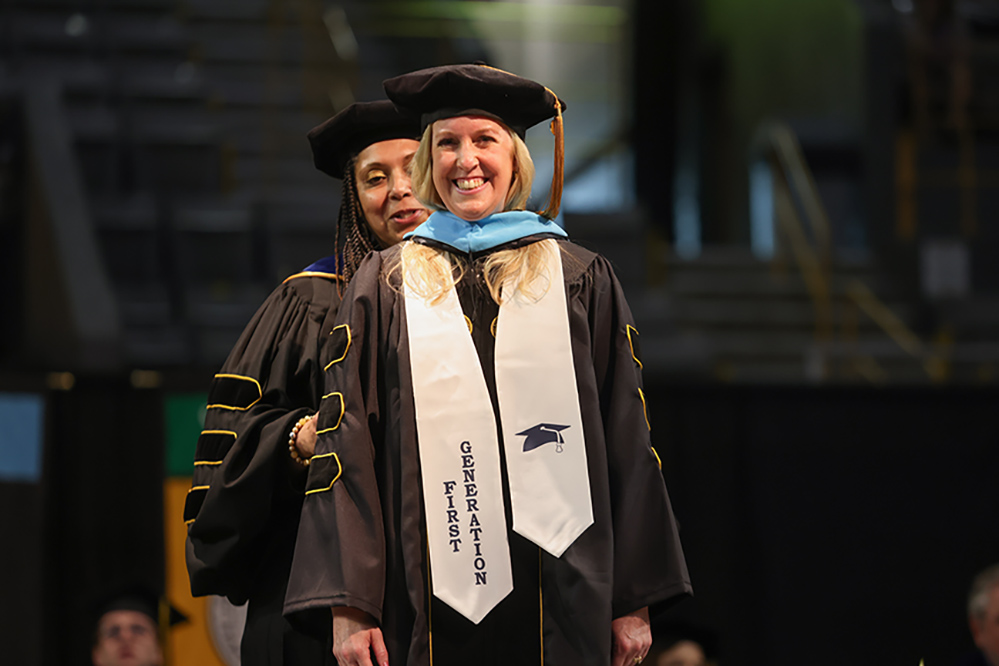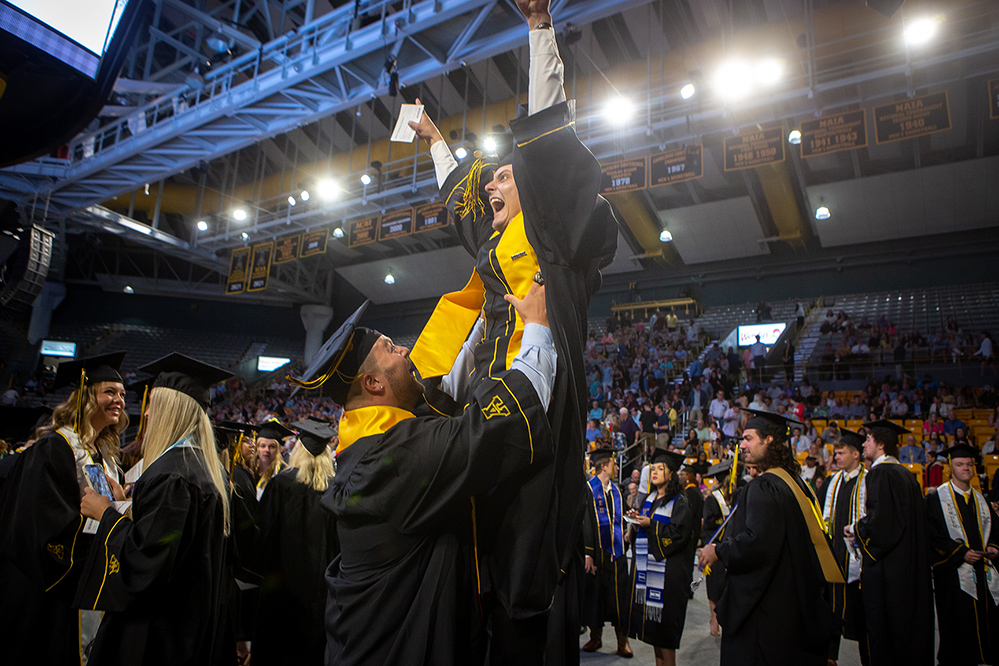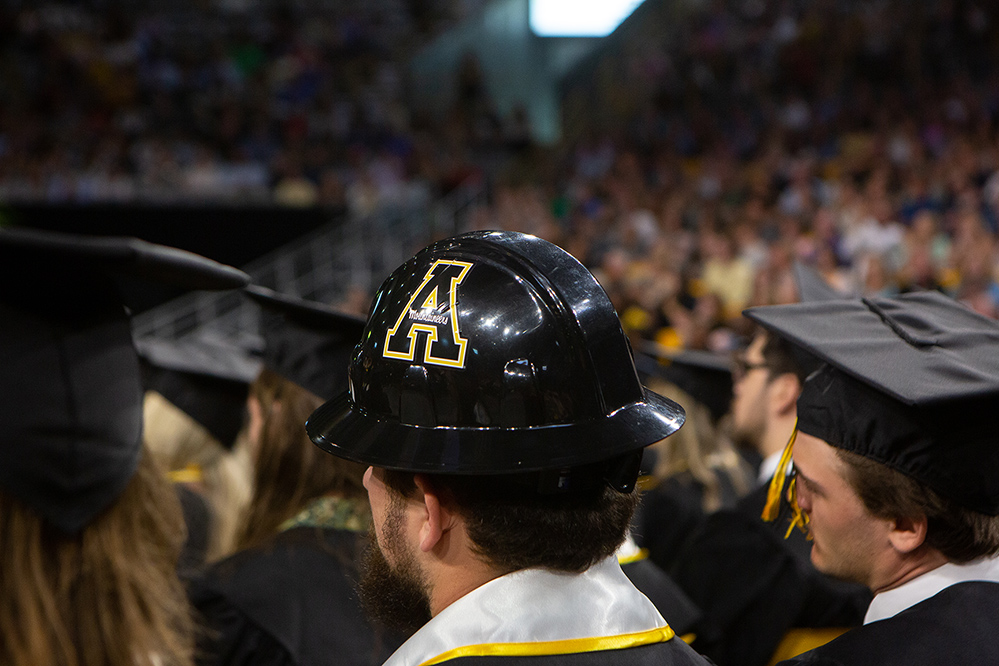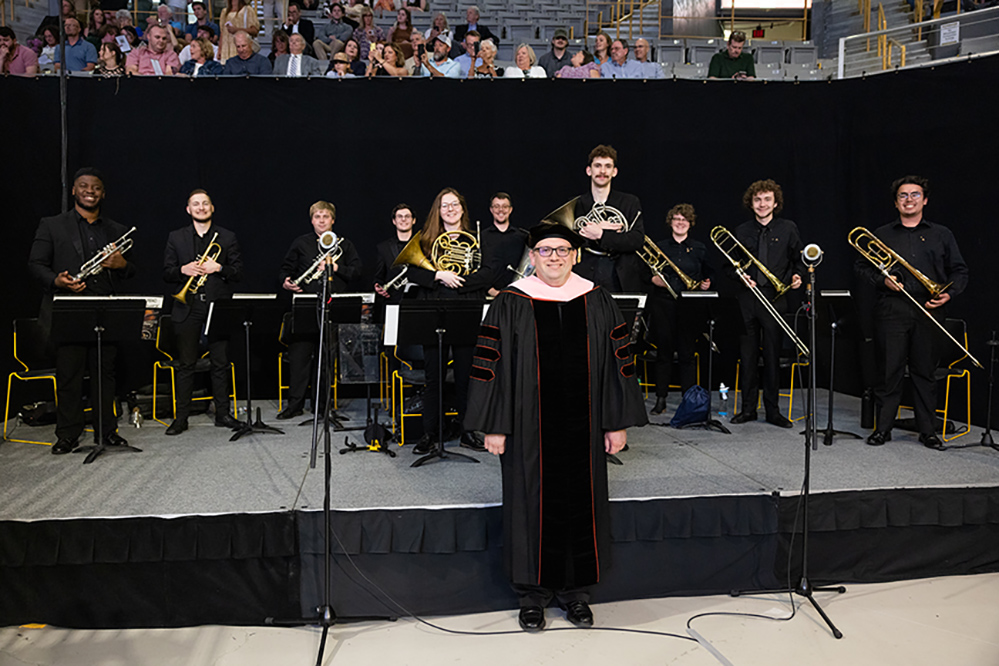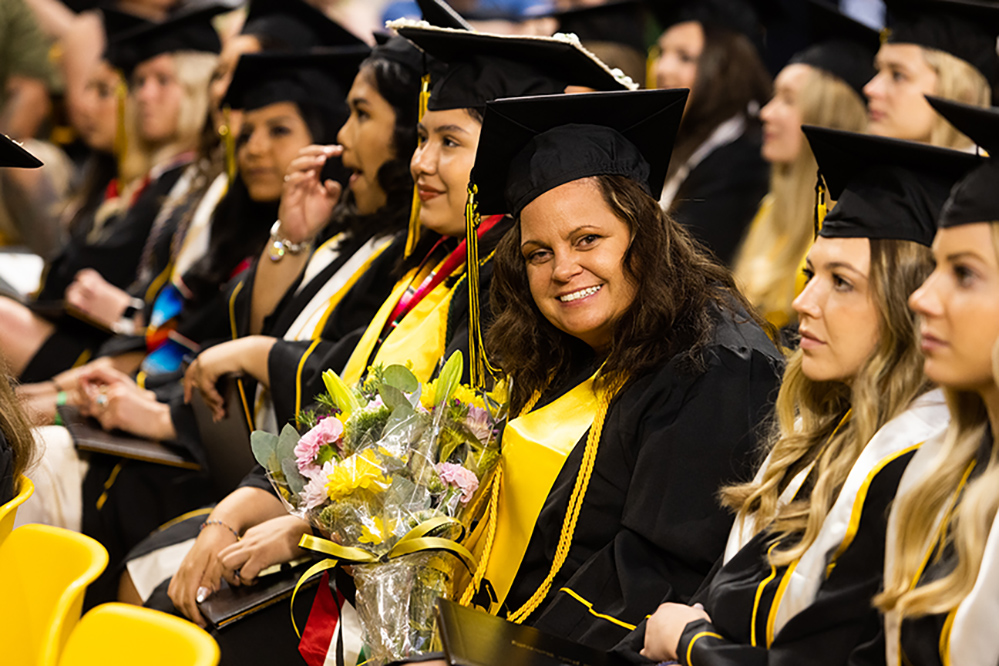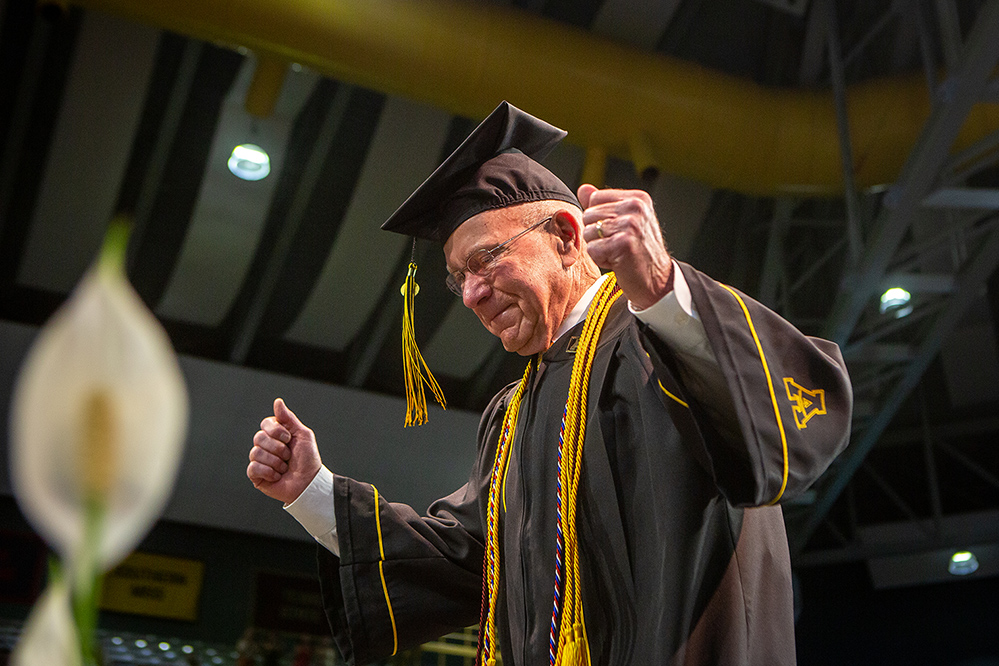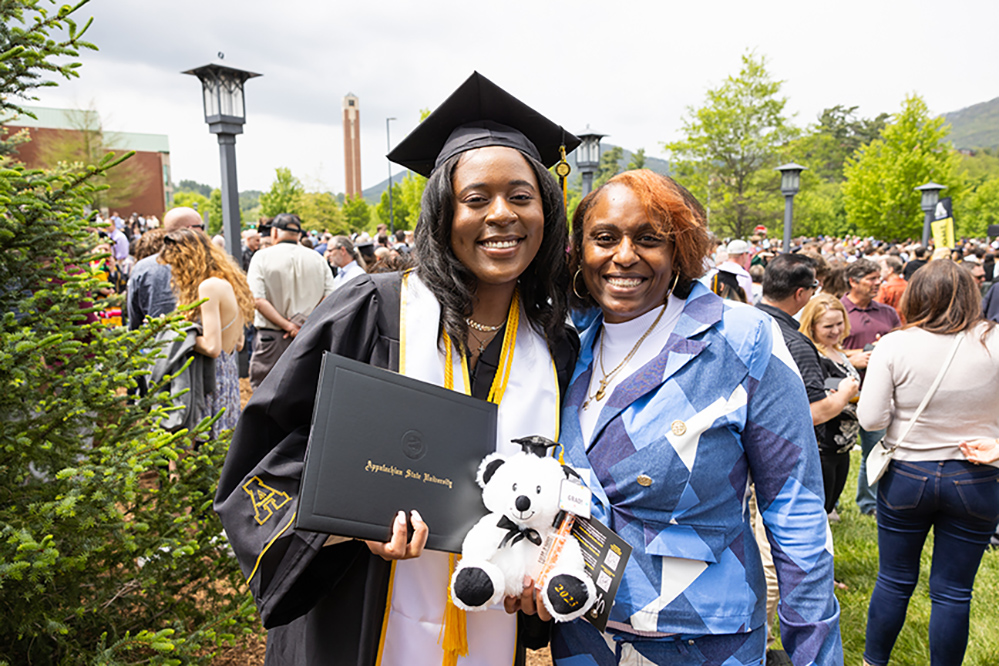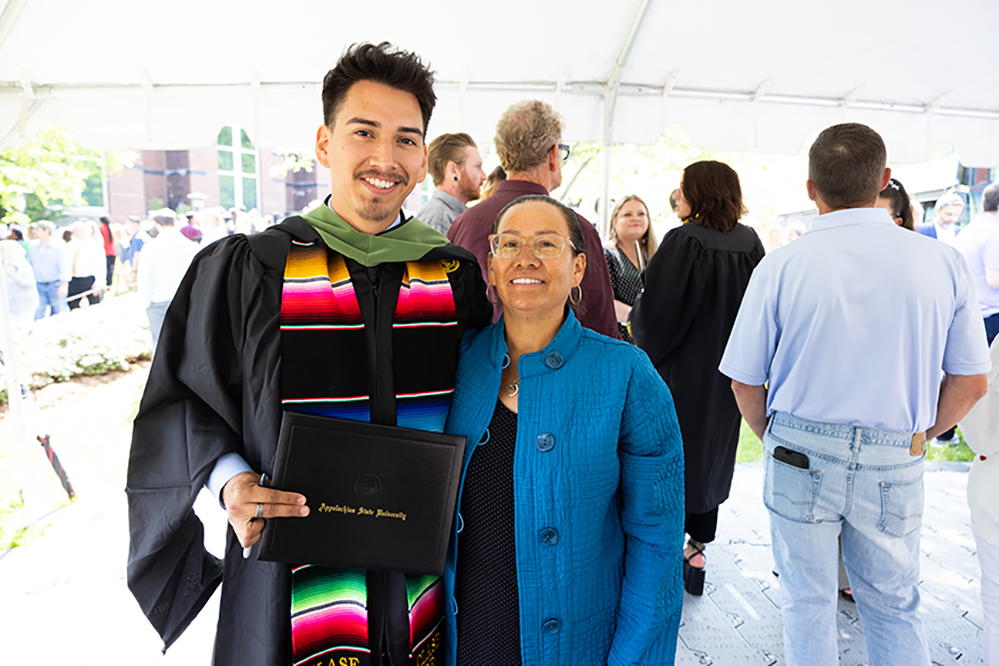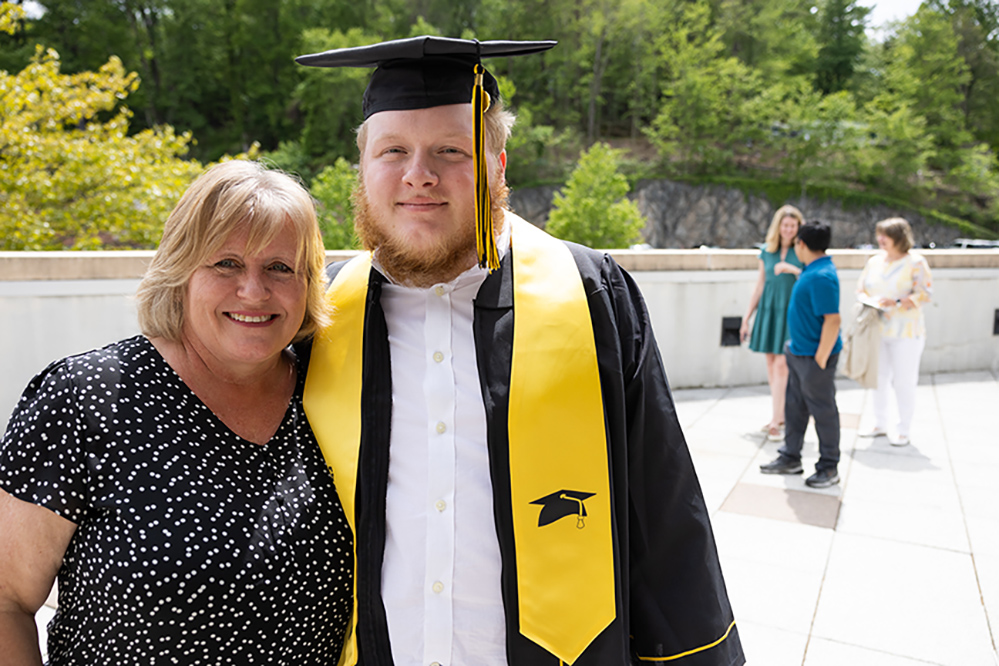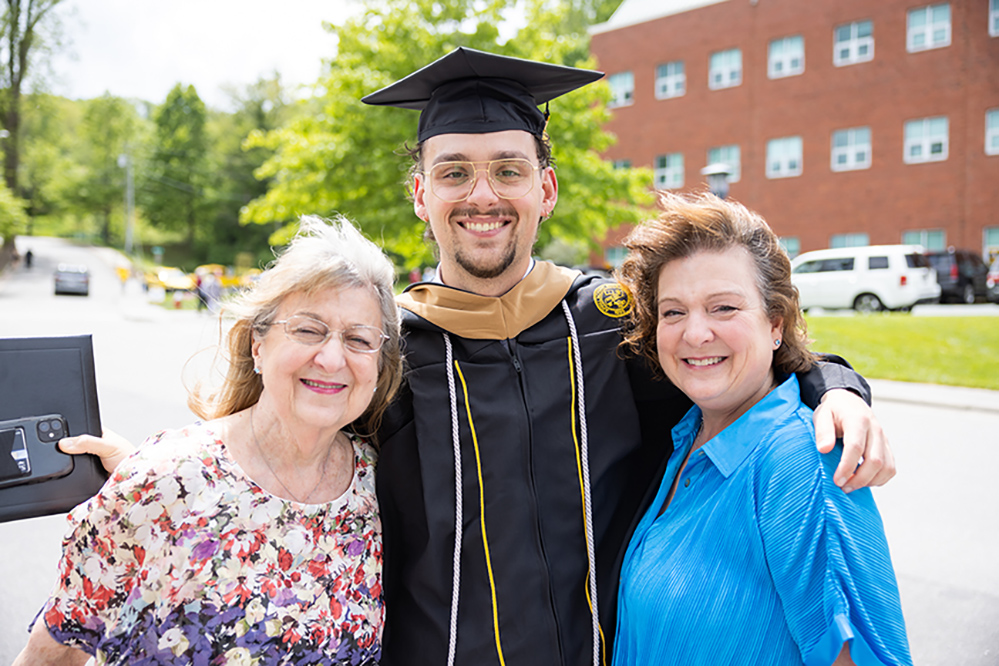 Posted May 16, 2023 at 4:41 p.m.
BOONE, N.C. — More than 3,600 students graduated at the Holmes Convocation Center on the Boone campus of Appalachian State University during Spring Commencement ceremonies, which were held May 12 and 13.
App State conferred degrees to 3,610 graduates — 3,046 undergraduate students from six colleges and schools and 564 graduate students from the Williams School of Graduate Studies, including 25 doctoral students. Recordings of the six commencement ceremonies are available on App State's commencement website.
Chancellor Sheri Everts presided over the ceremonies, and Provost and Executive Vice Chancellor Heather Hulburt Norris presented the candidates for graduation. C. Philip Byers, an App State alum and University of North Carolina System Board of Governors member, shared congratulatory remarks on behalf of the board.
"Today marks a most defining moment in your lives and careers," Everts said, addressing the graduates. "On the path to earning your degrees, you have demonstrated incredible grace and perseverance to arrive at this momentous occasion, and we are so very proud of each and every one of you.
"You are our most enduring legacy," Everts added. "You will forever be a part of App State, and we invite all alumni to help shape our university for generations to come."
Byers brought greetings from the UNC Board of Governors, the UNC System Office and the App State Board of Trustees.
"Today, we celebrate you — the graduates — who have achieved a significant milestone in your lives," Byers said. "You are now ambassadors of this institution. Take tremendous pride in how you represent yourselves, your communities and Appalachian State University."
In her introductions, Norris thanked multiple individuals and groups for their roles in the commencement ceremonies, and she also recognized Mountaineer alumni, student veterans, military-affiliated students and first-generation college students who were in attendance.
"App State remains dedicated to the mission established by our founders nearly 125 years ago to provide access to education," Norris said. "We are so glad we are able to celebrate your hard work, perseverance and success."
App State's commencement ceremonies concluded with a special performance of the university's alma mater, prerecorded by former App State student, Grammy Award-winner and two-time Country Music Association Entertainer of the Year Luke Combs.
Graduates represented each of the university's academic colleges as they walked across the commencement stage:
Meet 5 App State graduates
Every commencement and every graduate has a unique and special story. Learn more about five App State graduates who exemplify the Mountaineer spirit of diligence and perseverance.
Spring 2023 macebearers
The mace is carried by a senior faculty member and precedes the chancellor, both upon entering and leaving a ceremony. The mace serves as a symbol of authority just as it did during the Middle Ages, when a macebearer accompanied an official taking office or opening court. The App State mace symbolizes the university's mountain heritage, the rustic location and the sophistication of an emerging, national leader in higher education.
The following individuals served as macebearers during App State's Spring 2023 Commencement ceremonies:
What do you think?
Share your feedback on this story.
About Appalachian State University
As the premier public undergraduate institution in the Southeast, Appalachian State University prepares students to lead purposeful lives as global citizens who understand and engage their responsibilities in creating a sustainable future for all. The Appalachian Experience promotes a spirit of inclusion that brings people together in inspiring ways to acquire and create knowledge, to grow holistically, to act with passion and determination, and to embrace diversity and difference. Located in the Blue Ridge Mountains, Appalachian is one of 17 campuses in the University of North Carolina System. Appalachian enrolls nearly 21,000 students, has a low student-to-faculty ratio and offers more than 150 undergraduate and graduate majors.