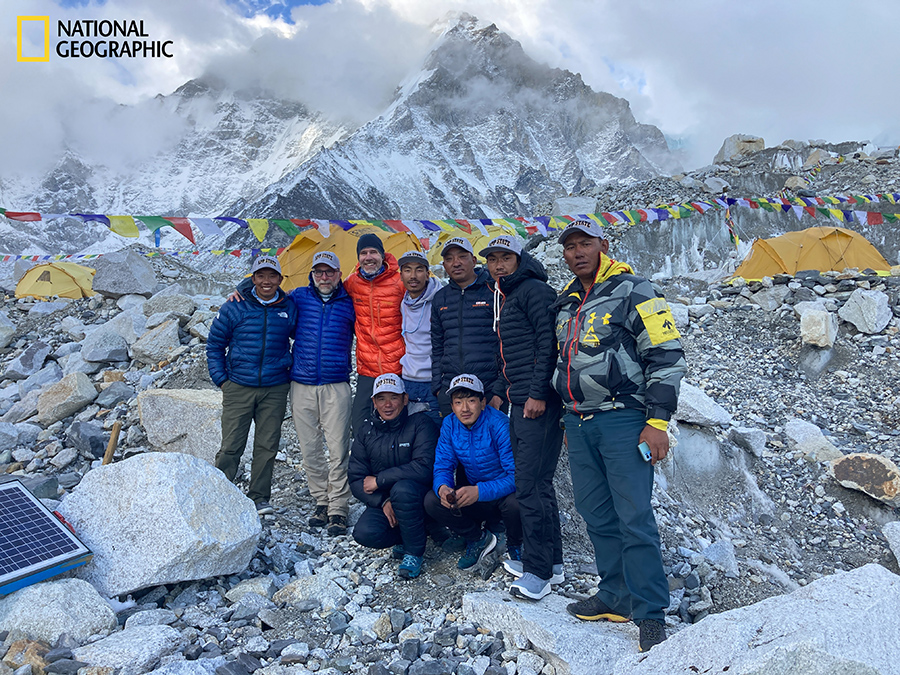 Posted July 27, 2023 at 3:30 p.m.
BOONE, N.C. — Dr. Baker Perry, National Geographic Explorer and professor in Appalachian State University's Department of Geography and Planning, returned to Mount Everest for a third time this spring, leading another successful expedition to perform maintenance on multiple weather stations on the mountain.
This time, Perry was joined by Dr. Brian Raichle, professor in App State's Department of Sustainable Technology and the Built Environment, who helped test, equalize and integrate new batteries to be deployed at the weather stations.
The expedition, which took place from April 10 to May 17, builds upon the 2019 and 2022 National Geographic and Rolex Perpetual Planet Everest Expeditions. It was made possible by the National Geographic Society and Rolex's Perpetual Planet Initiative, in collaboration with a group of elite climbing Sherpas — including Tenzing Gyalzen Sherpa, who has worked with the National Geographic Society expedition team for the past four years, and Dawa Yangzum Sherpa, the first internationally certified female guide from Asia.
"We have a really strong team, especially the Sherpas, but we've been missing the skill set that Brian has to offer, so it was really terrific to have him in the mix and have his expertise," said Perry. "We got everything done that we needed to, aside from some technical challenges that were out of our control, but overall I'm really optimistic about things."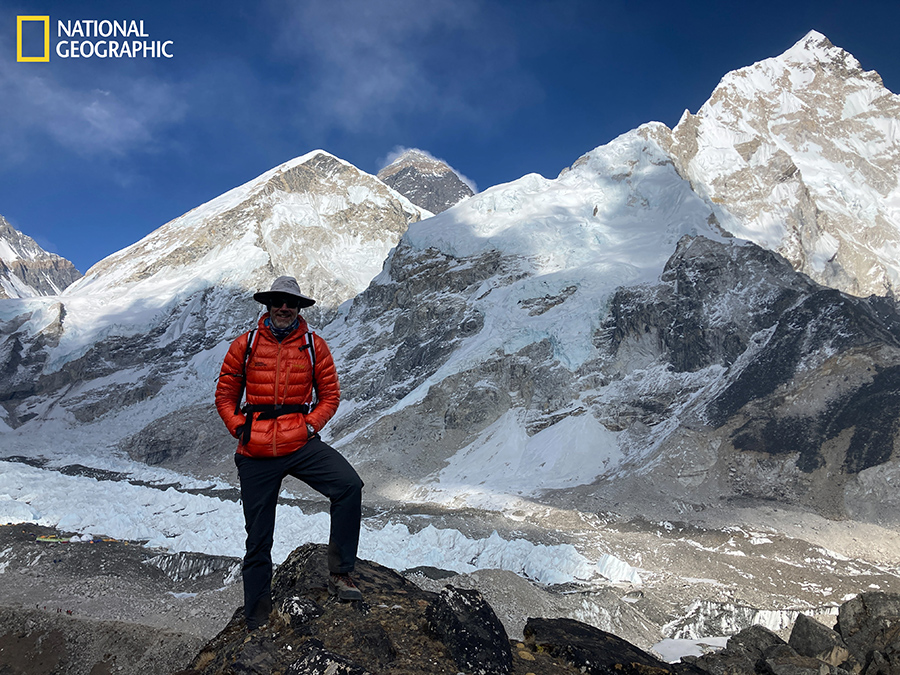 Maintenance was performed at all five weather stations on the mountain, ranging in elevation from 12,500 feet at Phortse to 28,904 feet at Bishop Rock — the highest weather station in the world. Some stations were not working properly upon the team's arrival, but after full inspections were performed, all issues were resolved, including fixing and replacing sensors, increasing camera resolution, securing cables, replacing batteries and much more.
"We're hopeful that, with these updates, the higher stations — at least the South Col (just over 26,000 feet) — will be able to make it through the winter," said Perry. "It will be fantastic if we can get a complete year of data."
The weather stations offer real-time wind, temperature and precipitation measurements, and information collected from the stations provides critical climate data on glacier health, water supply and more.
"The climbing community uses the data on the mountain to make better decisions based on weather conditions, and the helicopter pilots are using the station data too," said Perry. "For the scientific community, those of us who study climate–glacier interactions and climate change in the Himalayas use the data quite a bit. Dozens of publications have already come out using this data, and if we can continue to extend the record, it becomes even more valuable."
Extending the station components' battery life is critical to the task, but it has been difficult to achieve in sub-zero temperatures.
"It's a very harsh environment for batteries," said Raichle. "The team had been using lead acid batteries, which is a very common technology, but they just don't hold up as well in lower temperatures. We were able to find new lithium ion battery technology that has reported good performance in these conditions."
Raichle performed temperature testing on App State's campus, exposing the batteries to temperatures as low as negative 50 degrees Celsius (negative 58 degrees Fahrenheit).
"They performed quite well in the test, so we're confident they will perform well on the mountain too," he said.
National Geographic Society Chief Executive Officer Dr. Jill Tiefenthaler, who was the keynote speaker for this year's Appalachian Energy Summit hosted by App State, said the Everest expedition has been one of the most important scientific expeditions in recent history.
"We strive to turn science into something that is valuable for the people — and that's exactly what the team did," Tiefenthaler said. "Real-time weather data on Everest helps us study long-term environmental change, which is critical to the local community as well as scientists and climbers around the world. We are proud to support Explorer Baker Perry and the rest of the team in achieving our mission to illuminate and protect the wonder of our world."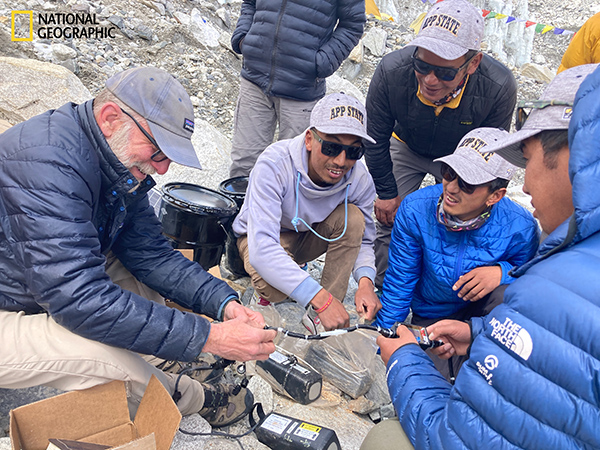 'Trying to stay ahead'
The expedition didn't come without challenges. Perry said that, for about the first 10 days, not much could be accomplished due to strong winds at the mountain's higher elevations, as well as snow accumulations for multiple days in a row.
"That definitely slowed things down," he said. "Then once the weather cleared, everybody was moving up higher at the same time. We were trying to stay ahead of everybody because we didn't want to get caught in a massive traffic jam, and for what we needed to do, we needed some time and we needed some space. So it was kind of a mad scramble once things started moving."
On the way down from the South Col station, the team passed about 100 people coming up the mountain, Perry said, adding that most of that section is on one fixed line, making it difficult to move when there is a large number of climbers.
In addition to the traffic and the weather, Raichle said it was a challenge to ship the lithium batteries internationally, and that they arrived nearly 10 days late.
"That definitely reduced the amount of time we had to work on some of the technical problems," said Raichle. "It would have been nice to have a few more days with them at the base camp."
To add to the hustle, the expedition was on a set schedule with little room for error, and a lot of the maintenance and technicalities were based only on assumptions.
"It's so hard because we only get one shot, but even more than that, we didn't know why some of the stations weren't transmitting data," said Perry. "You get one visit a year, so we're trying to make guesses about what went wrong and what can be improved without actually knowing. It's really difficult to operate like that."
Raichle added, "I definitely felt some pressure making decisions that are somewhat speculative. The stakes are pretty high, and there's a very narrow window for getting things done on the mountain. We can't go back next week to fix things. It's next year."
On top of these unpredictable circumstances, the team members also had to worry about their health. Perry said nearly everyone comes down with some sort of ailment when on Mount Everest, whether it's a cough or an upper respiratory infection.
"It's all related to altitude, the cold and just being in a different environment," he said. "Even with all of these different challenges, I'm really proud of what the team was able to accomplish."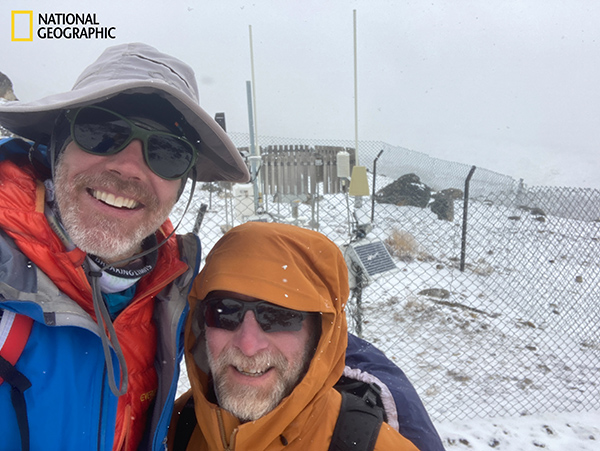 'The edge of the world'
This was Perry's fifth visit to Nepal and his third expedition to Mount Everest.
"It's incredible," he said. "Getting up to our station at the South Col this year, there was one morning that it was pretty clear, and you're at the edge of the world up there."
For Raichle, it was his first experience on the mountain, and he said it was the perfect intersection of both his personal and professional interests.
"I didn't get higher than base camp, but still, it was an amazing opportunity," he said. "Every day on the trek is a new day to experience the culture and it's pretty awesome."
As for the future of the weather stations, Perry said the team is taking it year by year.
"I think, at the very least, we'll have to send some Sherpas up next year," he said. "Beyond that, it kind of depends on what we think happens to the stations and what needs to be done."
In addition to support from the National Geographic Society and Rolex, App State's Research Institute for Environment, Energy and Economics (RIEEE) provided Perry and Raichle with logistics, administration and compliance support for their expedition. Perry is an RIEEE senior scholar and Raichle is an RIEEE faculty affiliate in residence.
What do you think?
Share your feedback on this story.
Everest expeditions have already led to scientific discoveries
About the Department of Geography and Planning
The Department of Geography and Planning promotes the understanding of the spatial dimensions of human behavior within the physical and cultural systems of the earth, and the role of planning in achieving improvement in those systems. The department offers degrees in geography and in community and regional planning. Learn more at https://geo.appstate.edu.
About the College of Arts and Sciences
The College of Arts and Sciences (CAS) at Appalachian State University is home to 17 academic departments, two centers and one residential college. These units span the humanities and the social, mathematical and natural sciences. CAS aims to develop a distinctive identity built upon our university's strengths, traditions and unique location. The college's values lie not only in service to the university and local community, but through inspiring, training, educating and sustaining the development of its students as global citizens. More than 6,400 student majors are enrolled in the college. As the college is also largely responsible for implementing App State's general education curriculum, it is heavily involved in the education of all students at the university, including those pursuing majors in other colleges. Learn more at https://cas.appstate.edu.
About the Department of Sustainable Technology and the Built Environment
One of seven departments housed in the College of Fine and Applied Arts, the Department of Sustainable Technology and the Built Environment at Appalachian State University features an integrated array of programs spanning the fields of sustainable design and technology. Its mission is to foster a strong and vibrant culture of inquiry, discovery and innovation that integrates theory with application, problem seeking with problem-solving, local issues with global perspectives and technological progress with environmental stewardship. It offers bachelor's degrees in sustainable technology and building science, and a master's degree in technology. Learn more at https://stbe.appstate.edu.
About the College of Fine and Applied Arts
Appalachian State University's College of Fine and Applied Arts is a dynamic and innovative group of seven academic departments, bringing together a variety of perspectives, experiences and real-world education to provide unique opportunities for student success. The college has more than 3,000 undergraduate and graduate majors. Its departments are Applied Design, Art, Communication, Military Science and Leadership, Sustainable Development, Sustainable Technology and the Built Environment, and Theatre and Dance. Learn more at https://faa.appstate.edu.
About the Research Institute for Environment, Energy, and Economics
Since 2008, Appalachian State University's Research Institute for Environment, Energy, and Economics (RIEEE) has fostered interdisciplinary research on the environment, energy and economics, especially the areas in which these subjects intersect. The institute serves as an umbrella organization for three centers: the Appalachian Energy Center, Center for Economic Research and Policy Analysis (CERPA) and the Southern Appalachian Environmental Research and Education Center (SAEREC). The work supported by RIEEE is integrated into Appalachian's academic programs, used to facilitate discovery among K-12 student students and teachers, and employed in the region's economic development. Learn more at https://rieee.appstate.edu.
About Appalachian State University
As the premier public undergraduate institution in the Southeast, Appalachian State University prepares students to lead purposeful lives. App State is one of 17 campuses in the University of North Carolina System, with a national reputation for innovative teaching and opening access to a high-quality, affordable education for all. The university enrolls more than 21,000 students, has a low student-to-faculty ratio and offers more than 150 undergraduate and 80 graduate majors at its Boone and Hickory campuses and through App State Online. Learn more at https://www.appstate.edu.