Posted Sep. 21, 2023 at 1:36 p.m.
BOONE, N.C. — Appalachian State University celebrated its sixth annual Founders Day on Sept. 7 to commemorate the first day of classes held in 1899 at Watauga Academy — the predecessor of App State — and honor App State's founders, B.B. Dougherty, D.D. Dougherty and Lillie Shull Dougherty.
"Today, we celebrate App State's 124-year legacy of educational leadership and those who shaped it into the institution it has become," said App State Chancellor Sheri Everts. "The principles our founders set forth continue to guide us to be the forward-thinking university we are today. Because of their leadership and their vision for educational excellence, we are changing lives — and changing the world."
The festivities began with the Founders Day ceremony at App State's Founders Plaza, with many Dougherty family descendants in attendance. App State senior Sofi Rohlman — a music performance major from Charlotte — opened the ceremony with a vocal performance of App State's alma mater. Chancellor Everts and Dr. Karl Campbell, professor in App State's Department of History, then spoke to guests about the significance of Founders Day.
"Founders Day is an important time for us to reflect on the past and to also consider how future generations will remember the present," said Campbell. "It is up to each of us to foster a university community of which B.B., D.D. and Lillie Shull Dougherty would be proud."
The ceremony included the rededication of a portrait of Lillie Shull Dougherty, which hangs in L.S. Dougherty Hall — the academic building named in her honor. Dr. Paul Worley, professor in and chair of App State's Department of Languages, Literatures and Cultures, represented faculty in L.S. Dougherty Hall by unveiling the portrait.
"On behalf of my department, we are truly humbled to be in the building named after such an amazing, dynamic educator, and to carry her legacy forward," said Worley. "We hope that from its new location, the portrait will help students who walk through the building put a face with Lillie Shull Dougherty's name, contributing to ongoing efforts which underscore her importance in the university and its founding."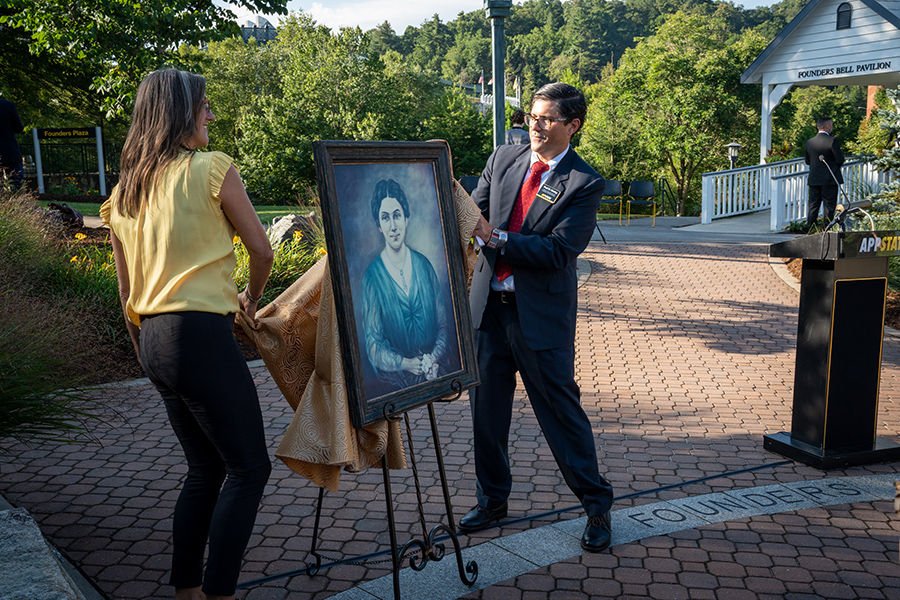 The ceremony concluded with the traditional ringing of the Founders Bell, as six new members — representing faculty, staff, students and alumni who have made an impact on App State's history and future — were inducted into the Bell Ringers Society. Each inductee had a chance to ring the bell before receiving a commemorative pin from the chancellor.
"An iconic symbol of App State's history, the bell plays a prominent role in our institutional traditions and stands as a testament to the university's enduring legacy of academic excellence," said Everts. "As we ring the bell today, its rich tone calls out to all Mountaineers, reminding us of the significance of a vision, 124 years in the making, to ensure access to education for all."
Following the ceremony, Founders Day continued with several more events in the Grandview Ballroom of Kidd Brewer Stadium's north end zone facility, each revolving around this year's theme of innovation, resilience and sustainability at App State in the past, present and future.
Events included a poster exhibit by students, faculty and staff, as well as a lecture for guests to learn about the university's many sustainability efforts.
Speakers included Griffin Honea '23, a postgraduate scholar in App State's Office of Sustainability, who spoke about App State's history of resilience and sustainability; Dr. Baker Perry, a National Geographic Explorer and professor in App State's Department of Geography and Planning, who spoke about the current environmental research being conducted by App State faculty; and Dr. Ava Udvadia, professor in and chair of App State's Department of Biology, who spoke about App State's future Innovation District.
"I think App State's founders would have been thrilled to hear these success stories today, but I don't think they would have been surprised," said Dr. Lee Ball, App State's chief sustainability officer. "They thought about the potential of this place and what an academic institution could provide, and I think they knew it could have a global impact — and I'm proud to say that it has made a global impact."
Founders Day concluded outside the north end zone facility with a meet-and-greet opportunity with Team Sunergy, App State's solar vehicle team, and a tour of the team's solar vehicle ROSE (Racing on Solar Energy).
Founders Day also offered a luncheon for members of App State's 1899 Legacy Society, which consists of alumni and friends of the university who have included gifts to App State in their estate plans. Jeannine Underdown Collins '79 '81 received the inaugural 1899 Legacy Society Award, which recognizes a Mountaineer who is highly engaged, has made a planned gift commitment and has shown meaningful philanthropic support to the university. Underdown Collins is chair of the Appalachian State University Foundation Board.
What do you think?
Share your feedback on this story.
App State Bell Ringers Society — Class of 2023
Statue of D.D. Dougherty dedicated at Founders Plaza
Sep. 30, 2022
Dr. Brian Raichle joins Dr. Baker Perry and Sherpa team for weather station maintenance in Nepal
July 27, 2023
Solar vehicle team clocks fastest lap time, completes most laps in multi-occupant category — and wins competition's Teamwork Award
July 10, 2023
The academic facility will be the first net-zero energy building in App State's new Innovation District
June 9, 2023
About Founders Day
Appalachian State University celebrates Founders Day each fall to honor the university's founders — B.B. Dougherty, D.D. Dougherty and Lillie Shull Dougherty — and the first day of classes at Watauga Academy, held Sept. 5, 1899. App State began this annual tradition in 2018 with the dedication of Founders Plaza, a touchstone to the university's early days that is located at the campus entrance on Hardin Street.
About the Bell Ringers Society
A new tradition at Appalachian State University — the ringing of the Founders Bell, an iconic symbol of App State's history — was established Sept. 5, 2019, as the university celebrated its second annual Founders Day. Twelve members of the App State Community were selected to ring the bell 10 times each to signify the university's 120th anniversary as an innovator and leader in higher education. These 12 bell ringers are the inaugural members of App State's Bell Ringers Society. New members are inducted into the society each year to ring the bell on Founders Day.
About Appalachian State University
As the premier public undergraduate institution in the Southeast, Appalachian State University prepares students to lead purposeful lives. App State is one of 17 campuses in the University of North Carolina System, with a national reputation for innovative teaching and opening access to a high-quality, affordable education for all. The university enrolls more than 21,000 students, has a low student-to-faculty ratio and offers more than 150 undergraduate and 80 graduate majors at its Boone and Hickory campuses and through App State Online. Learn more at https://www.appstate.edu.