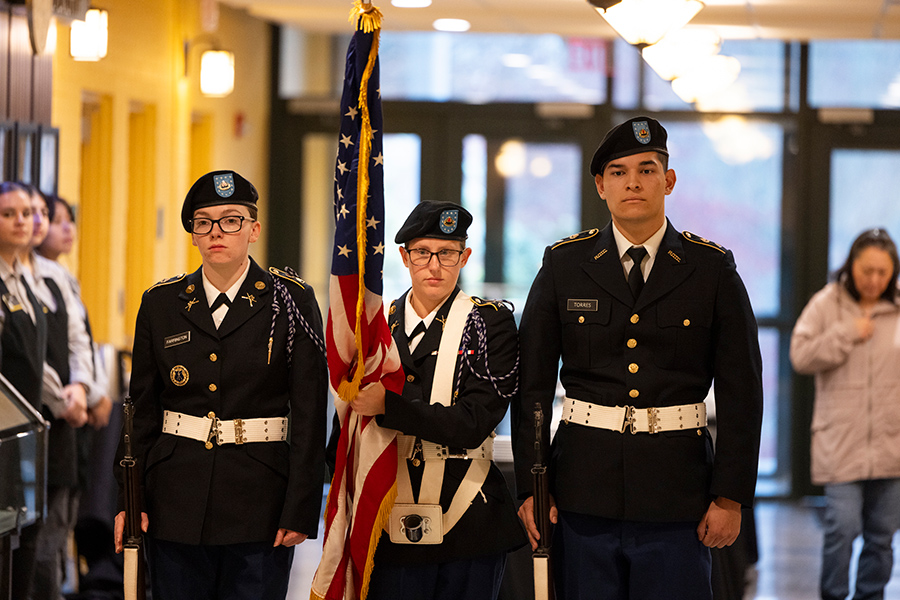 Posted Nov. 10, 2023 at 2:50 p.m.
BOONE, N.C. — Appalachian State University Provost Heather Hulburt Norris, whose parents and extended family members served in the military, shared a Veterans Day message at the university's annual ceremony, held Nov. 10 in the B.B. Dougherty Administration Building.
Norris was introduced at the ceremony by App State ROTC Cadet Arieli Pruitt — a senior cellular/molecular biology major from Kernersville who serves in the North Carolina National Guard — before a crowd of veterans, faculty, staff, students and guests.
"Military-affiliated students, faculty and staff enrich our university community, and it is our privilege to recognize and support veterans and active-duty members of the military and their families at App State," said App State Chancellor Sheri Everts. "At App State, we set aside time each year to formally thank our veterans and their families for their service and sacrifice to our country."
Norris, who has strong family ties to multiple branches of the military, said, "This day has special meaning to me — both of my parents, my grandfather and my father-in-law served in the U.S. armed forces. I was introduced to the ideal of 'serving something greater than oneself' and the values of loyalty, commitment, sacrifice and honor — these are values that I continue to hold today."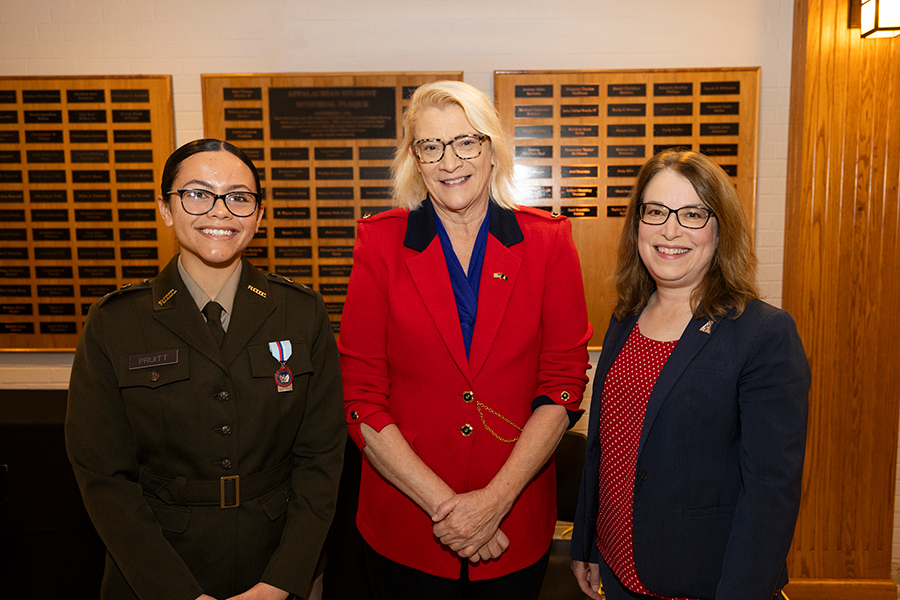 "The fact that my family served is a source of pride for me," Norris continued. "Their service, and the service of so many others, constantly reminds me that the freedom and rights we enjoy in this country are not free — but rather won and preserved at a great cost. I am deeply honored to be with you today, in front of so many distinguished veterans who exemplify these same values in their service to our country. Our university and communities are better because of your selfless dedication, and it is our honor to recognize your service."
App State's Army Reserve Officers' Training Corps (ROTC) opened the ceremony by presenting the colors as Willson Hooks, a sophomore music performance major from Raleigh, performed the national anthem and taps on the trumpet.
Norris remarked that App State has 261 student veterans enrolled and employs 74 staff and faculty veterans. She also recognized App State's 962 military children and spouses who attend the university and thanked them for their service. There are also 105 active-duty service members enrolled at App State.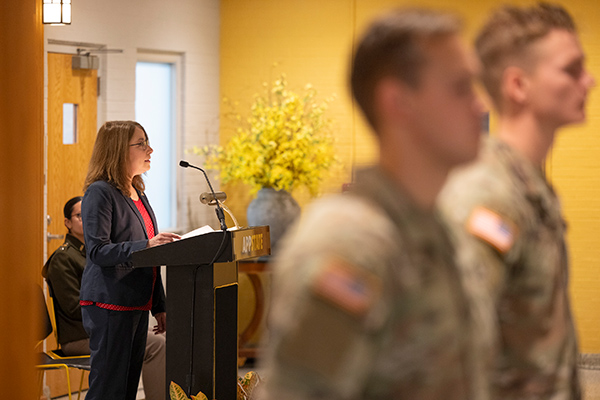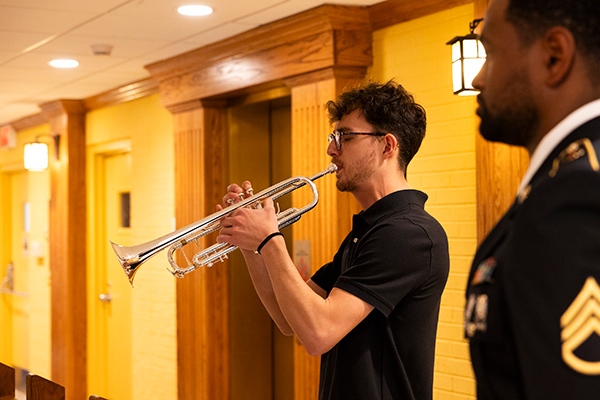 The Major General Edward M. Reeder Jr. Student Veteran Resource Center, which Everts opened on Veterans Day in 2016, is one of the ways App State gives military students support by providing access to mentoring, tutoring, personalized career counseling and other programs and services. For its efforts to support the military community, App State is recognized by veteran organizations and news publications:
The ceremony concluded App State's Heroes Week, hosted by Student Veteran Services, which began Friday, Nov. 3. The week included:
A Military Mountaineer Homecoming in Plemmons Student Union, with appetizers and a silent auction.
The annual Heroes Day football game on Nov. 4, in which the App State Mountaineers secured a victory over the Marshall Thundering Herd. The day included a Heroes Day Tailgate at McKinney Alumni Center.
A Student Veterans Association 5K fundraiser at Brookshire Park.
The Student Veterans Association Pint Night at Appalachian Mountain Brewery.
The Veterans Day Ceremony, reception and Veterans Day Faculty and Staff Luncheon.
What do you think?
Share your feedback on this story.
About Appalachian's Student Veteran Services
Student Veteran Services at Appalachian State University is dedicated to helping the university's military-affiliated students thrive on campus and in the Boone community. The unit does so by connecting student veterans and military-affiliated students with services and resources that are commensurate with their needs, capabilities and contributions. These resources and services include the Major General Edward M. Reeder Jr. Student Veteran Resource Center, priority registration, scholarship opportunities, a Student Veteran Association and others. Learn more at https://militarystudents.appstate.edu.
About Appalachian State University
As the premier public undergraduate institution in the Southeast, Appalachian State University prepares students to lead purposeful lives. App State is one of 17 campuses in the University of North Carolina System, with a national reputation for innovative teaching and opening access to a high-quality, affordable education for all. The university enrolls more than 21,000 students, has a low student-to-faculty ratio and offers more than 150 undergraduate and 80 graduate majors at its Boone and Hickory campuses and through App State Online. Learn more at https://www.appstate.edu.