Posted June 14, 2019 at 10:43 a.m.
BOONE, N.C. — On Thursday, June 6, the Appalachian State University Academy at Middle Fork celebrated the 48 graduates of its fifth grade class in a standing room-only ceremony attended by the students' parents, families, friends and academy educators.
These young Mountaineers — the first graduating class of the university's laboratory school in Walkertown — were greeted with cheers and applause as they walked the stage to receive their first Appalachian degree and advance to middle school.
Reflecting on the success of both the graduates and the academy, Appalachian Chancellor Sheri Everts said, "We are so proud of the successes of our students, families, teachers, administrative staff, faculty, student teachers and interns, all of whom have been dedicated to the success of the academy from the moment we knew we would be implementing a lab school. Our focus from the beginning has been on the success of the academy students, and they have had the full commitment and dedication of the university from the start."
She continued, "As we consider the important question of how we develop a model for replicating the successes we have seen, it will be important to have this conversation broadly with the other lab schools and their UNC System partner institutions to identify what is working, determine the real-life pathways to success and ensure student success across the lab school model. As we do so, it will be key to keep our focus on recognizing the promise each student possesses."
The Academy at Middle Fork, which opened in fall 2018 as a collaboration between Appalachian's Reich College of Education (RCOE) and Winston-Salem/Forsyth County Schools, is one of nine University of North Carolina laboratory schools. The UNC Board of Governors selected Appalachian to establish the academy because of the quality of its educator preparation program.
RCOE Dean Melba Spooner brought greetings to the graduates on behalf of the college and the university.
"Today we celebrate as our students take the next steps in their academic career," she said. "We celebrate the amazing relationships students have developed with faculty and staff who have served as teachers, mentors and role models. This ceremony also recognizes your first Appalachian diploma."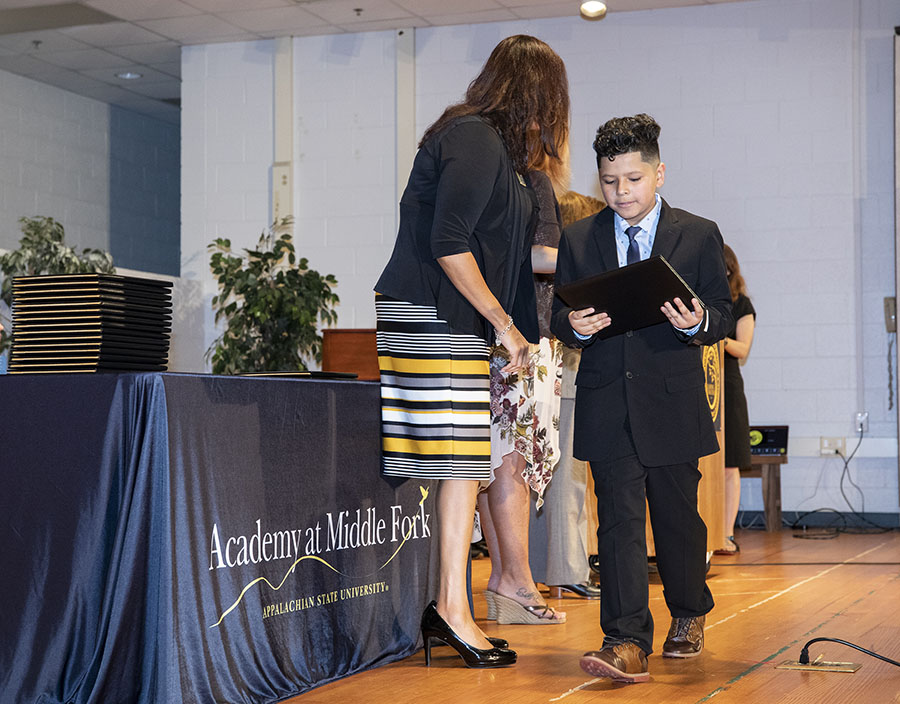 The ceremony's keynote speaker, Ryan Porter — a member of Boy Scout Troop 940 in Kernersville and eighth grade student at Kernersville Middle School — completed an Eagle Scout project at the academy during the spring semester, helping to create an outdoor space for gathering and newly landscaped grounds.
In his remarks, Porter encouraged the academy's graduates to continue to excel in their academic pursuits and to become involved in service projects in their respective communities.
Appalachian sophomore Zach Baugher, a theatre arts major from Kernersville and guest speaker at the ceremony, shared the story of his academic career success with the academy graduates, highlighting the fact that he once stood in their shoes as a student at Middle Fork Elementary School (now the Academy at Middle Fork).
In her concluding remarks for the ceremony, Tasha Hall-Powell '01 '09, academy principal, said, "When the time comes for you to attend college, know that Appalachian — your college on the mountain — will be ready for each and every one of you."
"Please know you will always be a part of Appalachian, and you are our most enduring legacy," Spooner said.
The academy, which offers services for students in kindergarten through fifth grade, provides a balanced education for children, teachers, principals and families through the implementation of research-based practices, state-of-the-art literacy instruction, and exemplary classroom instruction and administration.
What do you think?
Share your feedback on this story.
About the Academy at Middle Fork
The Appalachian State University Academy at Middle Fork, located in Walkertown, North Carolina, serves approximately 300 K–5 students. The academy provides a balanced education through the implementation of research-based practices, state-of-the-art literacy instruction, and exemplary classroom instruction and administration. Learn more at https://middlefork.appstate.edu.
About the Reich College of Education
Appalachian State University offers one of the largest undergraduate teacher preparation programs in North Carolina, graduating about 500 teachers a year. The Reich College of Education enrolls more than 2,000 students in its bachelor's, master's, education specialist and doctoral degree programs. With so many teacher education graduates working in the state, there is at least one RCOE graduate teaching in every county in North Carolina. Learn more at https://rcoe.appstate.edu.
About Appalachian State University
As the premier public undergraduate institution in the Southeast, Appalachian State University prepares students to lead purposeful lives as global citizens who understand and engage their responsibilities in creating a sustainable future for all. The Appalachian Experience promotes a spirit of inclusion that brings people together in inspiring ways to acquire and create knowledge, to grow holistically, to act with passion and determination, and to embrace diversity and difference. Located in the Blue Ridge Mountains, Appalachian is one of 17 campuses in the University of North Carolina System. Appalachian enrolls nearly 21,000 students, has a low student-to-faculty ratio and offers more than 150 undergraduate and graduate majors.