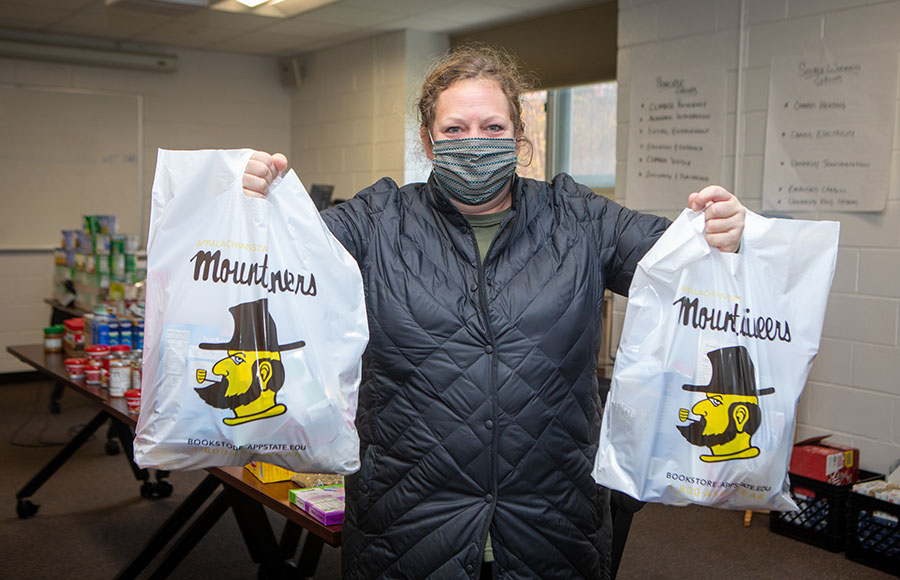 Appalachian's Food Resource Hub — by the numbers
Posted May 1, 2020 at 5:12 p.m.
BOONE, N.C. — Year-round, Appalachian State University's Food Resource Hub, managed by the Office of Sustainability and located in the basement of East Hall, provides food and personal care items for members of the university community who are in need.
The hub continues to operate in the midst of COVID-19 and, according to Chief Sustainability Officer Dr. Lee F. Ball Jr., "No one in the campus community should hesitate to reach out for assistance. Everyone should feel comfortable and welcome."
The food pantry — initially a simple rolling cart with basic food items — first opened in the 2016–17 academic year to address a rising awareness of hunger issues within the university community. Today, the Food Resource Hub includes a 75-square-foot pantry and provides nonperishable staples, as well as fresh bread and seasonal, locally sourced fruits and vegetables as available.
"During these uncertain times, it has remained a very important part of our mission to keep the Food Resource Hub open to the campus community," said Jennifer Maxwell, sustainability program manager in the Office of Sustainability.
"We are well aware of the hardship this pandemic has placed on many members of our Appalachian family, and we want to ensure we can help ease these burdens and be a resource in a time of need," she added.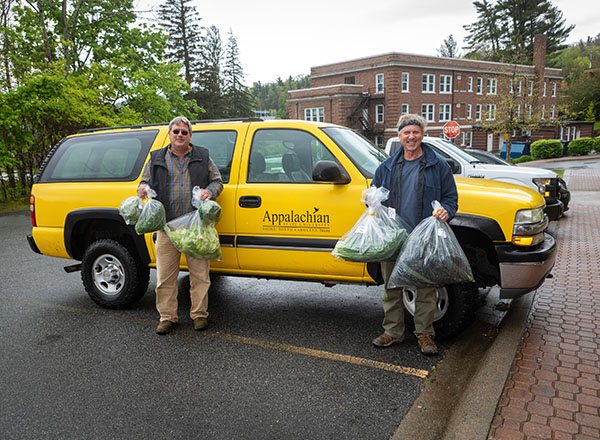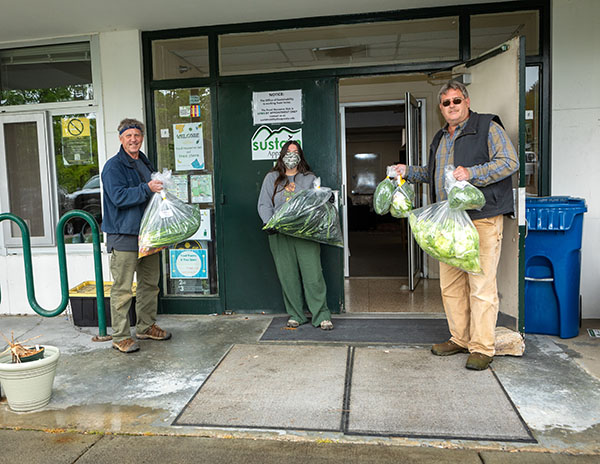 Appalachian's campus moved to online instruction and teleworking arrangements in March, and since that time, the Food Resource Hub has served more than 100 Mountaineers — primarily staff and students. For comparison, in the previous six months, when access to the campus was without restrictions due to COVID-19, the hub served nearly 1,500 people or approximately nine people each day. The hub has also shared some of its resources with Hospitality House in Boone, which, Ball said, was in significant need because of the current situation.
Maxwell said donations the hub has received during the pandemic have kept it well stocked so far, and it will soon be receiving seasonal fresh produce from Appalachian's Sustainable Development Teaching and Research Farm in Ashe County and gardens across campus.
Ball and another member of his staff were granted essential worker status in order to prepare and maintain gardens across campus during the COVID-19 situation. Area grocers have facilitated bulk ordering and distanced pickup and provided some funding through small grants.
The Food Resource Hub is currently operating from East Hall by appointment. Anyone in need of its services is asked to email sustainability@appstate.edu or maxwelljb@appstate.edu to schedule a visitation time. Office of Sustainability staff will have the needed items pre-bagged and ready to pick up.
Maxwell said they have helped a wide variety of customers recently — from delivering items to off-campus students who were unable to come to the hub due to illness, to providing items for a staff member and single mother who was in need.
"We are so happy to continue to provide these resources," Maxwell said.
What do you think?
Share your feedback on this story.
Appalachian's Food Resource Hub — by the numbers
About Sustainability at Appalachian
Appalachian State University's leadership in sustainability is known nationally. The university's holistic, three-branched approach considers sustainability economically, environmentally and equitably in relationship to the planet's co-inhabitants. The university is an active steward of the state's interconnected financial, cultural and natural resources and challenges students and others think critically and creatively about sustainability and what it means from the smallest individual action to the most broad-based applications. The university offers both undergraduate and graduate academic degree programs that focus on sustainability. In addition, 100 percent of Appalachian's academic departments offer at least one sustainability course or course that includes sustainability, and all students graduate from programs that have adopted at least one sustainability learning outcome. Learn more at https://appstate.edu/sustainability.
About Appalachian State University
As the premier public undergraduate institution in the Southeast, Appalachian State University prepares students to lead purposeful lives as global citizens who understand and engage their responsibilities in creating a sustainable future for all. The Appalachian Experience promotes a spirit of inclusion that brings people together in inspiring ways to acquire and create knowledge, to grow holistically, to act with passion and determination, and to embrace diversity and difference. Located in the Blue Ridge Mountains, Appalachian is one of 17 campuses in the University of North Carolina System. Appalachian enrolls nearly 21,000 students, has a low student-to-faculty ratio and offers more than 150 undergraduate and graduate majors.