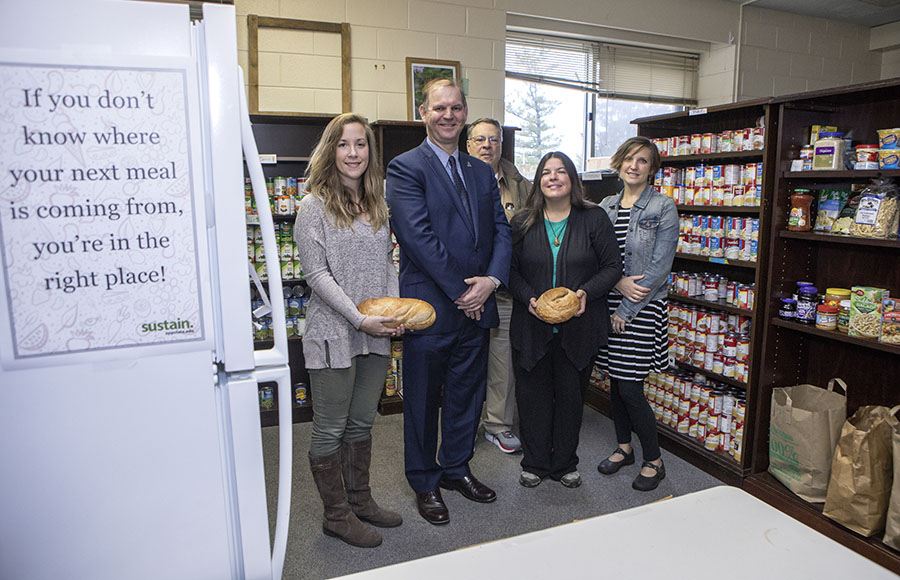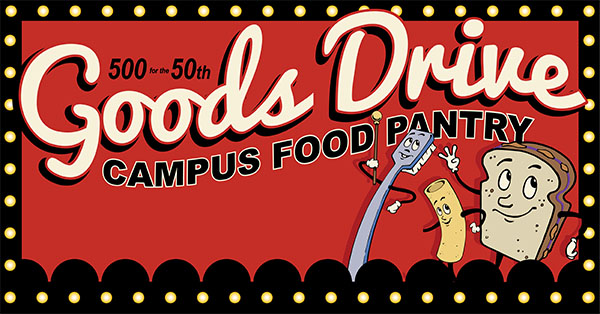 500 for the 50th Goods Drive
Posted Oct. 19, 2018 at 1:36 p.m.
BOONE, N.C. — Each day, around 10 Appalachian State University students find their way to Appalachian's Office of Sustainability, located on the ground floor of East Hall. There, they find a fully stocked food pantry with no cash register, no clerk and no shame.
For at least one student, this oasis has provided not only food but shelter — a safe and quiet place to study between class and her third-shift job.
The Appalachian food pantry and free store, which opened during the 2016–17 academic year, also affords the community — from local businesses and charities to clubs and volunteers — an opportunity to contribute, said Jen Maxwell, food pantry and free store manager and sustainability program manager for the Office of Sustainability.
The pantry is available only to Appalachian faculty, staff and students. It offers nonperishable staples, as well as fresh bread and seasonal, locally sourced fruits and vegetables as available. The free store is a resource for members of the Appalachian Community to exchange clothing and goods as needed, including casualwear, dressier items and apparel for job or internship interviews.
A recent survey about homelessness and food insecurity at Appalachian conducted by Dr. Jeffrey Bortz, professor in Appalachian's Department of History, and two of his former students led to recommendations that the pantry be upgraded — in both food quality and hours open.
Since, hours have been extended. Outreach Coordinator Rebecca Walton and Food Pantry Intern Darya Silchenko, a senior sustainable development major from Waxhaw, keep the 75-square-foot space in order and develop service opportunities for students to assist with pantry organization.
Maxwell said the food pantry was developed as an opportunity to assist with food insecurity within the Appalachian Community. "It's a door that swings both ways. While not a complete solution, it serves as a way to provide resources and come together as a community to help neighbors in times of need," she said.
The pantry relies heavily on support from outside the Office of Sustainability. According to Maxwell, local bakery Stick Boy Bread Co. donates bread twice a week, Appalachian's campus gardens provide produce, and Staff Senate, Greek fraternities and sororities, academic colleges and other organizations throughout the Appalachian Community organize regular food drives.
Maxwell said the most popular food pantry and free store items are bread, cereal, peanut butter and jelly/jams, pasta and personal care items — with the latter four items being the focus of the "50 for 50th" goods drive for the pantry. The drive, which continues through October, is being held by Appalachian's colleges of Arts and Sciences, Fine and Applied Arts and Education to honor their 50th anniversaries by giving back to the Appalachian Community.
"Wellness and sustainability go hand in hand," Maxwell said. "What better way to take care of our people than ensuring everyone has the ability to feel healthier, happier and more positively productive."
Inquiries about food drives and other ways to help Appalachian's food pantry and free store should be directed to Maxwell at maxwelljb@appstate.edu.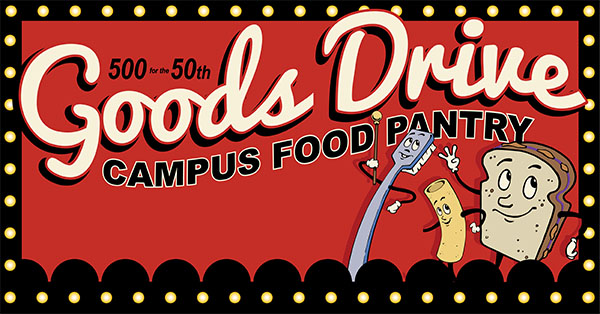 500 for the 50th Goods Drive
About Sustainability at Appalachian
Appalachian State University's leadership in sustainability is known nationally. The university's holistic, three-branched approach considers sustainability economically, environmentally and equitably in relationship to the planet's co-inhabitants. The university is an active steward of the state's interconnected financial, cultural and natural resources and challenges students and others think critically and creatively about sustainability and what it means from the smallest individual action to the most broad-based applications. The university offers both undergraduate and graduate academic degree programs that focus on sustainability. In addition, 100 percent of Appalachian's academic departments offer at least one sustainability course or course that includes sustainability, and all students graduate from programs that have adopted at least one sustainability learning outcome. Learn more at https://appstate.edu/sustainability.
About the College of Arts and Sciences
The College of Arts and Sciences (CAS) at Appalachian State University is home to 17 academic departments, two centers and one residential college. These units span the humanities and the social, mathematical and natural sciences. CAS aims to develop a distinctive identity built upon our university's strengths, traditions and unique location. The college's values lie not only in service to the university and local community, but through inspiring, training, educating and sustaining the development of its students as global citizens. More than 6,400 student majors are enrolled in the college. As the college is also largely responsible for implementing App State's general education curriculum, it is heavily involved in the education of all students at the university, including those pursuing majors in other colleges. Learn more at https://cas.appstate.edu.
About the Reich College of Education
Appalachian State University offers one of the largest undergraduate teacher preparation programs in North Carolina, graduating about 500 teachers a year. The Reich College of Education enrolls more than 2,000 students in its bachelor's, master's, education specialist and doctoral degree programs. With so many teacher education graduates working in the state, there is at least one RCOE graduate teaching in every county in North Carolina. Learn more at https://rcoe.appstate.edu.
About the College of Fine and Applied Arts
Appalachian State University's College of Fine and Applied Arts is a dynamic and innovative group of seven academic departments, bringing together a variety of perspectives, experiences and real-world education to provide unique opportunities for student success. The college has more than 3,000 undergraduate and graduate majors. Its departments are Applied Design, Art, Communication, Military Science and Leadership, Sustainable Development, Sustainable Technology and the Built Environment, and Theatre and Dance. Learn more at https://faa.appstate.edu.
About Appalachian State University
As the premier public undergraduate institution in the Southeast, Appalachian State University prepares students to lead purposeful lives. App State is one of 17 campuses in the University of North Carolina System, with a national reputation for innovative teaching and opening access to a high-quality, affordable education for all. The university enrolls more than 21,000 students, has a low student-to-faculty ratio and offers more than 150 undergraduate and 80 graduate majors at its Boone and Hickory campuses and through App State Online. Learn more at https://www.appstate.edu.
What do you think?
Share your feedback on this story.