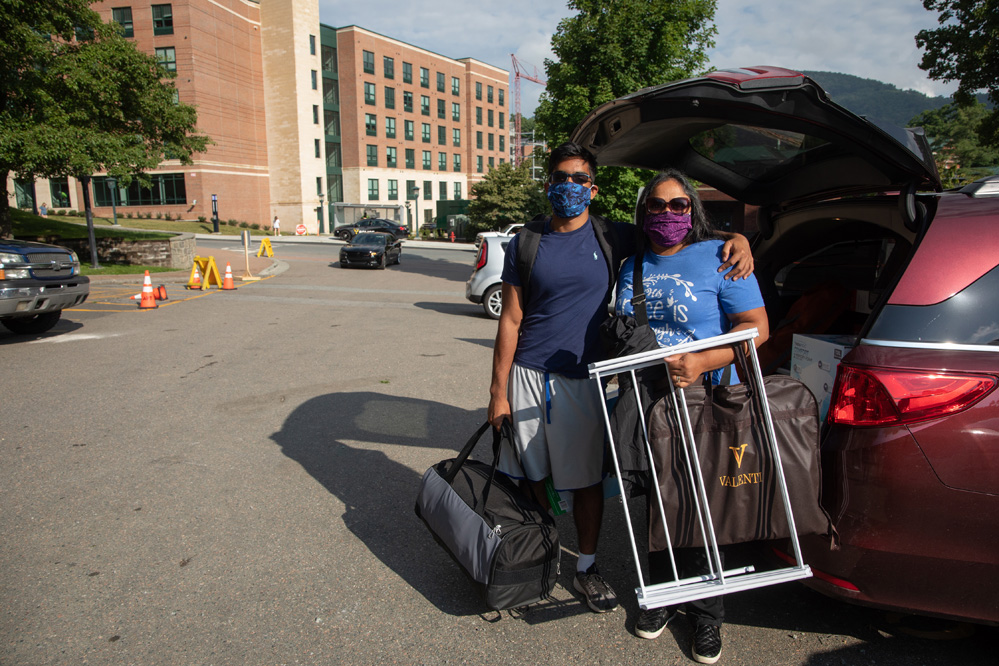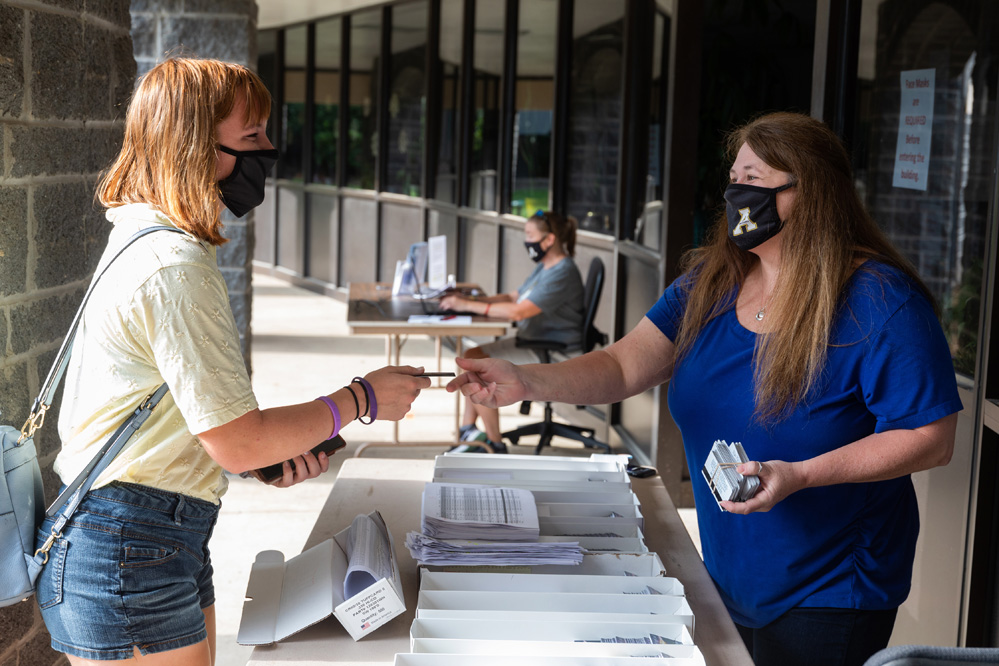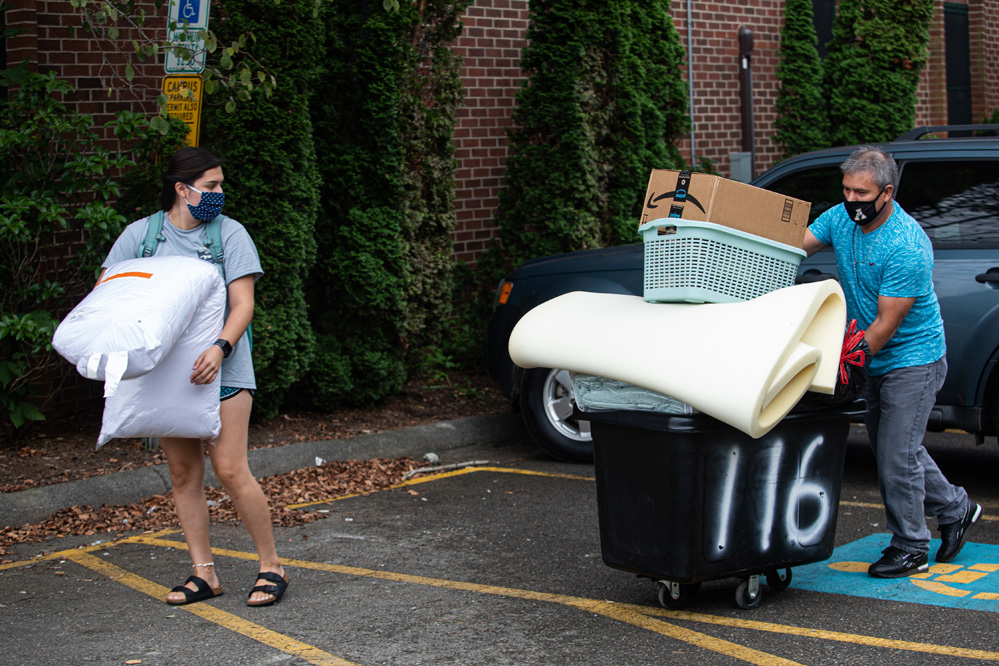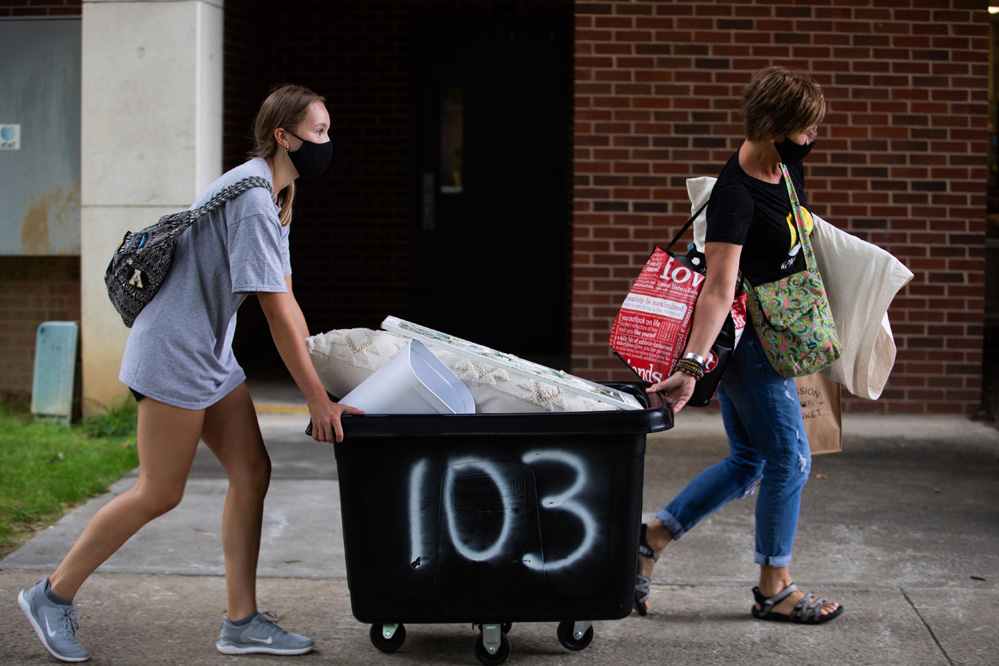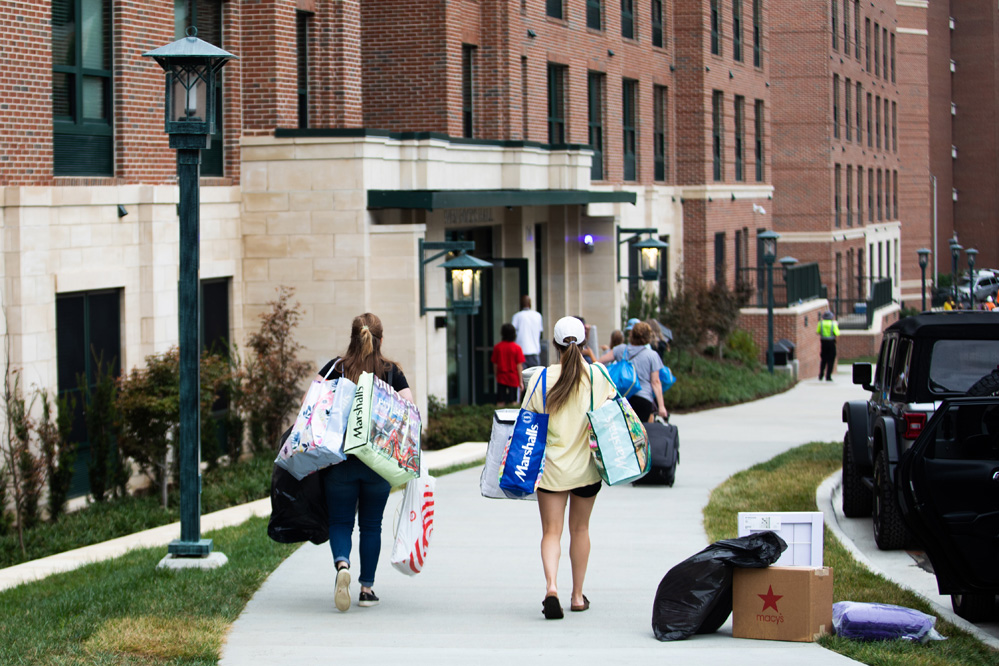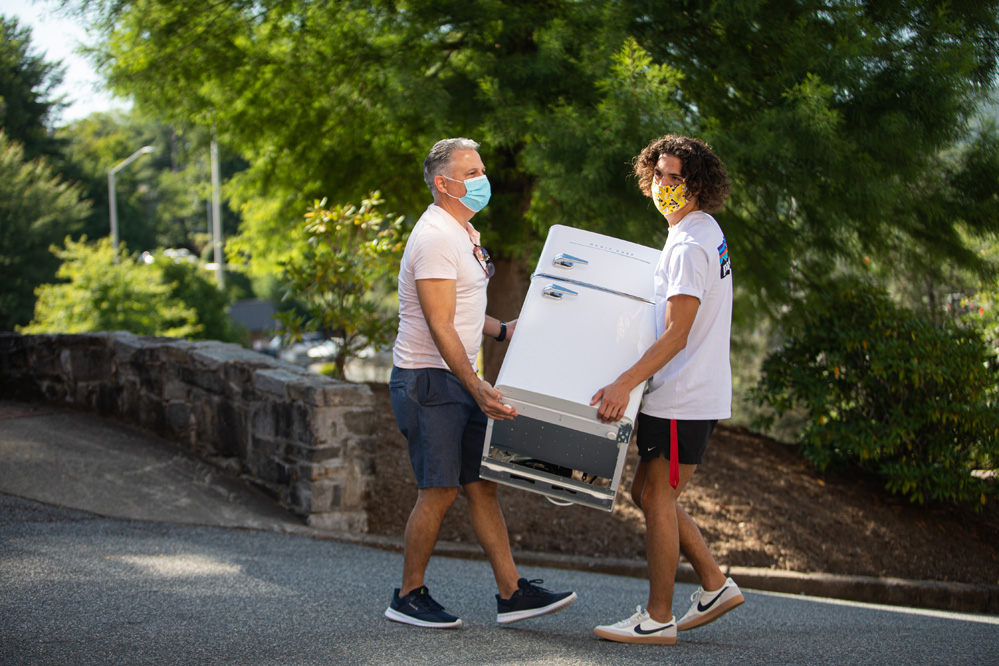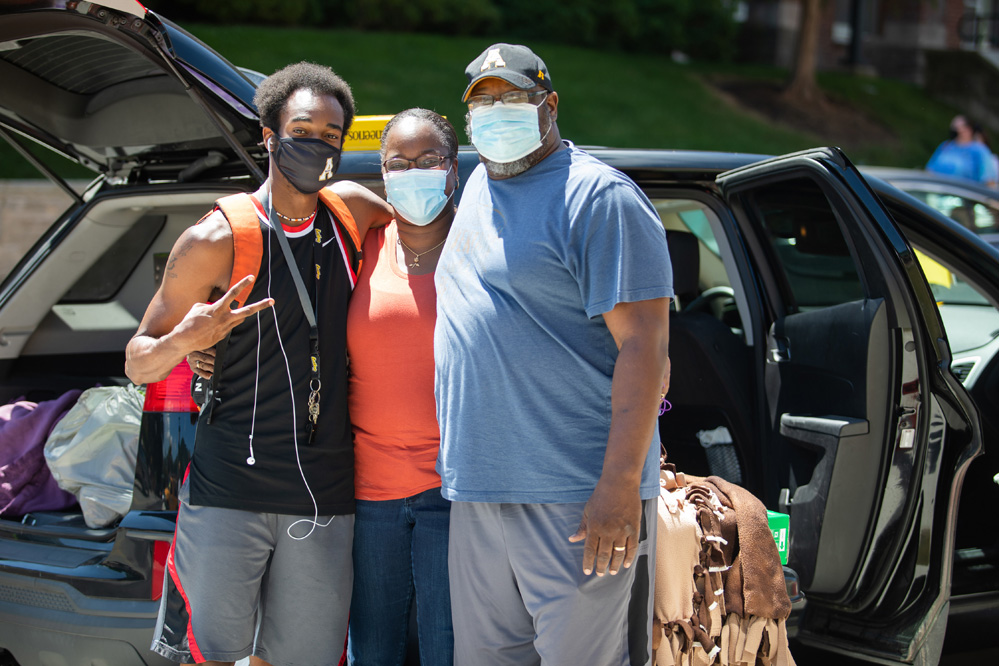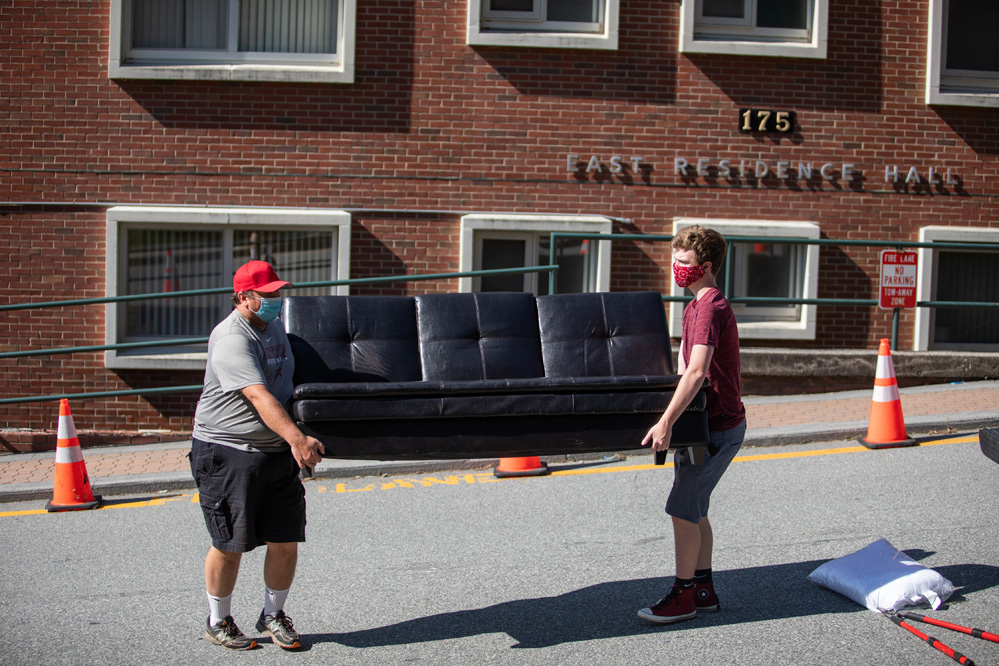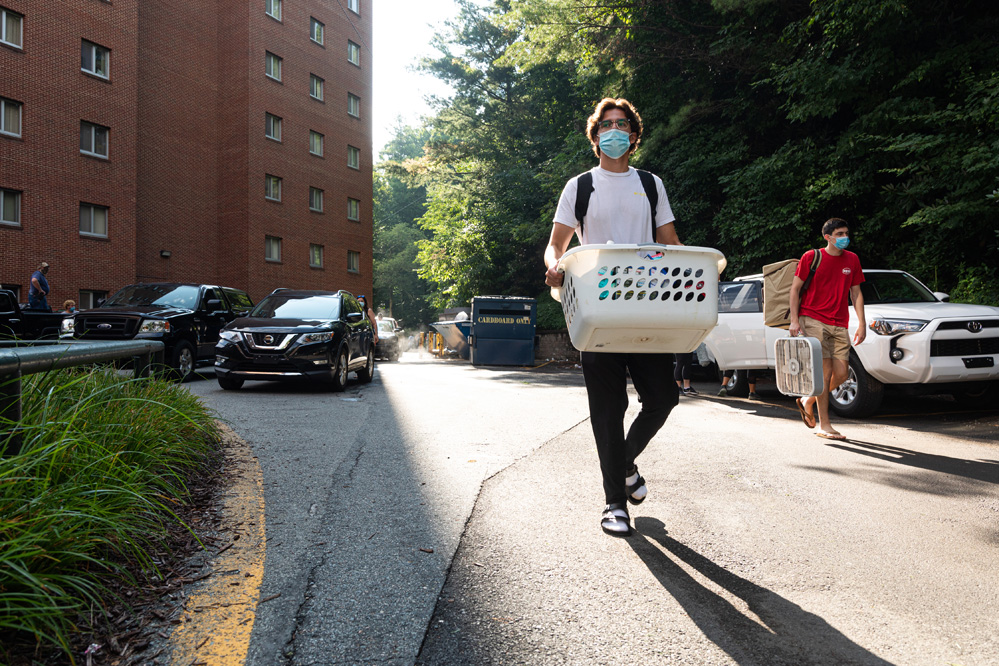 Posted Aug. 19, 2020 at 12 p.m.
BOONE, N.C. — Appalachian State University's campus was alive with activity Aug. 10–13 as more than 3,900 first-year and transfer students moved into residence halls across campus.
Similar sights and sounds took place outside each location — vehicles filled with clothes, toiletries, bookcases and couches; roommates meeting in person for the first time; and students and their families sharing bittersweet goodbyes.
"It was great to see campus come back to life after many months away, and parents, students and staff were all happy to be back," said Dr. Alicia Vest, Appalachian's associate director of university housing.
This year's move-in experience also included a variety of new safety precautions due to the novel coronavirus. Vest said many university departments worked hard to make move-in a positive, exciting experience for Appalachian students.
For instance, she said, University Housing staff were on hand to greet students, and University Housing Facilities staff frequently cleaned high-touch areas and made requested adjustments to rooms such as raising and lowering beds.
Additionally, representatives from the Appalachian Police Department and the Department of Parking and Transportation helped keep the parking lots and roads moving efficiently, and resident assistants in the residence halls hosted virtual meetings to bring students together.
Appalachian's University Housing staff assessed and adjusted every step of the experience to keep students and their families as safe as possible.
Here are a few of the safety precautions that were in place during the fall 2020 move-in, several of which remain in place:
Students were assigned a specific date and time for their move-in.
Only one person was allowed to accompany each student in the residence halls.
Common areas of the building are equipped with navigation signs to allow for physical distancing.
All common areas, including lounges, kitchens, lobbies and elevators, have occupancy limits.
Face coverings are required on Appalachian's campus.
Vest said with the many changes to the move-in process, the Trailhead Experience and Appol Corps (Appalachian Orientation Leader Corps) were vital to helping students engage with the Appalachian Community in their first days on campus.
During Aug. 14–16, more than 1,300 returning students moved into residence halls, and the fall 2020 semester began Monday, Aug. 17.
What do you think?
Share your feedback on this story.
About the Division of Student Affairs
The Division of Student Affairs at Appalachian State University is committed to the development of lifelong learners and leaders by engaging and challenging students within a culture of care and inclusion. The division consists of 16 units that offer activities and services to help students develop more fully by becoming global learners, fostering healthy relationships, appreciating diversity and different perspectives, understanding community responsibility, enhancing self-awareness, developing autonomy and living ethically. These units include the Career Development Center, Campus Activities, Office of Community-Engaged Leadership, Wellness and Prevention Services, Counseling and Psychological Services, Student Health Service, Parent and Family Services, University Housing, Student Conduct, University Recreation, Intercultural Student Affairs, Student Legal Clinic and Off-Campus Student Services, Electronic Student Services, Child Development Center, and Staff Development and Strategic Initiatives. Learn more at https://studentaffairs.appstate.edu.
About Appalachian State University
As the premier public undergraduate institution in the Southeast, Appalachian State University prepares students to lead purposeful lives as global citizens who understand and engage their responsibilities in creating a sustainable future for all. The Appalachian Experience promotes a spirit of inclusion that brings people together in inspiring ways to acquire and create knowledge, to grow holistically, to act with passion and determination, and to embrace diversity and difference. Located in the Blue Ridge Mountains, Appalachian is one of 17 campuses in the University of North Carolina System. Appalachian enrolls nearly 21,000 students, has a low student-to-faculty ratio and offers more than 150 undergraduate and graduate majors.