Posted June 14, 2021 at 1:11 p.m.
BOONE, N.C. — The 2021 Chancellor's Innovation Scholars have been announced, with five teams of Appalachian State University faculty and staff receiving up to $10,000 each from the Office of the Chancellor and the Division of Academic Affairs.
Now in its fifth year, the program supports projects that:
Address challenges facing higher education.
Create lasting institutional change.
Provide community and societal benefits.
Establish opportunities that increase student engagement.
Promote broad-based sustainability.
"These 2021 Chancellor's Innovation Scholars exemplify the university's commitment to resilience, inclusiveness and student success," said App State Chancellor Sheri Everts. "Faculty and staff collaborate across departments on projects that benefit our students and create positive and lasting institutional and cultural change."
Including this year's grants, more than $275,000 in funding has been awarded to contribute toward 30 Chancellor's Innovation Scholars initiatives since 2017.
A panel of faculty and staff select the interdisciplinary Innovation Scholars teams from a pool of applications. While there is a strong emphasis on projects completed within one year, applications may be considered for a two-year support cycle.
About the winning teams
'BASE Support Course to Enhance Student Success in Gateway STEM Courses'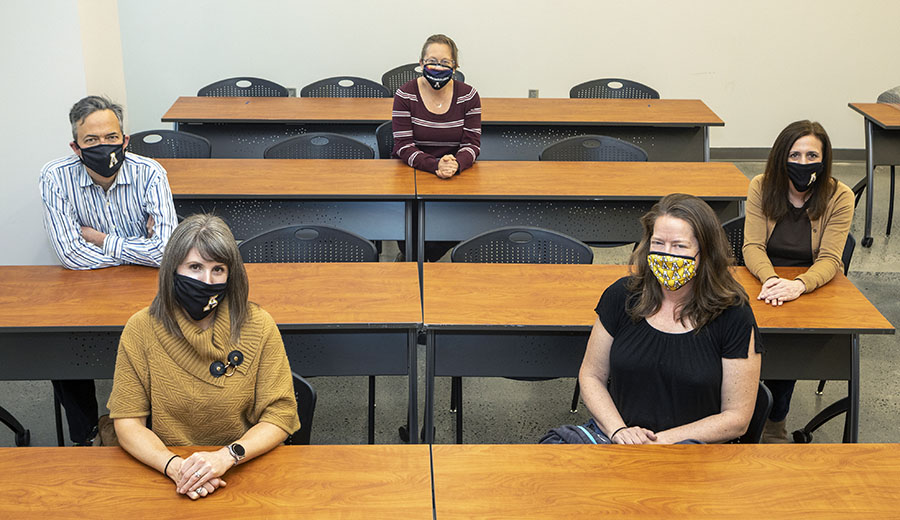 The project team:
Dr. Jennifer Cecile, associate professor of biophysical chemistry in the A.R. Smith Department of Chemistry and Fermentation Sciences (CFS) and project leader on this initiative.
Dr. Amanda Howell, lecturer in the CFS department.
Dr. Katie Mawhinney, professor in and assistant chair of the Department of Mathematical Sciences.
Dr. Katrina Palmer, professor in the Department of Mathematical Sciences.
Dr. Gregory Rhoads, associate professor in the Department of Mathematical Sciences.
This team developed an interdisciplinary support course — first offered in fall 2021 — designed to provide academic and college-readiness skills that students need to succeed in introductory chemistry courses. The course uses a BASE framework: Building Assurance, Security and Engagement in students.
Students are learning problem-solving tactics, receiving tutoring and developing study skills to improve their success rates in gateway STEM (science, technology, engineering and math) courses, Cecile said.
'Black Male Excellence Initiative'
The project team:
The Black Male Excellence Initiative (BMEI) is a four-year program that engages Black male students in an intentional pipeline for success — from high school to college completion — through collaborations with App State faculty, staff and departments. The program, which was launched in fall 2021, is designed to help these students foster a sense of belonging, develop leadership skills and increase their academic success.
"We are committed to uplifting Black male scholars and creating future Black male leaders who will go on to transform our region, nation and global constituents as change agents," Sheppard said.
'UAV-based Soil Erosion Monitoring for the Removal of Ward's Mill Dam'
The project team:
This research team is examining the impact of the recent removal of Ward's Mill Dam — located downstream of the Valle Crucis community near Boone. They are evaluating the applicability of using unmanned aerial vehicle (UAV) technology to better understand how similar dam removals will impact the soil erosion on rivers in Southern Appalachia.
The team will produce a set of standardized procedures in using UAVs to collect topographical data, as a resource for the public.
"This project will provide valuable insights into the influences of construction projects on river systems and will offer guidance for the balance of sustainable development and environmental protection," Yu said.
'Creating a Minor in Spanish for Health and Helping Professions'
The project team:
This team designed an interdisciplinary minor for health and helping professions — including health care, mental health centers, social service agencies and other assistance programs — with a multifaceted focus on language acquisition, cultural competence and health and social sciences.
"Integrating cultural awareness and language acquisition will empower students to become more effective communicators and problem solvers who work productively with professionals and clients of diverse backgrounds," Erazo said.
'Climate Response-Ability: Innovative, Interdisciplinary and Empowering Climate Education at App State'
The project team:
This team is developing an extensive collection of course content focused on climate change impacts and solutions, designed to educate and engage App State students. The content integrates many disciplinary perspectives and includes both global and regional components.
Several departments are offering a Climate Responses and Response-Ability course — tailored to their students' field of study — during the 2021–22 academic year.
"Students are hungry for ways to enact real change in the climate action movement," England said. "A key way we can support these students is by providing education that empowers them with the knowledge and technical and leadership skills they need to be an active part of responses to the climate crisis."
Eleven other App State faculty from nine additional departments compose the broader project team.
What do you think?
Share your feedback on this story.
About the Chancellor's Innovation Scholars Program
The Chancellor's Innovation Scholars Program supports innovative research and practice by Appalachian State University faculty and staff throughout all disciplines and program areas on campus. These internal grants are awarded to Appalachian thought leaders who work creatively and entrepreneurially to address challenges; create lasting institutional change; provide community and societal benefits; establish opportunities that increase student engagement with research, creativity, innovation, design thinking and entrepreneurship; and promote broad-based sustainability in the areas of economics, equity and the environment. The program is intended to complement other innovation initiatives at the university. Learn more at https://www.appstate.edu/innovation-scholars.
About Appalachian State University
As the premier public undergraduate institution in the Southeast, Appalachian State University prepares students to lead purposeful lives as global citizens who understand and engage their responsibilities in creating a sustainable future for all. The Appalachian Experience promotes a spirit of inclusion that brings people together in inspiring ways to acquire and create knowledge, to grow holistically, to act with passion and determination, and to embrace diversity and difference. Located in the Blue Ridge Mountains, Appalachian is one of 17 campuses in the University of North Carolina System. Appalachian enrolls nearly 21,000 students, has a low student-to-faculty ratio and offers more than 150 undergraduate and graduate majors.