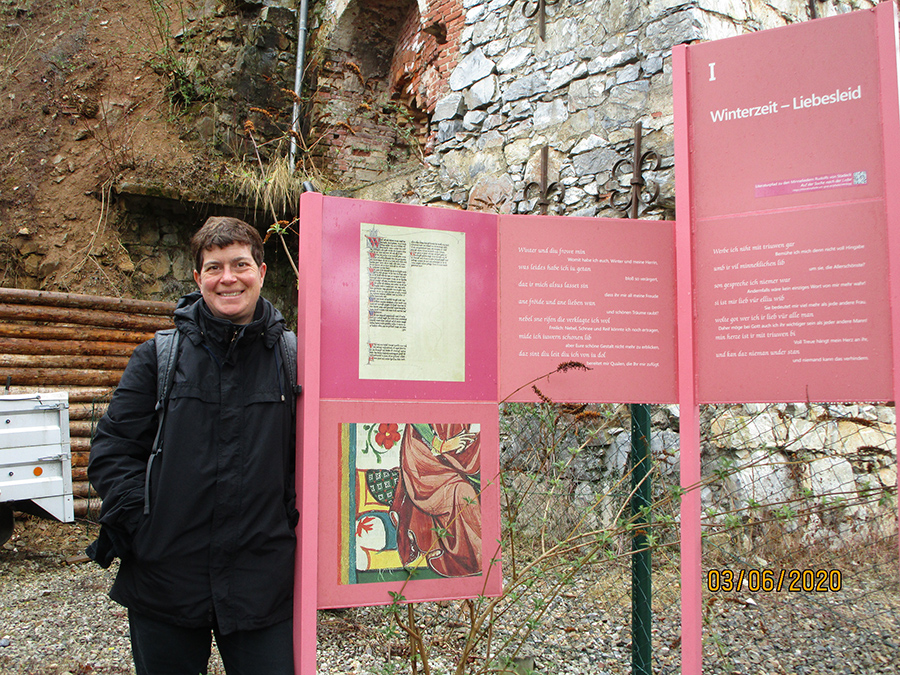 Posted Jan. 10, 2023 at 1:31 p.m.
BOONE, N.C. — With support from her 2022–23 Fulbright, Appalachian State University's Dr. Alexandra Sterling-Hellenbrand will return to Austria this spring, where she will teach and engage in research as the Fulbright Visiting Professor of Cultural Studies at the University of Graz. This marks her second awarded Fulbright in the past four academic years.
For over 75 years, the Fulbright Program has provided more than 400,000 participants — chosen for their academic merit as well as leadership potential — the opportunity to study, teach and conduct research, exchange ideas, and contribute to finding solutions to shared international concerns.
A professor of German and global studies in the Department of Languages, Literatures and Cultures, Sterling-Hellenbrand will spend February–July in Austria, teaching two courses at the University of Graz: an undergraduate course called King Arthur in America and a graduate course called The Game of Adventure in German Arthurian Romance.
Her research builds upon and is part of a larger project called "Medieval Literature in the Modern Landscape: Heritage, Culture and Identity in Contemporary Austria," which Sterling-Hellenbrand began in spring 2020, during her first Fulbright appointment at the University of Graz. The Austrian project is a corollary to her recent book "Medieval Literature on Display: Culture and Heritage in Modern Germany" (Bloomsbury Publishing, 2020).
With the completion of her project, Sterling-Hellenbrand aims to offer a replicable template that other researchers can use to study the reception of the Middle Ages and the subsequent creation of modern heritage in other contexts, beyond literature, in Austria, as well as in the United States.
She described her project as an exercise in applied medieval studies — one that examines the display of medieval German literature, in the form of monuments and outdoor installations, as an integral element of the local heritage in Austrian communities today.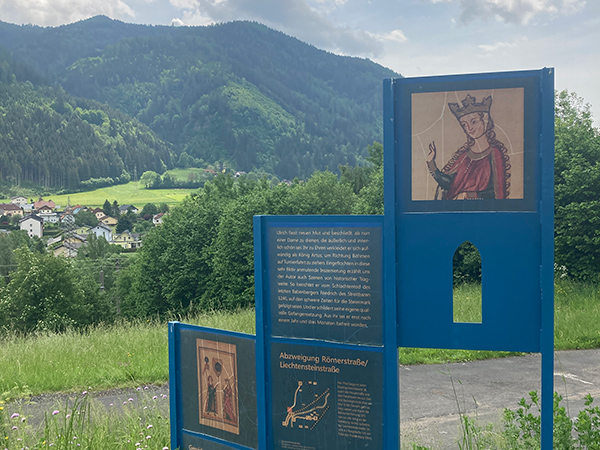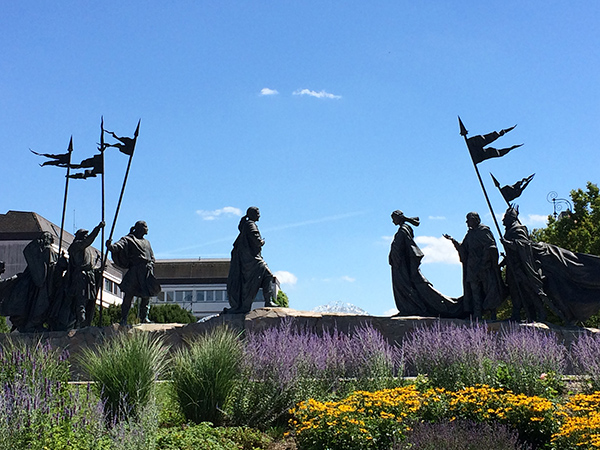 The monuments included in her study, each of which, according to Sterling-Helenbrand, "demonstrates a new cultural space where medieval texts and public memory intersect":
The eight Styrian Literature Pathways of the Middle Ages, which mark locations where medieval texts were once written or handed down in monasteries and castles.
The Nibelung monuments in Pöchlarn and Tulln, Austria, which are dedicated to the "Song of the Nibelungs" — a Middle High German epic poem written about A.D. 1200 by an unknown Austrian from the Danube region.
The Siegfried monument at the University of Vienna, which depicts the hero of the epic poem "Song of the Nibelungs," written in Middle High German around A.D. 1200.
"The monuments at the center of this project make values visible — they are a public expression of the attitudes of those who make them, of those who install them and of those who allow them to remain," she explained.
The 10-year Styrian Literature Pathways installation, designed to make medieval Styrian literature accessible to the broader public, is coming to an end this year. With her colleagues at the University of Graz, Sterling-Hellenbrand will explore the "afterlife" of the pathways as they move from a physical to a virtual landscape through digital preservation, focusing on how they are received, interpreted and analyzed by their respective communities — local and regional, popular and scholarly, national and international — moving forward.
Furthermore, Sterling-Hellebrand's Fulbright research will examine cultural sustainability as it involves maintaining and preserving community identity and heritage.
"Medievalism, as the appearance and use of the Middle Ages in the modern world, has become a powerful vehicle for cultural reflection and change, in addition to cultural sustainability," she shared.
Sterling-Hellenbrand is among over 800 awardees who will conduct research and/or teach abroad in the 2022–23 academic year through the Fulbright U.S. Scholar Program. Fulbright recipients engage in cutting-edge research and expand their professional networks, often continuing research collaborations started abroad and laying the groundwork for forging future partnerships between institutions.
About Sterling-Hellenbrand
At App State, Sterling-Hellenbrand has served as chair of the Department of Languages, Literatures and Cultures (2003–08) and director of the global studies program (2008–17). Her teaching and research areas include German language and culture, medieval German literature, fairy tales and Arthurian legends.
As a faculty member in App State's Honors College, Sterling-Hellenbrand has taught honors courses on fairy tales, sagas and fantasy and Arthurian legends and has often served as a second reader on students' honors theses.
She has been principal or co-principal investigator with Dr. Beverly Moser, professor in the Department of Languages, Literatures and Cultures, on two Undergraduate International Studies and Foreign Languages grants through the U.S. Department of Education: "Making Local to Global Connections: Strengthening Foreign Languages across the Curriculum" (2010–12) and "From the South to the Global South: Language and Area Studies for a Changing World" (2014–16).
Sterling-Hellenbrand has also been recognized for student mentorship and advising. In 2012, she received the University College Advising and Mentoring Award. Additionally, in 2014, she received the Outstanding Faculty Advisor Award from App State's College of Arts and Sciences, and in 2016, she was the recipient of the Appalachian Global Leadership Award for her work on internationalization at the university.
She holds a Ph.D. in German from Pennsylvania State University. She earned her M.A. in German from the University of Wisconsin–Madison and her B.A. in English from the University of Rochester.
For information about how to apply for faculty and staff Fulbright awards, as well as more information regarding international scholarship assistance, visit the Office of International Education and Development website.
What do you think?
Share your feedback on this story.
About the Department of Languages, Literatures and Cultures
The Department of Languages, Literatures and Cultures offers courses that enhance students' understanding of other cultures and languages as well as their own, making them prepared for lifelong learning in a multicultural world. Learn more at https://dllc.appstate.edu.
About the College of Arts and Sciences
The College of Arts and Sciences (CAS) at Appalachian State University is home to 17 academic departments, two centers and one residential college. These units span the humanities and the social, mathematical and natural sciences. CAS aims to develop a distinctive identity built upon our university's strengths, traditions and unique location. The college's values lie not only in service to the university and local community, but through inspiring, training, educating and sustaining the development of its students as global citizens. More than 6,400 student majors are enrolled in the college. As the college is also largely responsible for implementing App State's general education curriculum, it is heavily involved in the education of all students at the university, including those pursuing majors in other colleges. Learn more at https://cas.appstate.edu.
About Appalachian State University
As the premier public undergraduate institution in the Southeast, Appalachian State University prepares students to lead purposeful lives. App State is one of 17 campuses in the University of North Carolina System, with a national reputation for innovative teaching and opening access to a high-quality, affordable education for all. The university enrolls more than 21,000 students, has a low student-to-faculty ratio and offers more than 150 undergraduate and 80 graduate majors at its Boone and Hickory campuses and through App State Online. Learn more at https://www.appstate.edu.