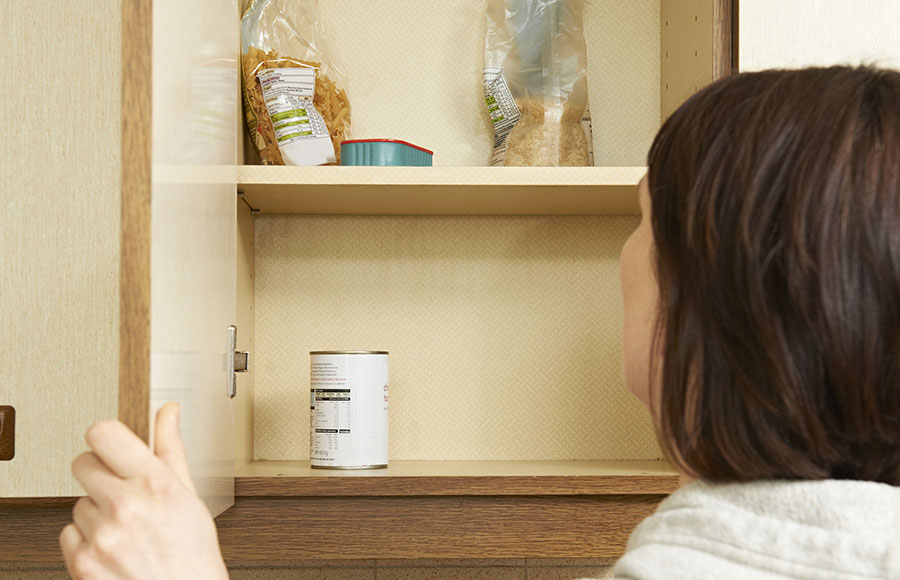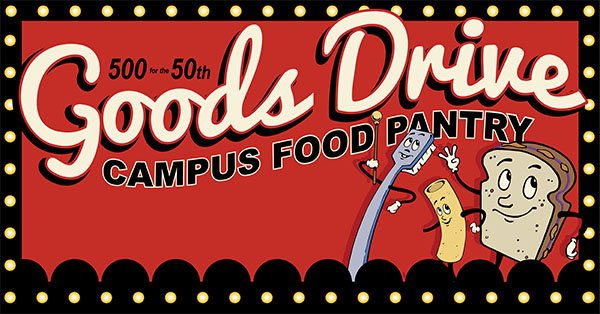 500 for the 50th Goods Drive
Posted Oct. 19, 2018 at 1:38 p.m.
BOONE, N.C. — A food insecurity and homelessness survey of more than 2,300 Appalachian State University students conducted in October/November of the 2017–18 academic year by Dr. Jeffrey Bortz, professor of history, and two students showed aspects of food insecurity affect more than half of survey participants.
Respondents were a reflection of the data in the 2017–18 Appalachian Fact Book, evenly scattered among all classes with 9 percent reporting as graduate students. One exception: the respondents were 69 percent female and 29 percent male while Appalachian's population in 2107–18 was 53 percent female and 47 percent male.
According to the survey, 62 percent of students surveyed experienced some aspect of food insecurity. Coping practices from respondents ranged from 1.5 percent reporting having to procure while at Appalachian one or more meals from discarded sources like trash or dumpsters to 6.5 percent reporting running out of food with no money to purchase more.
According to Feeding America, "food security exists when all people, at all times, have physical, social and economic access to sufficient, safe and nutritious food which meets their dietary needs and food preferences for an active and healthy life. Food insecurity exists when people do not have adequate physical, social or economic access to food."
A survey conducted by Appalachian's Department of Nutrition and Health Care Management during the 2015–16 academic year found that 46.2 percent of Appalachian students had experienced food insecurity over the previous year.
Bortz said the 2015–16 survey, "independent of ours, showed almost half the students experiencing some food insecurity, while ours, again completely independent, showed somewhat more than half. The two surveys, with independent methodologies, are not far apart and suggest that food insecurity on campus is a significant problem among the student body, in that it affects around half the students, if not more."
While "homelessness exists but is a relatively small — though devastating — problem for our students," Bortz said, food insecurity is significant.
One student, of the more than 2,300 who participated in the survey, wrote, "In order to pay rent, buy gas to get to work and pay for medication, food is the first thing I cut money for ... I'm very, very concerned about food insecurity at Appalachian State. I still go to the food pantry, even though I have income now, because my roommates struggle with food insecurity."
Based on recommendations made by Bortz and his team following the survey, Chancellor Sheri Everts said the university is implementing three key initiatives to address food insecurity on our campus:
Academic Affairs is working to build awareness for students about the campus food pantry and free store in the Office of Sustainability.
The Office of Sustainability is extending the hours of the food pantry and free store.
Student Affairs is launching a new fund to provide meals to students who are facing food insecurity. The Appalachian Fund donations have supported students in need by funding the campus food pantry.
Homelessness — uncommon 'though devastating'
The survey results centered on homelessness indicate 96 percent of students reported their housing situation as very stable and secure. The overwhelming majority of respondents live either in a college residence hall (39 percent) or an apartment (47 percent).
Twenty-six students reported their housing as very unstable and insecure.
According to the survey summary, four students among the respondents to the homelessness portion of the survey reported occupying a homeless shelter. Another 41 students reported spending more than three nights in a vehicle, and 23 students indicated they lived in a nontraditional residence such as a tent or an abandoned building.
"We can conclude that homelessness is a small but real phenomenon among ASU students," the report read. The following recommendations were made to address homelessness among Appalachian students:
provide information to all students about available resources should a housing/homeless crisis emerge;
optimally, maintain a temporary living situation for temporarily homeless students; and/or
establish a task force, including representatives from the Hospitality House of Boone, which provides shelter to the local homeless population, to investigate solutions Appalachian could reasonably implement.
Bortz said this particular research project was not part of his academic focus — he is currently writing a book about Mexican railroad workers during the Mexican Revolution — but driven by personal interest stemming from his involvement with Hospitality House.
The idea of the survey arose during a discussion with former students Christian Gentry, a political science major, and McCormick Grubb, a senior sociology major from Charlotte, who were in a class Bortz teaches that includes a service-learning component at the Hospitality House.
That conversation led to the three of them requesting help from Kruger to conduct a survey of students around the issues of homelessness and food insecurity, and, Bortz said, "to use the survey to make some recommendations that might help our students who suffer from those problems."
Students who commented on the survey said, "I appreciate this survey first of all because living independently and getting almost no help from my family is extremely difficult," and, "Thank you for taking the time to consider and helping students like us!"
Bortz said Kruger's "invaluable support and IRAP's (Institutional Research, Assessment and Planning) critical assistance" made the survey possible.
"While I always think there's more we can do," he continued, "I am convinced that we have an administration sensitive to the issues, and that the university is making ongoing efforts to help those students who suffer from either lack of food or lack of housing."
A national problem, local solutions
Beginning in 2013, the Wisconsin HOPE Lab coordinated nationwide studies on student poverty, homelessness and food insecurity. One of their recent reports suggests that more than a third of college students across the country lack stable housing and suffer from food insecurity.
According to HOPE, accumulation of a decade and a half of research has demonstrated a national problem, but each institution of higher education is different and with different student bodies, so local impacts have to be studied locally.
"Report on Homelessness and Food Insecurity among Appalachian State University Students During the 2017–2018 academic year"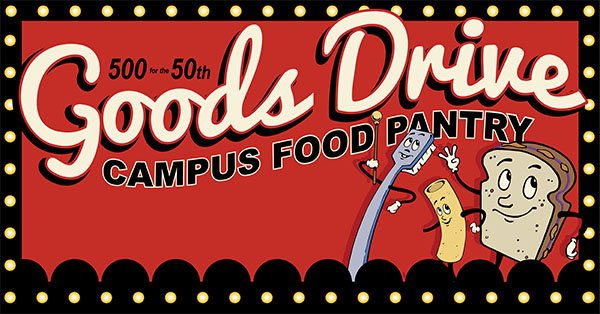 500 for the 50th Goods Drive
About the Department of History
The Department of History offers a broad curriculum in local, national, regional and world history at both the undergraduate and graduate levels, which encourages history majors to develop a comprehensive approach to human problems. The study of history is an essential part of a liberal arts education and offers valuable preparation for many careers, such as law, journalism, public history, public service and business, as well as in teaching and the advanced discipline of history. Learn more at https://history.appstate.edu.
About the College of Arts and Sciences
The College of Arts and Sciences (CAS) at Appalachian State University is home to 17 academic departments, two centers and one residential college. These units span the humanities and the social, mathematical and natural sciences. CAS aims to develop a distinctive identity built upon our university's strengths, traditions and unique location. The college's values lie not only in service to the university and local community, but through inspiring, training, educating and sustaining the development of its students as global citizens. More than 6,400 student majors are enrolled in the college. As the college is also largely responsible for implementing App State's general education curriculum, it is heavily involved in the education of all students at the university, including those pursuing majors in other colleges. Learn more at https://cas.appstate.edu.
About the Department of Nutrition and Health Care Management
The Department of Nutrition and Health Care Management in Appalachian State University's Beaver College of Health Sciences provides graduate and undergraduate programs. The undergraduate health care management program prepares students for entry-level management positions, while the online Master of Health Administration degree is designed for working professionals who desire to advance their careers. The undergraduate nutrition and foods program prepares students for careers in dietetics or food systems management in a variety of settings, including schools, hospitals, nursing homes and food banks. The highly competitive master's degree in nutrition provides a pathway for students to become registered dietitians. Learn more at https://nhm.appstate.edu.
About the Beaver College of Health Sciences
Appalachian State University's Beaver College of Health Sciences (BCHS), opened in 2010, is transforming the health and quality of life for the communities it serves through interprofessional collaboration and innovation in teaching, scholarship, service and clinical outreach. BCHS offers nine undergraduate degree programs and seven graduate degree programs, which are organized into six departments: Nursing, Nutrition and Health Care Management, Public Health and Exercise Science, Recreation Management and Physical Education, Rehabilitation Sciences, and Social Work. The college's academic programs are located in the Holmes Convocation Center on App State's main campus and the Leon Levine Hall of Health Sciences, a state-of-the-art, 203,000-square-foot facility that is the cornerstone of the Wellness District. In addition, the college supports the Blue Cross NC Institute for Health and Human Services and has collaborative partnerships with the Wake Forest School of Medicine's Physician Assistant Program, the Appalachian Regional Health System and numerous other health agencies. Learn more at https://healthsciences.appstate.edu.
About Appalachian State University
As the premier public undergraduate institution in the Southeast, Appalachian State University prepares students to lead purposeful lives as global citizens who understand and engage their responsibilities in creating a sustainable future for all. The Appalachian Experience promotes a spirit of inclusion that brings people together in inspiring ways to acquire and create knowledge, to grow holistically, to act with passion and determination, and to embrace diversity and difference. Located in the Blue Ridge Mountains, Appalachian is one of 17 campuses in the University of North Carolina System. Appalachian enrolls nearly 21,000 students, has a low student-to-faculty ratio and offers more than 150 undergraduate and graduate majors.
What do you think?
Share your feedback on this story.