Posted Oct. 19, 2018 at 1:39 p.m.
BOONE, N.C. — A sustainable answer to local food insecurity is being served up — one hot, nutritious meal at a time — by students in Appalachian State University's Department of Nutrition and Health Care Management through the Grab and Go Meal Program created with the nonprofit Health and Hunger Coalition (HHC).
The partnership is part of adjunct instructor Amber Leigh Thompson's fall 2018 Quantity Foods course. This is Thompson's first semester teaching the class, which began in spring 2017 and meets in the Quantity Foods Lab in Appalachian's Leon Levine Hall of Health Sciences.
Lecturer John Arrowood, who taught the first three semesters of the course, said, in developing the program with HHC's Program Coordinator Terri Niederhammer and Executive Director Elizabeth Young, the department sought to expand the coalition's offerings for their clients, from mainly cold grab and go items to hot meals cooked on site.
"Honestly, this has been a dream of mine for a long time — to have students come in and for clients to be able to benefit, in this mutual learning experience," Young said.
The department committed to making hot meals because, as Arrowood stated, the coalition's "clients may not have access to … a stove, or a microwave" in which to heat and reheat foods.
Thompson's students — all of whom are nutrition and foods majors — travel in groups of three to five, she said, to prepare entrees on site in the coalition's Food Recovery Kitchen using ingredients the department purchased from the Boone Publix. The students are charged with preparing a recipe that's been adjusted to serve 75 individuals.
Thompson said the food for the entrees students prepare each week they visit HHC costs $1.66 per entree. Past partners for this food purchasing have included Lowes Foods and Harris Teeter.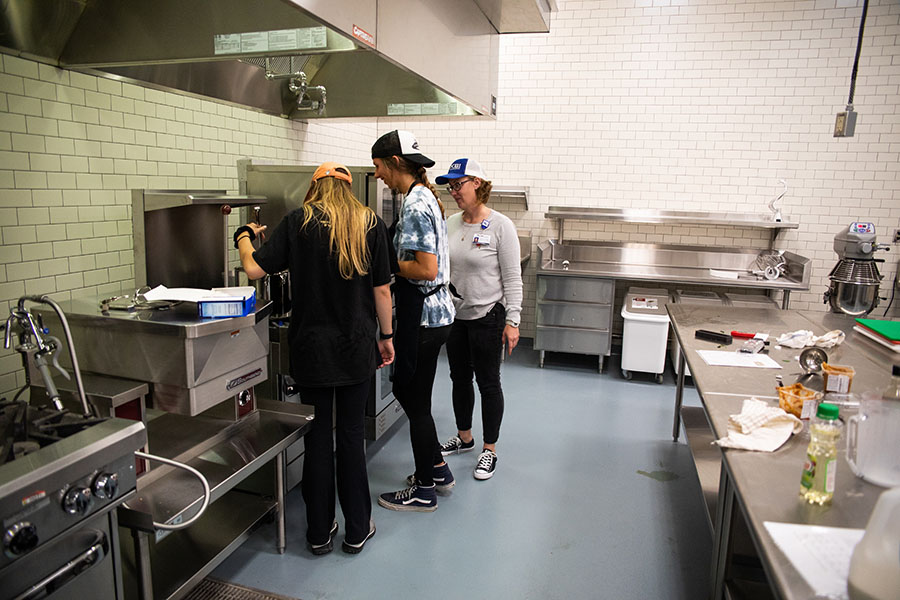 Senior nutrition and foods majors involved with the Grab and Go Meal Program
On the menu: Samples of Grab and Go meal entrees
While at the Food Recovery Kitchen, the students are supervised by Niederhammer and nutrition graduate student Emily Owen, a teaching assistant for the Quantity Foods course.
Owen said the program teaches students about their surrounding community by connecting them — face to face — with those they serve.
"Sometimes I think it's easy (for students) to be consumed in a nutrition-related bubble," she said, "where everyone knows what is healthy and has access to whatever foods they want. Unfortunately, that is not the reality, and it's extremely important for us to recognize that."
The entrees are then paired with leftover food items donated to the coalition by local grocery store delis, restaurants and Appalachian's Food Services. Last year, the coalition received approximately 13,000 pounds of leftover food items from Appalachian's Food Services, Young said.
Some of the meal entrees the students have prepared so far this semester include a vegetable paella, a broccoli and ricotta calzone, and a cheeseburger pie, Thompson said. Additionally, in previous semesters, Arrowood said students prepared entrees such as a black bean and tortilla casserole, Creole spaghetti and Southwest ziti.
In order to package the grab and go meals, the coalition provides biodegradable containers, to which students affix nutrition labels.
Arrowood said he challenges the students to create a label that is clear about the nutritional value of the food, as well as allergens that may be present.
"This community experience forces the students to think about a person's health literacy about being able to identify allergens, or understanding what a carbohydrate is," he said.
Arrowood said about one-third of the meals the students prepare in HHC's Food Recovery Kitchen are distributed to clients and their families via the kitchen's to-go window. The remaining two-thirds he said, are frozen and stored in the kitchen's on-site commercial freezer.
Volunteers who staff the kitchen once the students leave give these frozen meals to additional clients who visit throughout the day. Typically, all meals are given away the same day they are prepared, Young said.
In 2017, HHC provided clients in need with 43,916 meals, according to the organization's website.
"We're exceptionally proud of our partnership with the Department of Nutrition and Health Care Management," Young said, "which has really allowed us to innovatively shape our programs and services to better meet the needs of our clients."
All clients served by the coalition, Young said, are at or below 200 percent of the federal poverty line, depending upon family size. For example, a single person who earns up to twice the federal poverty cap of $12,140 or a family of four, earning up to twice the amount of $25,100, would qualify under the 2018 Federal Poverty Guidelines.
"Most of the people who reside here (in Boone) are working in the service industry, making minimum wage and trying to survive," she explained. "A lot of people don't understand that Watauga County is really struggling."
The benefits of the Grab and Go Meal Program, according to Arrowood, are threefold:
the coalition's clients have access to hot and nutritious meals in a convenient, to-go fashion;
the Quantity Foods students receive a service-learning opportunity to connect with and help those in need in the community; and
leftover, perishable food becomes part of a sustainable food system by being diverted from landfills.
Recycling the donated food is important, said Thompson, since as much as 40 percent of food produced for human consumption in America is thrown away.
The Grab and Go Meal Program is only one component of the course. Students must also quantify, or scale a recipe's ingredients according to the number of people to be served, and prepare a meal for 25 individuals, which is then served in the dining facility that adjoins the Quantity Foods Lab. A third component requires students to prepare and serve meals in Appalachian's Roess Dining Hall under the supervision of Food Services Director Pam Cline and other kitchen personnel.
Senior nutrition and foods majors involved with the Grab and Go Meal Program
On the menu: Samples of Grab and Go meal entrees
About the Department of Nutrition and Health Care Management
The Department of Nutrition and Health Care Management in Appalachian State University's Beaver College of Health Sciences provides graduate and undergraduate programs. The undergraduate health care management program prepares students for entry-level management positions, while the online Master of Health Administration degree is designed for working professionals who desire to advance their careers. The undergraduate nutrition and foods program prepares students for careers in dietetics or food systems management in a variety of settings, including schools, hospitals, nursing homes and food banks. The highly competitive master's degree in nutrition provides a pathway for students to become registered dietitians. Learn more at https://nhm.appstate.edu.
About the Beaver College of Health Sciences
Appalachian State University's Beaver College of Health Sciences (BCHS), opened in 2010, is transforming the health and quality of life for the communities it serves through interprofessional collaboration and innovation in teaching, scholarship, service and clinical outreach. BCHS offers nine undergraduate degree programs and seven graduate degree programs, which are organized into six departments: Nursing, Nutrition and Health Care Management, Public Health and Exercise Science, Recreation Management and Physical Education, Rehabilitation Sciences, and Social Work. The college's academic programs are located in the Holmes Convocation Center on App State's main campus and the Leon Levine Hall of Health Sciences, a state-of-the-art, 203,000-square-foot facility that is the cornerstone of the Wellness District. In addition, the college supports the Blue Cross NC Institute for Health and Human Services and has collaborative partnerships with the Wake Forest School of Medicine's Physician Assistant Program, the Appalachian Regional Health System and numerous other health agencies. Learn more at https://healthsciences.appstate.edu.
About Campus Dining
Campus Dining is owned and operated by Appalachian State University and offers dining services tailored to the campus community's specific needs. With three dining facilities and daily catering events, Campus Dining provides opportunities for nourishment and also building and fostering relationships over shared meals and experiences. Campus Dining is committed to serving the Appalachian Community using sustainable practices such as local sourcing and contributing to campus composting and a constantly evolving partnership with the Office of Sustainability. Learn more at https://dining.appstate.edu.
About Appalachian State University
As the premier public undergraduate institution in the Southeast, Appalachian State University prepares students to lead purposeful lives as global citizens who understand and engage their responsibilities in creating a sustainable future for all. The Appalachian Experience promotes a spirit of inclusion that brings people together in inspiring ways to acquire and create knowledge, to grow holistically, to act with passion and determination, and to embrace diversity and difference. Located in the Blue Ridge Mountains, Appalachian is one of 17 campuses in the University of North Carolina System. Appalachian enrolls nearly 21,000 students, has a low student-to-faculty ratio and offers more than 150 undergraduate and graduate majors.
What do you think?
Share your feedback on this story.